Jerry Sandusky Interview: Why Bob Costas Must Interview Joe Paterno Next
November 15, 2011
Rob Carr/Getty Images
If Bob Costas is truly intent to use his power as one of the most respected sports journalists in the country to get to the bottom of the scandal that has rocked Penn State, he would be much better served speaking directly with Joe Paterno rather than trying to coax answers out of Jerry Sandusky.
Sandusky had and has every reason not to be forthright in responding to Costas' questions on "Rock Center." The long-time coach and founder of The Second Mile has already pleaded innocent to 40 counts of child sexual abuse relating to at least eight different victims. If he's serious about beating those charges, he's not about to admit guilt on national television.
Even though he said more than enough to indict himself in the court of public opinion.
The only person in all of this who might say something new and different about the scandal is JoePa, the pope to Penn State's Catholic church of football. Paterno has not been charged with any crime in connection with Sandusky's sexual abuses nor is he likely to be, not after fulfilling his legal obligation to send reports of his former assistant's misconduct up the chain of command.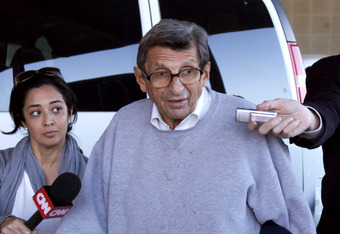 Rob Carr/Getty Images
That wasn't enough to fulfill JoePa's moral obligation to notify local law enforcement, but it was enough to shield him from having to defend himself in a court of law.
As such, Paterno has presumably done enough to shield himself from being dragged into the legal proceedings even if he comes clean with what he knew, when he knew it and what he did with it.
Paterno supposedly divulged his full story during his grand jury testimony relating to Sandusky's case, but if he wants to come clean with the public, he'll need to do so with words we can hear and emotions we can see.
Judging by Paterno's choice of defense lawyers, though—J. Sedwick "Wick" Sollers, who represented George H.W. Bush during the Iran-Contra investigation—he's not about to talk anytime soon, if for no other reason than to make absolutely sure that he doesn't wind up in jail as well.
As such, don't expect Paterno to tell his side of the story—at least until Sandusky's fate has been decided by a jury of his peers, and until former athletic director Tim Curley and former university vice president Gary Schultz have been brought to justice on charges of perjury and failure to report a child sex crime.
And even then, don't be surprised if Paterno doesn't come clean. He was always reluctant to answer questions about his football team in pre- and post-game press conferences. How do you think he'd handle serious inquiries about matters far more meaningful than play calls and personnel choices?
However, if Paterno cares about his reputation, if he cares about how he and his legacy will be remembered by the history books, then he will tell all before he passes away.
Which, realistically, could be soon, since he'll be 85 come December.
And once JoePa is ready to spill his side of this gruesome story, you can bet Costas will be waiting, with an empty chair and a camera or two, to get him on the record, in public.