Wisconsin Badgers vs. Minnesota Gophers: Grading the Badgers' Win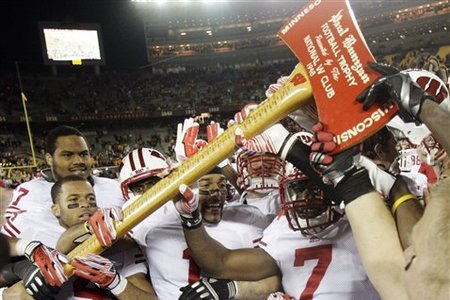 Paul Bunyan's Axe is staying in Madison for another year.
Russell Wilson, Montee Ball and the Wisconsin Badgers continued their dominance over the Gophers Saturday with an easy 42-13 victory in front of a lackluster crowd at TCF Bank Stadium.
With the win and losses by Penn State and Ohio State, the Badgers now once again control their own destiny for a spot in the inaugural Big Ten championship game.
Win out, and they're in.
Begin Slideshow

»
Jonathan Daniel/Getty Images

Wisconsin quarterback Russell Wilson reminded everyone on Saturday why he was a favorite for the Heisman Trophy earlier this season:
It took 17 throws and two and a half quarters before Wilson threw an incompletion.
He finished 16 of 17 for 178 yards and four TD's.
John Gress/Getty Images

It is a downright shame that Wisconsin running back Montee Ball isn't getting more attention in the Heisman Race.
On Saturday, Ball had three more scores, allowing him to break the Big Ten's all-time single season touchdown record with 27.
Ball's 166 rushing yards against the Gophers left him with 1,242 for the season, and he's averaging almost seven yards per-carry this year.
John Gress/Getty Images

Offensive Coordinator Paul Chryst said before the game Saturday that he needed to get wide receiver Nick Toon involved early, and that's exactly what he did.
Toon was back to his old-self against the Gophers, registering eight catches for 100 yards and two scores.
It's a good day for the receiving corps when the quarterback completes 94 percent of his passes and doesn't miss until mid-way through the third quarter.
Jonathan Daniel/Getty Images

The Badgers' offensive line did give up two early sacks to the Big Ten's worst pass rushing team, but it's hard to argue with the results on the ground and through the air.
Minnesota was completely overmatched up front against Wisconsin.
Jonathan Daniel/Getty Images

Wisconsin's front four didn't get much pressure aside from a Beau Allen sack, and they did give up over 100 yards on the ground.
However, Minnesota averaged just over three yards per-carry, and the Gophers' passing game was atrocious on its own.
John Gress/Getty Images

In news that should surprise no one, linebackers Mike Taylor and Chris Borland once again led the Badgers in tackles on Saturday.
Taylor was all over the place with a game-high 13 stops, and Borland was his normal, steady self.
Jonathan Daniel/Getty Images

Minnesota's passing game was non-existent on Saturday.
The Gophers had just 51 yards passing, and quarterback Marqueis Gray was picked off by Badger cornerback Antonio Fenelus.
Great game for this much-maligned unit after getting burnt two of the last three games for heartbreaking losses.
John Gress/Getty Images

The Badgers' special teams were abysmal again on Saturday.
Terrible kick coverage (including a score), bad kicks and a Minnesota touchdown on a fake field goal were just some of the lowlights.
If it wasn't for the special teams, Wisconsin would have won 42-0.
Kirk Irwin/Getty Images

Congratulations are in order for head coach Bret Bielema as he stayed undefeated in the battle for Paul Bunyan's Axe with Saturday's win.
However, if Bielema and his staff don't get things fixed on special teams, the Badgers are just another miscue away from ruining their season for a second time.
Stephen Dunn/Getty Images

It was a great weekend for the Badgers.
They beat their arch rival for what seemed like the 100th time in a row, and with help from Nebraska and Purdue, Wisconsin once again controls its own destiny.
A return trip to Pasadena would certainly take some of the sting away from the Ohio State and Michigan State losses earlier this season.