Jerry Sandusky: Former Players Standing Behind Him Only Makes It Worse
November 13, 2011
Mario Tama/Getty Images
In the course of two weeks, the Penn State football program has fired its president and a legend in coach Joe Paterno, has been questioned of its morals as a program and is gradually losing its faith as a program. Everyone has been wondering how Penn State could have kept this Sandusky incident hidden from the entire nation for over three decades.
The firing of Joe Paterno has produced a host of feelings and actions from Penn State faithful, from the riots on campus to the reports of a bomb threat in Happy Valley. Many former players have come out and given their own views of this situation and Penn State's decision to fire Paterno before the end of the season, when he said he would officially retire from the program.
With the departure of Paterno, many fans are showing their support and thanks for him and standing by the legendary coach despite the stain that this incident left on both his coaching career and himself as a person, as many questioned his morals as a coach when he failed to report to people other than the athletic director.
But, while Paterno's departure is to blame on the incidents allegedly caused by former defensive coordinator Jerry Sandusky, some former players, like Sam Stellatella, have stood behind Sandusky, donating $100 towards his impending court case to help pay for a lawyer.
Former players like this are standing behind Sandusky. Stellatella is urging players from the 1959 Liberty Bowl, a team which defeated fellow dynasty Alabama Crimson Tide during the time of Bear Bryant, to follow his lead to do the same.
This is exactly the kind of thing that makes Penn State's incident worse.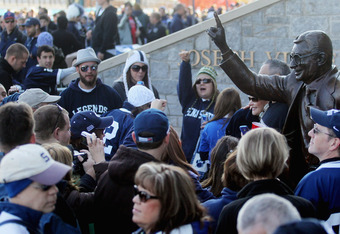 Mario Tama/Getty Images
The fact that some players are trying to stand behind Sandusky after what he was accused of makes it seem as though these former players have questionable moral standards, and many could see this as a representation of Penn State as a whole. The crimes that Sandusky allegedly committed against these victims should not be taken lightly, and the fact that he has supporters behind him almost sounds as though the former defensive coordinator was not at fault and that he should be able to get off without any charges.
Rather than get themselves closer to Sandusky and the dark stain he has put upon Penn State University, former players who played under him should be distancing themselves from him rather than trying to get closer to him,as several former players appear to be doing. No matter what these players may do, no one needs to become associated with this man's alleged heinous acts towards young boys. The acts he allegedly committed against these victims cannot be taken back, nor can he ever truly atone for what he did to them.
Rather than associate themselves with Sandusky, players need to distance themselves as much as they can from Sandusky, lest they become caught in the violent crossfire that has overcome Penn State University.