Carter's NHL Power Rankings, Nov. 13: B's No. 1 Despite Only 16 Points
November 13, 2011
Abelimages/Getty Images
Before we begin, I'd like to note that the Eastern Conference has been much better than the Western Conference as far as overall performance this season. The top six teams in my power rankings are all from the Eastern Conference, with the Detroit Red Wings breaking the streak at No. 7.
I understand the Bruins only have 16 points through their first 15 games, but they have outscored opponents by 17 total goals. This is highest scoring margin heading into Sunday's games.
Here's how I see the NHL teams, from best to worst:
1. Boston Bruins (8-7-0)
This team has clicked it into high gear over these past couple of weeks. Five wins in a row and have one of the best offensive AND defensive units in the league. This is the only team I can say that has been GREAT on the offensive and defensive side of the puck. They are also very good at killing penalties. They have stopped 87 percent of penalties, which ranks a decent eighth in the NHL. I'd be shocked if the Bruins weren't one of the final four teams left standing in the 2012 Stanley Cup Playoffs.
2. Washington Capitals (10-4-1)
This team, once again, has one of the best offensive units in the NHL led by Ovechkin and Nicklas Backstrom. They also have a top-five power play unit, which helps a lot. I'm hearing some trade talks around Alexander Semin. We'll see what happens.
3. Pittsburgh Penguins (10-4-3)
Another good offensive team. Fifty-one total goals so far, which puts them sixth in the league. They play defense well (40 goals against, 11th fewest in NHL). They also have the best penalty killing unit in the league.
4. New York Rangers (9-3-3)
The best defensive team in the Eastern Conference. The Rangers also have the fourth-best penalty killing unit in the NHL, killing 88.3 percent of penalties. With the Bruins, Capitals and Penguins in the mix, it's going to be a tough road to the Prince of Wales Trophy.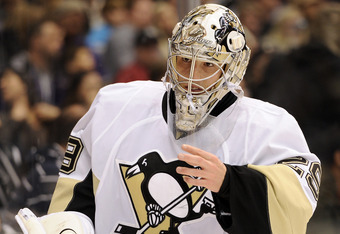 Harry How/Getty Images
5. Philadelphia Flyers (8-4-3)
Arguably the best offensive team in the NHL. No other team has scored more goals than the Flyers (57). Their defensive play needs a little work.
6. Buffalo Sabres (10-6-0)
One of the best teams at keeping the puck out of the net when they are a man short on the ice. Good offensive team led by Jason Pominville and Thomas Vanek. It's shocking that the Sabres goaltender that is fourth in the league in GAA is not named Ryan Miller. It's Jhonas Enroth!
7. Detroit Red Wings (9-5-1)
Great defensive team. Only given up 33 goals through their first 15 games. I would be putting them a lot higher if the were able to score more goals.

8. Chicago Blackhawks (10-4-3)
Looking like the Chicago Blackhawks we saw two years ago. This is the best offensive team in the Western Conference. But they must improve on special teams. Their power play and penalty killing unit both rank among the bottom 10 in the league.
9. Dallas Stars (11-5-0)
Not an absolutely amazing team. But they continue to get it done. Living in Dallas, I get the pleasure of watching the emergence of Jamie Benn and Loui Eriksson (36 combined points).
10. San Jose Sharks (9-5-1)
One of the best teams at scoring on the power play. Also a solid defensive team led by goaltender Thomas Greiss.
11. Florida Panthers (8-4-3)
I'm impressed with the emergence of Jacob Markstrom. The goaltender has a 2.05 GAA, which ranks him among the top 10 in that category. It will be interesting to see who Coach Dineen will go with game by game as the starting goaltender. I'm hoping this team makes the playoffs with all the talk about how they are in a warm weather city and how they should be relocated.
12. Edmonton Oilers (9-5-2)
It would be tough to argue that Nikolai Khabibulin isn't the favorite at this point to win the Vezina Trophy I understand that it's only November, but having only a 1.18 GAA to this point is very impressive.
13. Phoenix Coyotes (8-4-3)
Another strong defensive team. They have only given up 39 goals in their 15 games, which ranks among the top 10. They are also seventh in the league in penalty killing percentage.
14. Minnesota Wild (8-5-3)
Their defensive play has been very impressive, led by goaltenders Josh Harding and Niklas Backstrom. However, this team has been poor at scoring goals. They have only scored 37 goals through their first 16 games.
15. St. Louis Blues (8-7-1)
The Blues need to get a lot better at taking advantage of having an extra man on the ice. They have the worst power play unit in the entire league, only scoring on 10 percent of their power play chances.
16. Nashville Predators (8-5-3)
Not an extremely exciting team to watch, but they have done a very good job at killing penalties. Only five other teams have a better penalty killing percentage than the Predators.
17. Los Angeles Kings (8-6-3)
Anze Kopitar has emerged as one of the best players in the league over the past few years. He already has 21 points through the first 17 games. This puts him on pace for a 101-point season. Not saying it's going to happen, but if he keeps this up, the chances of him putting the Hart Trophy above his fireplace at his home are very good (assuming he even has a fireplace).
18. Vancouver Canucks (8-8-1)
Raise your hand if you're surprised with the Sedin twins combining for 41 total points so far. Nobody? Didn't think so. Me either.
19. Montreal Canadiens (7-7-2)
Not much of an exciting start to the season. The Habs must improve on scoring when having an extra man on the ice.
20. Tampa Bay Lightning (8-6-2)
After dropping five of their first six games, the Bolts have bounced back very well, winning seven of their last 10 games.
21. New Jersey Devils (8-6-1)
The Devils started their five game road trip on a nice not by defeating the Capitals on Saturday night. This team needs to improve on scoring on the power play. They've only capitalized on 11 percent of their PP chances.
22. Colorado Avalanche (8-8-1)
A very good offensive team with the best power play unit in the entire league. They have scored on 30 percent of their PP chances, which tops the ranks.
23. Toronto Maple Leafs (10-6-1)
The Maple Leafs have only killed 72.6 percent of their penalties; only the lowly Blue Jackets have killed a fewer percentage.
24. Calgary Flames (7-8-1)
The Calgary Flames have only scored 35 goals this season. Only two other teams have scored fewer goals.
25. New York Islanders (4-6-3)
The Islanders have only scored 28 goals in their first 13 games. No other team has scored fewer goals.
26. Ottawa Senators (8-9-1)
The Senators have already given up 65 goals through their first 18 games (3.61 goals against per game). No other team has given up more goals.
27. Anaheim Ducks (6-7-3)
The Ducks have only scored 33 goals this season. This is the lowest total of any Western Conference team.
28. Carolina Hurricanes (6-8-3)
The Hurricanes have given up 58 goals this season. Only two other teams have given up more goals.
29. Winnipeg Jets (5-9-3)
If the Jets don't break their five-game losing streak against the Lightning on Monday night, I'd be surprised if they win another game before Thanksgiving. After Monday's game, they have home games against the Capitals, Flyers and then another road game against the Capitals the day before Thanksgiving.
30. Columbus Blue Jackets (3-12-1)
The Blue Jackets are in the bottom five in the NHL in the following categories: goals scored, most goals against, power play percentage and penalty killing percentage.
Do they sell paper bags with face cut outs at the Nationwide Arena? If not, they should start soon.