The Most Important Teaching Moments of the Penn State Scandal
November 12, 2011
Mario Tama/Getty Images
For nearly a week, I have been thinking about the plight of vulnerable children, Penn State University, and the firing of Joe Paterno—struggling with the complexity of this story and trying to find the right words to express myself.
But even as I take all of this in, I do know that the ironic benefit of this sad episode, if there can be one, is that the Penn State scandal can be one big, horrifying, teaching moment for all of us.
There are lessons to be learned from the tragic story of child sexual abuse connected to the Penn State campus.
If you discover that a child is being abused, you must report it to legal authorities or child protective service officials immediately.
An institution's image is secondary to a child's safety and well-being.
Family, friendship and business relationships can not stand in the way of doing what is right.
While I hated to see the end come this way for a legendary 84-year-old coach, Joe Paterno had to be fired. Graham Spanier, the president of the university, had to go as well. The people in charge had to be held accountable.
That said, those actions came much too late. Only when this story became national news did the Penn State Board of Trustees move to take appropriate action. It should not have taken indictments and arrests, and the glare of a stunned nation to shame the university into doing something.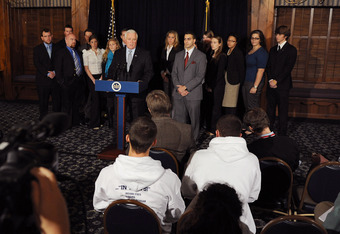 Patrick Smith/Getty Images
The grand jury report suggests enough was known or suspected about the crimes of Jerry Sandusky for years.  If protecting children had been a priority of the university, and even a priority of legal officials, Sandusky could have been put away a long time ago.
The assistant coach who allegedly witnessed that sexual assault in 2002 should have gone further than just reporting what he saw to the head coach.
A prosecutor and his team of investigators should have done a better job of examining suspicions about Sandusky in 1998. Any number of people could have done more.
We know that Joe Paterno should have spoken immediately and forcefully, not just to university officials, but to the police and child protective services once his assistant told him about Sandusky assaulting a child. That was his moral obligation.
Paterno is the highest-paid employee at Penn State, and he is perhaps Pennsylvania's most important sports figure, with a power and influence some would say exceeds even that of the state's governor.
But when told about Sandusky's heinous acts, Paterno cowardly chose to follow chain of command and report it only to the athletic director. He apparently did nothing to follow up on his report and obviously did not push for legal action.  All Paterno allegedly signed off on was making sure that Sandusky no longer brought children on university property.
Two wrongs were committed with that mistake. The image of the university became more important than the fate of the boy who was allegedly assaulted. And a cover-up, intended or not, was put in motion for one of Paterno's closest associates and friends. Again, the welfare of a child came second.
We should keep in mind that while we focus on this much-publicized scandal, this terrible crime is happening everywhere. Right now. Thousands upon thousands of children are being molested.  And many people continue to enable these terrible crimes with their silence and fear.
This has to stop.  Our first priority must be to stand up for the children, by reporting to authorities what we see, know and suspect.