Jonathan Papelbon: Why Not Signing Him Was a Major Victory for New GM Cherington
November 11, 2011
Jim Rogash/Getty Images
Jonathan Papelbon was new Boston Red Sox GM Ben Cherington's first big test—and he passed it with flying colors!
I have advocated multiple times to let Jonathan Papelbon walk for a variety of reasons. Signing Papelbon to a three-or-four-year deal would mean paying for past performance, and paying more than $12 million a year for a pitcher who pitches less than 70 innings a year is insane.
The statistics have borne it out again and again; closers simply aren't that valuable! For reference, let's look at Detroit Tigers closer Jose Velverde's 2011 season. Valverde not only led the major leagues in saves at 49, but he also completed the season without blowing a single one of his save opportunities. But according to WAR, he was worth only 1 win above replacement level.
The average major league baseball win costs in the neighborhood of $3-4 million. So justifying paying three to four times that for a win above replacement level is simply not smart baseball. This is especially true when you have one of the best relief pitchers in baseball waiting in the wings.
In Daniel Bard the Boston Red Sox have such a relief pitcher. Some will point to Bard's poor September performance last year as evidence that he's simply not cut out to be a closer. But Bard pitched 11 innings in September. To judge any pitcher by 11 innings is a little presumptuous.
Others may point to the fact that Bard has converted just five saves in 20 save opportunities in his major league career. But to judge a non-closer on their abilities to convert saves is equally misguided. Could you imagine if the New York Yankees judged Mariano Rivera's ability to close on his three blown saves in eight chances as a set-up man in 2006?
Comparing a set-up man closing games to a closer closing games is comparing apples to oranges. If anyone could just step in and close regardless of their role then why did Boston's closer-by-committee experiment fail so badly in 2003?
In the end, there are multiple advantages to letting Papelbon walk.
For one, the Red Sox haven't committed over $50 million (at minimum) to a relief pitcher over the next four years. Based on history, this is no minor victory.
Only three relief pitchers have ever earned over $10 million a year on a deal of four years or more. Those pitchers are Francisco Cordero, Joe Nathan and Billy Wagner. Only one of those pitchers finished their contract without requiring Tommy John Surgery.
If there's one truth about relief pitchers, it's that they're inconsistent and injury-prone. Relief pitchers who do not fit that bill are the exception to the rule. Perhaps Papelbon is one of that select few group of relief pitchers, but most likely he is not.
And even if Papelbon was one of those select few, it does not make financial sense for the Red Sox to sign him this off-season.
After giving arbitration raises to Ellsbury, Saltalamacchia, Bard, Lowrie, Aceves and Albers next year, the Red Sox payroll for 2012 will already stand at almost $150 million. If the Red Sox re-signed Papelbon, that would up their salary to $162 million and leave them just $24 million in salary to work with if they wanted to remain under the luxury tax threshold. $22 million isn't enough money to sign a quality starter, designated hitter, right fielder and at least one set up man.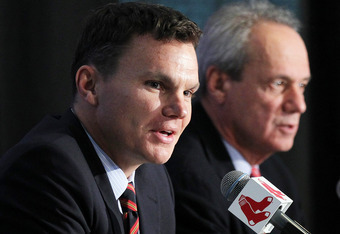 Jim Rogash/Getty Images
While signing Papelbon may have bolstered the bullpen, it would have hurt the rest of the team.
There are other benefits to not re-signing Papelbon. By letting him walk, the Red Sox are virtually assured two extra draft picks in next year's draft. The Phillies' highest projected draft pick in 2012 is the 31st overall pick. On the surface, that seems low. But when you consider the fact that draft picks one through 15 are protected, it's really not that bad.
There is a chance that the Phillies' 31st overall draft pick in 2012 could go to another team if they sign a free agent with a higher ranking than Papelbon, as determined by the Elias Sports Bureau. But that's unlikely considering the only free agents ranked higher than Papelbon are Albert Pujols, Prince Fielder, C.J. Wilson, David Ortiz and Ryan Madson.
Last but not least, Papelbon has always been about one thing and one thing only—money. He's never been shy about stating that he wanted to hit the free agent market and earn the highest contract of all-time for a reliever.
But once he gets that contract, what more motivation will he have to compete on a regular basis? Following a season in which many of the Red Sox players were criticized for character issues, the last thing the team needed was an overpaid, prima donna closer sitting on his paycheck.
Ben Cherington has been the Red Sox general manager for less than a month. But so far, he's delivered nothing but good news. First, Cherington shared that John Lackey will miss the entire 2012 season due to Tommy John Surgery. Next, Cherington dodged a bullet by letting Papelbon walk. And in so doing, he avoided paying for past performance in free agency like former general manager Theo Epstein did with players such as Julio Lugo, John Smoltz, Mike Cameron and John Lackey.
That should be a great source of relief for Boston fans, not a source of panic.