Redskins vs. Dolphins: What John Beck's Return to Miami Means
November 10, 2011
Al Bello/Getty Images
This week, John Beck was asked by Washington Redskins beat reporters if he had any fond memories of playing in Miami. 
"Not that I can think of first hand, off the top of my head," replied the 30-year-old Redskins starter, who will be looking for his first win in his career this week against the team that drafted him, the Miami Dolphins. 
But to discuss Beck is to talk about the 2007 Miami Dolphins, starting with the draft that year.
The 2007 NFL Draft is one that will forever haunt the Miami Dolphins. 
Miami had the 10th overall pick in the draft that year, and despite the clamoring for Brady Quinn among 'Phins fans, Ted Ginn Jr. wound up being the pick. 
"We need our thumbs to go this direction," said then-coach Cam Cameron, now offensive coordinator of the Baltimore Ravens. That statement will echo through Miami Dolphins history. It was the phrase of someone who just seemed too over their head to be an NFL head coach. It was a line so patronizing that he looked like the overwhelmed substitute teacher in an inner-city high school in all of those bad movies. 
Only difference was there was no happy ending. Miami would go 1-15 that season, out went Cameron and general manager Randy Mueller, in came Parcells, Ireland and Sparano. 
Miami did pick a quarterback in that draft, but instead of it being Quinn, it was Beck, a then-26-year-old rookie out of BYU. Beck had come to the Dolphins with plenty of collegiate accolades, including being a finalist for the Davey O'Brien Award as well as the Johnny Unitas Golden Arm Award.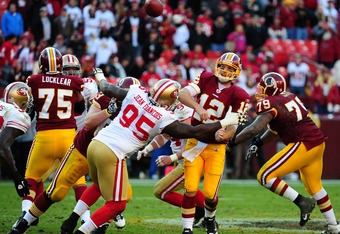 Scott Cunningham/Getty Images
But Beck's time in Miami was brief and tumultuous, much like his coach's. Beck played in five games, starting four of them, for Miami in 2007, and didn't win a single one. He would complete 60 of 107 passes for 559 yards, one touchdown and three interceptions. After being pegged as the Dolphins starter on November 18 against the Eagles, Beck would lose his job again during the Dolphins Week 14 game against the Bills that year. 
The next week, Cleo Lemon would lead the Dolphins to their first win of the season.
However, with Lemon leaving Miami the following year, there was hope that Beck would reclaim the starting job during training camp, even with the new regime in place and despite the fact that Miami drafted Chad Henne with a second-round pick that season.
Instead, Beck would leave the Dolphins as one of their final cuts. Beck leaving Miami became inevitable once Chad Pennington was released from the Jets and found himself signing with the Dolphins.
Beck himself has stated to Dolphins beat writers that he "learned a lot from Chad Pennington" during the brief time the both of them were with the Dolphins during the 2008 training camp.  
While watching the Dolphins make their miraculous turnaround that season with Pennington under center, Beck would wind up signing with the Baltimore Ravens (and in the process being reunited with Cam Cameron), before the Ravens wound up trading him for cornerback Doug Dutch in August of 2010.
Marc Serota/Getty Images
It's easy to see why it would be difficult for Beck to recall any fond memories of his time with the Dolphins. 
Now Beck comes back to Miami, and not much has changed. The Dolphins are still looking for their quarterback of the future, while Beck is still looking for his first NFL victory. 
This season, Beck has gone 0-3 as a starter for the Redskins, completing 80 of 132 passes for 858 yards, two touchdowns and four interceptions. Much like in 2007, Beck is hoping to get his first win in Miami. 
Only difference is he'll be playing against the Dolphins instead of with them.
Beck may represent a small footnote in Dolphins history, one of many who have tried and failed to become the heir apparent to Dan Marino.
However this Sunday, as the starting quarterback for Miami's opponent Washington, he'll have the chance to not only get his long awaited first career victory, but ironically in the process, he would help get Miami one step closer to possibly finding their quarterback of the future. 
For more of his writings, visit www.thomasgalicia.com. Also be sure to Like Thomas Galicia on Facebook.