Why Peyton Manning Is a Better Head Coach Than Jim Caldwell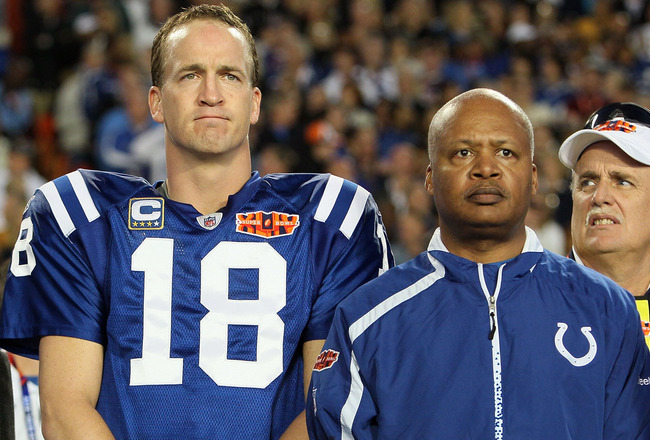 Andy Lyons/Getty Images
Everyone assumes that Tony Sparano will be the first causality in the NFL head coaching carousel, while Jim Caldwell continuously gets a free pass from the Indianapolis Colts front office. Why?
Is it because Peyton Manning hasn't played a down this season?
The team should have had a plan for this, and the failures this year are Caldwell's to deal with.
Jim Irsay needs to regenerate some interest back into the Colts, and naming Manning as player/coach would achieve this goal for next season.
Here are reasons why Peyton Manning is a better head coach than Jim Caldwell:
Lack of Game Planning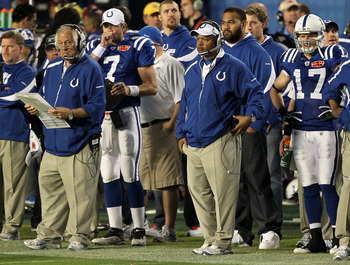 Ezra Shaw/Getty Images
The Colts have been unprepared to play this year without their star quarterback.
Injuries are a poor excuse, as every team deals with them during each week of the season.
I'm not blaming Caldwell for the players getting hurt, but for not getting their replacements ready to play football.
Manning has the skills to mentor and develop a quarterback to run his complex offense.
Caldwell Never Learned from His Mistakes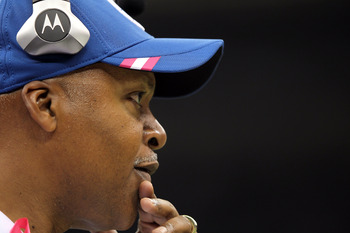 Jamie Squire/Getty Images
Often, Colt fans have been baffled by Caldwell's handling of calling timeouts in the final two minutes of games.
Case in point, last year's playoff lost to the Jets, he called a timeout with 29 seconds left in the game. This allowed them to run the clock out and kick a game-winning field goal as time expired.
Caldwell's explanation was that he wanted the Jets to snap the ball as many times as possible in the final drive.
Unfortunately, he made the same mistake during a regular season loss in Jacksonville. In both cases, Manning looked in disbelief at his coach's decision.
Puppet Coach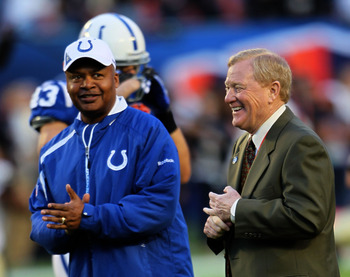 Andy Lyons/Getty Images
Caldwell has no real power within the organization, as he's often left out of the loop on personnel decisions.
In the preseason, Colts President Bill Polian signed Kerry Collins to replace Curtis Painter as the interim starting quarterback.
All of this was done without him conferring with Caldwell on which available quarterback was best suited for his offensive style.
No player would ever be forced on Manning if he felt they couldn't make a solid contribution.
Manning Has Always Been a Player/Coach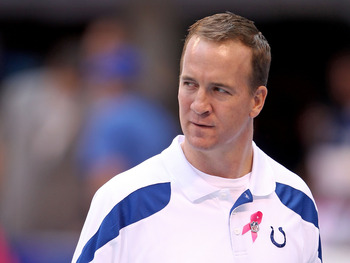 Andy Lyons/Getty Images
Later this season, we might find out if Peyton still has the ability to be an elite quarterback in the NFL.
If he can, it would be a great sight to see him inside a huddle drawing up plays in the dirt.
Manning is the brains behind the Colts' offense, and without him orchestrating, we have seen the grim results.
Keep Reading

Indianapolis Colts: Like this team?