2011 NFL Season: At Midway Point, Patriots, Packers Are Still Favorites
November 10, 2011
Jim Rogash/Getty Images
The midway point of the 2011 NFL season has arrived, and it is time to reflect on those preseason predictions that I made back in August.

OK, so I did whiff with a few of those predictions, specifically having the Eagles and Cardinals winning their divisions. (I also had the Colts winning the AFC South, but this was before the we knew Manning was going to miss any time at all; had he not, it is still in my belief that the Colts would be contenders in the AFC).

The other five teams I predicted to win their divisions, however, are in first, and most importantly, my Super Bowl prediction remains the same.

Yes, if you read that article, I still have a Patriots-Packers Super Bowl. And yes, I still have the Patriots winning it.

But the Patriots are 5-3.  They have lost two in a row, have an atrocious defense and aren't playing very well.  

Right, and at the same time they still have Tom Brady and Bill Belichick. As long as these two are around, I will never bet against the New England Patriots.  It is my belief that they will be able to figure it out, and I just think that Brady has enough offensive weapons to overcome the defense.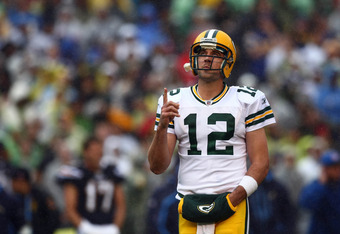 Donald Miralle/Getty Images

Sure, Chad Ochocinco has had an extremely disappointing season, but he still has time to turn it around, and the Patriots still have a number of playmakers if he does not.  Wes Welker has been off the charts good, and Rob Gronkowski and Aaron Hernandez have been phenomenal for Brady at the tight end position. BenJarvus Green-Ellis is also putting together yet another solid season out of the backfield.
And honestly, let's take a look at the Patriots competition in the AFC: The Ravens? As long as Joe Flacco runs that offense, I do not see them making any Super Bowls.  The Steelers? Yeah, they beat New England once, but the Patriots rarely lose to a team in the playoffs after losing to them in the regular season.  The Chargers? May not even make the playoffs.  Jets? Do you really think Belichick will allow New York to eliminate them a second year in a row? I know I don't.  The Patriots seem like the clear favorites if you ask me.

As for the Packers, things could not be going better and it is easy to stand behind the prediction of them winning the NFC.  They are 8-0, and after the great run they had to finish last year, have not lost since December 19 of 2010; against none other than the New England Patriots.

Aaron Rodgers has been absolutely phenomenal, and the case can be made that he is the league's best quarterback; although, I would still take Brady over him.  Whether you think he is the best or not,  Rodgers has gotten rid of any doubt that he was an elite quarterback in this league with his play this season.

Come the postseason, I fully expect Green Bay and New England to be playing their best football, and I think it will lead to them meeting in Super Bowl XLVI in Indianapolis. It is extremely hard to repeat in the NFL, and if this match up does indeed happen, I expect Brady and Belichick to win their long awaited fourth Vince Lombardi trophy together.