Joe Paterno Fired: Penn State's Days as Football Powerhouse Are over
November 10, 2011
Rob Carr/Getty Images
It's all over Penn State fans.
You got over 40 great years out of Joe Paterno, and now you will be paying for it 40 years from now.
Penn State officials decided to fire Joe Paterno on Wednesday, a few days after Jerry Sandusky was arrested for 40 counts of sexual abuse of children, some of which allegedly occurred within the Penn State facilities. Assistant coach Tom Bradley will be the interim coach for the remaining three games and potential bowl game.
It's the sort of story that sends shivers down your spine. The graphic detail of some of these allegations has been permanently stained into the nations memory bank.
That nation includes millions of little kids. Think about it, right now there are parents around the country having serious talks about avoiding potential situations with grown man that make them feel uncomfortable. The words "Penn" and "State" continue to come up. You think that's good for recruiting?
You think in this Twitter generation of kids of all ages having access to endless information on the Internet, that Penn State can ever make this go away? Not a chance. The damage is done and it will only get worse as more stories emerge.
Every kid from the age of eight years old and up is aware of this, and they know the name of the school attached.
Urban Meyer has been brought up as a potential replacement of Paterno.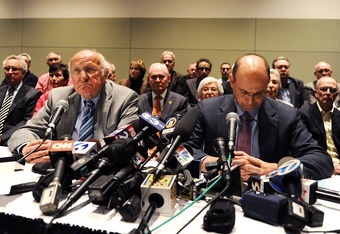 Patrick Smith/Getty Images
Yeah, a guy that can have any job in the country wants to go to a program that is already losing recruits for next year and will have a horrific stigma attached to the entire college for the next decade plus.
Clearly the leadership at State College is horrific, and jumping into this fire is a can't-win fight. No prominent coach is going to touch this job. I'm not even sure if they can lure a Division I coach to try and fix this colossal mess.
Bottom line: This is potentially the biggest scandal in the history of college sports; there is no precedent here.
There is no other situation to compare this to. That's why it's so bad. The stigma attached to this school has been tattooed to the campus permanently.
This scandal is going to destroy everything Paterno ever worked for since the 1950s. Maybe Penn State will be a formidable football program again in 2050.