Patriots vs. Jets: TV Schedule, Live Streaming, Radio, Game Time and More
November 9, 2011
Jim Rogash/Getty Images
The New England Patriots and New York Jets hate each other. They love the rivalry. They love the challenge. But when it comes down to it they simply hate each other.
Tom Brady has said it before. He'll likely say it again. And it is hard to mistake how deep the feelings these two teams have for one another run.
In Week 10 they'll get together to decide who will be the leader of the AFC East.
While the Jets have been to the AFC Championship in back-to-back seasons, it is the Patriots who've owned the division. In fact, the Patriots have only failed to win the division twice since 2001.
Needless to say, the Jets are out to change that.
This game isn't the only game worth watching on Sunday afternoon, but it certainly is the marquee matchup.
Where: MetLife Stadium; East Rutherford, New Jersey
When: Sunday, November 13th at 8:20 p.m. EST
Watch: NBC
Listen: Patriots - 98.5 The Sports Hub, Sirius 92. Jets - 1050 ESPN, Sirius 93.
Betting Line: Jets -1
What's At Stake?
AFC East Lead. These two teams, along with the Buffalo Bills, are 5-3. We can effectively count out the 1-7 Miami Dolphins from the division race at this point.
The Bills beat the Patriots, but lost to the Jets. The Jets beat the Bills, but lost to the Patriots.
And round and round and round we go.
This week will put an end to this merry-go-round and drop at least one team from the top of the division.
The AFC East and the AFC North appear to be the only two divisions with a viable chance of putting two teams into the postseason, but winning the division guarantees not having to worry about the wild card.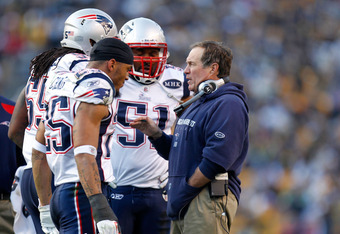 Gregory Shamus/Getty Images
Patriots Injury Report
Kevin Faulk, RB - Listed as questionable (inactive vs. Giants)
Brandon Spikes, LB - Listed as questionable (injured vs. Giants)
Jets Injury Report
Mike Devito, DL - Listed as questionable (knee)
Kenrick Ellis, DL - Listed as questionable (knee)
Dustin Keller, TE - Probable (concussion)
Fantasy Start 'Em, Sit' Em and Sleeper
Start 'Em: Deion Branch, WR, Patriots
The Jets will focus on shutting down Wes Welker and the Patriots dynamic duo of tight ends. This means Deion Branch should be able to work against Kyle Wilson from time-to-time or at least get one-on-one matchups with mistake-prone Antonio Cromartie.
Sit 'Em: Chad Ochocinco, WR, Patriots
He was targeted at least five times in Week 9 against the Giants, but it was visibly evident that he and Brady are nowhere near the same page right now.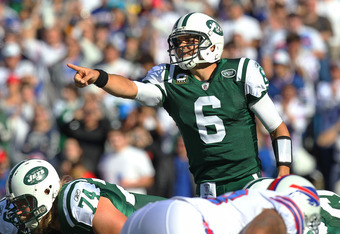 Tom Szczerbowski/Getty Images
If you were playing him at all you must've been desperate, but he's not even worth a roster spot right now.
Sleeper: Mark Sanchez, QB, Jets
This is the second week in a row Mark Sanchez deserves to be on sleeper alert. The Jets signal caller has done a better job taking care of the ball lately and has been winning games because of it.
The Patriots defense is far from sound in the secondary and should they show the Jets run game any respect, Sanchez has enough weapons around him to make something happen.
What They're Saying
The Boston Herald quotes Patriots QB Tom Brady talking about his matchup with the Jets saying:
'It's a same group of guys doing the same type of scheme. I think we played them a bunch of times over the last few years, and we know them better than anybody else in the league. They kinda do what they do, along with some game-plan type elements to each game. I'm sure they'll have some for this week. They're tough to prepare for, a big-time challenge.'

As for his own play, Brady said the key is, "Just decision-making. Just gotta make better decisions."
As for the Jets, the New York Daily News writes:
Or exactly where they have always wanted to be, as Ryan described it. The Jets, feeling confident that they have overcome their early-season struggles, host the staggering Patriots Sunday night with both teams at 5-3 and tied atop the AFC-East.

They could not even wait to get the luggage off the plane from Buffalo before looking forward to this showdown.
It should be a good one as always.
Patriots Player to Watch: Wes Welker, WR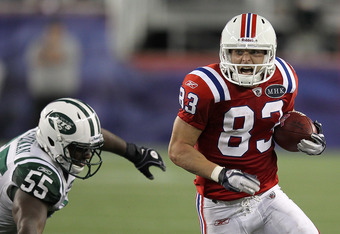 Jim Rogash/Getty Images
It will be really interesting to see how the Jets want to cover Welker. They could simply be fed up with him hurting them and put Revis on him, or they can go bigger with Cromartie.
Either way, the matchup will dictate much of the points to be scored in this game.
Look for the Patriots to involve Welker early and force the Jets to account for him on every play. Then Brady will have the one-on-one matchups he wants elsewhere.
Jets Player to Watch: Shonn Greene, RB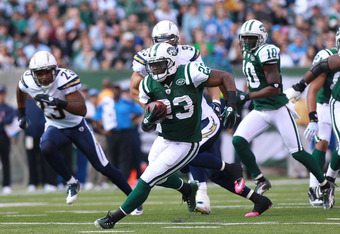 Nick Laham/Getty Images
If the Jets' big back can make things happen at the point of attack, things will open up everywhere else for Gang Green.
Play-action will allow Dustin Keller to have more room to run and should also help Santonio Holmes and Plaxico Burress earn single coverage from time to time.
But all of that starts with Greene running hard and making the best of what the Jets can do on the ground.
Key Matchup: Patriots TEs vs. Jets Safeties
This will be huge. Aaron Hernandez and Rob Gronkowski pose a huge threat to the Jets' smaller, vulnerable safeties.
The Patriots love to use two tight end sets and get one of their playmakers matched up one-on-one down the seam.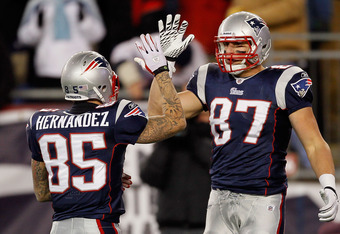 Jim Rogash/Getty Images
Quite simply, nobody can cover either one of these players one-on-one. 
If either get a free release off the line of scrimmage and Brady has time to throw, it will be on these safeties to recognize what is going on in front of them or it will be a long day.
On the Hotseat: Brian Schottenheimer, Jets offensive coordinator
Schottey needs to be winning this game right now. Having a game plan that can exploit the Patriots weak defense is the best chance this team has at winning.
The defense will certainly give them opportunity to win this game, but the Jets offense has to capitalize.
Whether it be involving Plaxico early this week, or establishing a strong base in the run game, the Jets need to find a way to control this game early and not put their defense in bad field position.
Prediction: Jets 27, Patriots 24