Joe Paterno Press Conference: Twitter Reaction on Doomsday at PSU
November 8, 2011
Justin K. Aller/Getty Images
The nation is outraged at the events that took place at Penn State, and people are not afraid to voice their opinion on the matter. 
Former Penn State defensive coordinator Jerry Sandusky allegedly molested young children from his charity program, Second Mile. Apparently, some of these crimes happened in the Penn State locker rooms. 
Sandusky has been indicted on felony sexual abuse of minor boys and was arrested over the weekend. He was released on bail, and has since been barred from the Penn State campus. 
In 2002, a graduate assistant witnessed Sandusky and a young boy in the showers, but instead of calling the police, he told Penn State officials, which many cannot believe.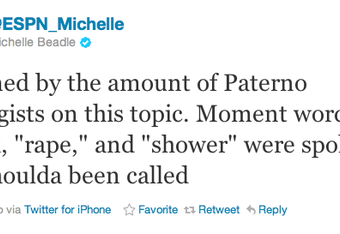 Penn State athletic director Tim Curley and vice president for finance and business Gary Schultz have stepped down from their positions after being charged with perjury and failure to report. 
Their decision to ban Sandusky from bringing children to the locker room as opposed to reporting the incident the graduate assistant witnessed was their downfall. 
Sandusky was retired when some of this took place, but even though he was no longer working for Penn State he remained a prominent figure at the school. 
That saddens some people, especially when news broke that Sandusky was at Penn State just last week.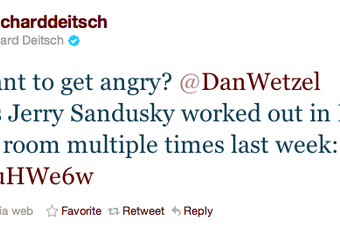 That doesn't look good for Penn State. Another thing that hurts the school is Sandusky's autobiography.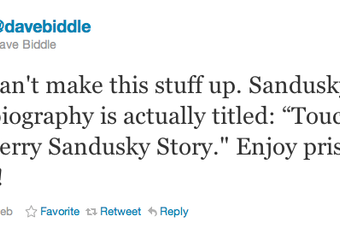 Even more disturbing? Check out this tweet from SportsbyBrooks.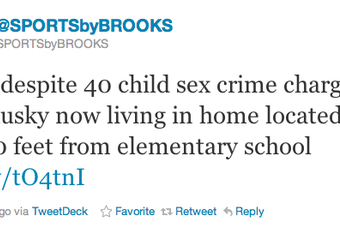 That just has to make you sick to your stomach.  
Nittany Lions head coach Joe Paterno will hold a press conference today, and Mark Viera of The New York Times tweeted how the coach will deal with the Sandusky sex scandal.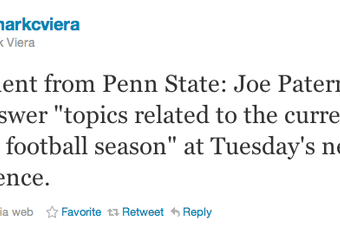 If you were in attendance, what would you ask JoePa? 
Of course Paterno wants to avoid the Sandusky questions, but Penn State kind of messed up with that statement.
The Sandusky scandal is related to the current college football season because the news is breaking now. The events may have happened in the past, but we're all learning about it now, unlike Paterno and company.  
Paterno claims he didn't know the full events of what the graduate assistant saw in the showers, and that he basically just passed the information along. 
Colin Dunlap is a radio host in Pittsburgh, and he is of the many who believe Paterno should have reacted better.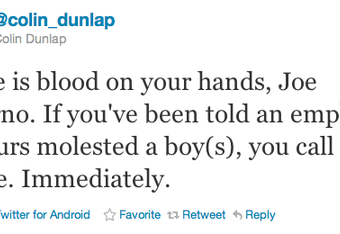 Since Paterno didn't do more, several people believe Paterno should be out as Penn State's head coach. George Diaz of the Orlando Sentinel hits the nail on the head with this tweet.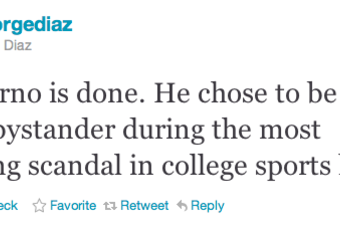 I know he's an old man, but does he not have a heart? What if that were his grandchild? 
A bigger reaction was needed from Paterno because this is his program, and things like that cannot happen under his watch. The head coach has to restore order and lay down the law, but Paterno failed to do so. 
Pete Thamel of The New York Times tweeted what he's heard from different people on the matter. One person in particular told him Paterno should have stepped up.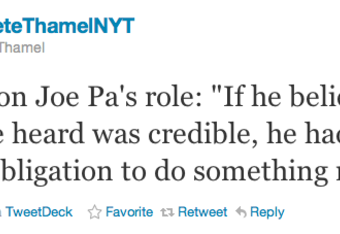 Choosing to not do anything ultimately made matters worse. 
If Sandusky had been busted many years ago, Penn State would be just fine now and there would be nothing to worry about.
Unfortunately, that didn't happen as officials tried to protect their schedule. Instead, they have shed an enormous negative light on the program, and it will be very difficult to overcome this scandal, which is far worse than paying a player.