San Francisco Giants: Analyzing the Jonathan Sanchez for Melky Cabrera Trade
November 7, 2011
Tim Umphrey/Getty Images
The San Francisco Giants have just traded Jonathan Sanchez and minor league pitcher Ryan Verdugo to the Kansas City Royals in exchange for outfielder Melky Cabrera.
Is this a good deal for the Giants?
Let's take a look at all the angles. First off, for whatever reason, Jonathan Sanchez did not take the next step towards stardom in 2011. He was arguably the Giants best pitcher in August and September of 2010 and helped the Giants overtake San Diego. 
Sanchez was a key figure in the Giants' march to the playoffs in 2010, and I fully expected him to emerge as a reliable and consistent pitcher in 2011. Simply put, that did not happen. 
I believe GM Brian Sabean, manager Bruce Bochy and pitching coach Dave Righetti were tiring of Sanchez's inability to establish any sort of consistency on the mound. In addition, with the emergence of Ryan Vogelsong, Sanchez was unlikely to make the Giants starting rotation in 2012.
Barry Zito has the fifth spot in the rotation, largely based on the $19 million the Giants owe him for the coming season. 
Sanchez earned $4.8 million in 2011 and was likely to surpass that as an arbitration eligible player in 2012. This, coupled with his maddening inconsistency, were the two main reasons he was traded.
Battling injuries and inconsistency, 2011 was a lost year for Sanchez.  He threw 101.1 innings and struck out 103, but walked an alarming 66 batters.  His ERA ballooned to 4.26, over a full run above his 2010 level.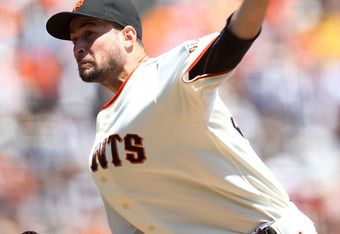 Jed Jacobsohn/Getty Images
Sanchez has a world of talent and a live arm. In Kansas City, he could finally develop into the consistent winner the Giants had hoped. Unfortunately, he probably wasn't going to do it in San Francisco, so this is probably a good change of scenery for him as well.
In Melky Cabrera, the Giants receive a 27-year-old outfielder who had his best season last year.  Cabrera played in 155 games and hit .305 with 18 home runs, 87 RBI and 20 stolen bases.  In addition, Cabrera is a solid outfielder and can play center field, a major position of need for the Giants.
From a financial standpoint, this move also makes sense. Cabrera earned $1.25 million in 2011 and will be getting a raise from that figure. However, it's unlikely Cabrera will cost the Giants as much as retaining Sanchez would have cost them.
Unless the Giants acquire a proven lead-off hitter, expect them to give Cabrera the first shot at this spot in the order. At age 27, Cabrera should be entering the prime of his career, and this was a very good move for the Giants.
The other player in the deal is left-handed starter Ryan Verdugo. He was pitching in Double-A with the Richmond Flying Squirrels. Verdugo compiled a record of 8-6, with an ERA of 4.35 and WHIP of 1.366.
He pitched a total of 130.1 innings in 2011 and struck out 133 batters, a fine ratio of just above one strikeout per inning. Verdugo did walk 63, which is a number that needs to decrease.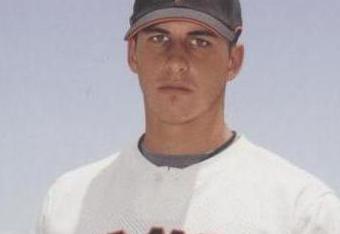 Verdugo most likely has the potential of being a fourth or fifth starter in the majors if he can improve his command and cut down on the walks.
I actually interviewed Verdugo during this past season for Bleacher Report and found him to be a great guy.  He is well spoken, and at the end of our interview, I told him I was rooting for him to achieve his goal of pitching in the majors.
This trade to Kansas City will give Verdugo a great opportunity to make it to the major leagues a lot quicker than if he was still a Giant. Verdugo was behind a tremendous starting staff in San Francisco and also was behind fellow 24-year-old, Eric Surkamp, who started six games for the Giants in 2011.
Although this trade was not the blockbuster type of acquisition the Giants fans are hoping for, it does serve a very valuable purpose. I believe this could be a very good deal for both teams and individually, for all of the players involved.