MLB Free Agents 2012: Would Jose Reyes Make Miami Marlins an NL East Contender?
November 7, 2011
Jim McIsaac/Getty Images
You know that MLB free agency is fully underway once the coveted players begin to initiate interviews with potential suitors.  C.J. Wilson is reportedly in discussions with the NY Yankees, and NY Mets All-Star shortstop, Jose Reyes—according to MLBTraderumors.com—has set up a meeting with the Miami Marlins.
This is the time for all teams with money to address their perceived needs by signing proven MLB commodities.  
Reyes, at 28 years old, is arguably the cream of the free-agent crop this offseason at the shortstop position.  There are multiple teams that could use the speedy shortstop and excellent lead-off hitter.
The head scratcher with the Marlins, though, is that they already have a solid shortstop in Hanley Ramirez, a three-time All-Star and two-time Silver Slugger recipient.
The potential acquisition of Reyes by the Marlins raises several questions:
Let's say that the Marlins make a play for Reyes' services and get him under contract.  What would that mean for their current shortstop, Hanley Ramirez?  
Ironically, Ramirez injured his left (non-throwing) shoulder in a game against Reyes' former team, the Mets, early last August.  Did the Marlins get a glimpse of their future shortstop in that matchup?
Can Ramirez recover from his injury and return to form defensively (and offensively)?
Shoulder injuries are always dicey.  There's always the chance—albeit remote—that Ramirez will never be quite the same again.  
The biggest question of all, however, is a simple one.  Assuming all is well with Ramirez, and he returns to his pre-2011 form—especially at the plate—can the addition of Reyes make the Marlins a National League East contender?
This would be no easy task, of course, since the 2011 Marlins finished dead last in the NL East, a whopping 30 games behind the Phillies, 17 games behind the Braves and eight-and-a-half games south of the up-and-coming Washington Nationals.
With Reyes at the top of their lineup, I do think the Marlins can at least be in contention for a playoff spot in 2012—here's why:
The Marlins get a time-tested, top of the order bat in Jose Reyes
It's no secret to Marlins fans that the leadoff spot was touch-and-go in 2011, getting decent—not great—productivity out of what essentially amounted to a platoon.  Chris Coghlan hit atop the order quite a bit, as did Emilio Bonifacio.  Ramirez, who has batted leadoff frequently in his career, also saw time there last year.
Coghlan, the 2009 Rookie of the Year, has yet to live up to his lofty numbers from his inaugural season.  Bonifacio had a nice year in '11, as he hit .296.  
Plugging Reyes' 2011 numbers into that leadoff spot for the Marlins, we see an obvious and dramatic improvement over the aforementioned players.
Reyes' .384 on-base percentage is infinitely better than Coghlan's .296, and is twenty-four points higher than Bonifacio's .360 over a much larger sample size—Reyes had 586 plate appearances to Bonifacio's 298.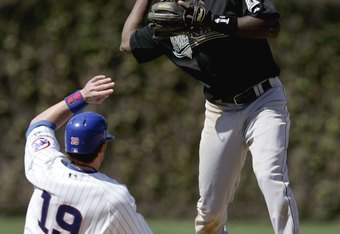 Jonathan Daniel/Getty Images
Improved defense at shortstop
In terms of skill-sets Reyes and Ramirez have many similarities.  Ramirez—as his size would indicate—has plus power over Reyes.  Both are quick and capable of stealing bases; both are solid defensively at shortstop (Reyes' career fielding percentage is .973 compared to Ramirez's .968) 
A look into each player's UZR (ultimate zone rating) shows that Reyes is better (-3.1 UZR) than Ramirez (-4.8 UZR) but that neither are exactly the next coming of Ozzie Smith.  
Regardless, Ramirez has been excellent at shortstop in the past, and a move to third base might reinvigorate him, as he is prone to lapses in concentration and occasional bits of apathy.
New position, new outlook for Ramirez
The addition of Reyes at shortstop might just be what Ramirez needs to get his career back on track after a lackluster 2011 showing that was marred by a dip in production and various injuries. 
If Ramirez gets it all back together, he has a chance to be an excellent third baseman.  
Final Analysis
Obviously, this is all speculation.  We don't even know for sure where Jose Reyes might end up. However, should he don a Miami Marlins jersey for 2012 and beyond—and if Ramirez is healthy and produces a solid 2012 season—then you have to surmise that the Marlins' offense will improve enough to at least put them in the potential playoff mix for next season.
The Marlins have a young and deep starting rotation, and if Josh Johnson can stay healthy, their potential combination of solid pitching and good hitting will put them in a nice position for years to come.
Follow Timothy on Twitter @TMurrayHowell—he follows back, but not in a creepy way. Or hit him up on Facebook—you know you have an account.