Alex Song: Why He Could Cost Arsenal a Champions League Entry
November 6, 2011
Shaun Botterill/Getty Images
The way Arsene Wenger runs his team is unlike any other; Wenger's free-flowing and attacking philosophy means Arsenal are one of the most menacing teams in the world going forward.
Throughout this six-year trophy drought, a fatal flaw has appeared in Wenger's renowned philosophy however
That flaw is the ease at which Arsenal can be exposed defensively.
Still, there has always been a solution to this flaw, and that solution is quite simply the presence of an astute, intelligent and adept defender at central midfield
In Arsenal's hybrid 4-3-3 formation, a central midfielder can afford to play a less influential role in the attack to focus on breaking up the opposition's offense, and is crucial to Arsenal's success.
Now, I suppose that many of you think the Gunners have that exact player in Alex Song, but I feel Alex Song is no longer that player—and that fact could prove to be incredibly costly for Arsenal's season.
Alex Song appeared to be the solution to Arsenal's defensive midfield search when he emerged during the '08-'09 campaign, bursting onto the scene and quickly establishing himself as one of the elite Premier League defensive midfielders. He could prove to be the biggest risk on Arsenal's roster however.
So what has caused this dramatic shift? The answer is quite simply a change in Alex Song's mindset.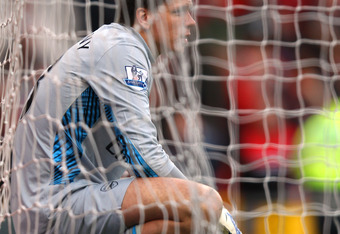 Alex Livesey/Getty Images
Alex Song has always been susceptible to venturing too far forward, yet these incidents were relatively few and far between—until this season. Nowadays, Song has become much more attack-minded and can be seen venturing forward on almost every Arsenal attack, which is something that is quite simply not needed.
He has become so attack-minded, in fact, he can often be found darting into the box behind Robin van Persie. Should the Gunners fall victim to a quick counter-attack, they are left with a completely isolated young back four.
With Arsenal's attack firing on all cylinders behind Robin van Persie, it is more important than ever that Arsenal have a player who can help protect a defense that is still learning and evolving, and at this point in time, Alex Song is not capable of being that player.
If he continues to be rash in ignoring his defensive duties, Arsenal could lose many games as a result.
Whilst Arsenal may be keeping clean sheets against the likes of West Brom, the better teams in the Premier League are punishing them. Again, if they are to keep themselves in the hunt for any major competition, or even a Champions League spot, they need a player who will perform these vital defensive duties.