Fantasy Football: How New Oakland Raider T.J. Houshmandzadeh Affects Your Team
November 5, 2011
Jeff Gross/Getty Images
The Oakland Raiders—always going against the grain. 
Signing a semi-retired quarterback as the new starter, despite not having thrown a pass in the NFL in 10 months? Check. 
Signing a semi-retired 34-year-old wide receiver, who hadn't caught a pass in the NFL in nearly 10 months? Check. 
Rely on both of them to jump-start an injury-laden offense? Check? 
With the recent signings of both quarterback Carson Palmer and receiver T.J. Houshmandzadeh, the Raiders are depending on a couple of weathered veterans to stabilize their offense and carry them into playoff contention in the wild, wild AFC West.
But with both players not having stepped onto for quite some time—will they be able to dust of the rust? And how will injecting them into the lineup affect the Oakland offense? More importantly, how will that injection subsequently affect your fantasy team? 
It's safe to say that Houshmandzadeh won't be up to speed in Oakland this Sunday against the Denver Broncos—both in terms of physical celerity as well as knowledge of the offensive playbook. That being said, how many plays will Housmandzadeh get this weekend?
Raiders head coach Hue Jackson is not likely to start Houshmandzadeh; but that's not to say that Jackson won't give him a lot of playing time either. After all, Jackson threw Palmer into the fire during his first week with the team, in the middle of the Raiders' game against the Kansas City Chiefs two weekends ago. With Jackson, no one can expect anything other than the unexpected. So Houshmandzadeh could see 10 plays or 50.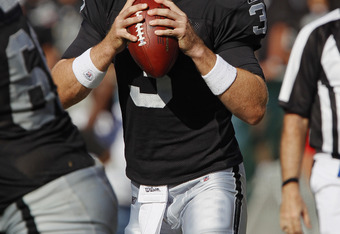 Brian Bahr/Getty Images
So how will his football atrophy impact the other Raiders on offense? Having a familiar face on offense is certainly going to be comfortable for Palmer. He will have that safety blanket, mostly on third-down or broken plays. But it's the other weapons on offense who might see their numbers go down.
If you're a fantasy owner who has Darrius Heyward-Bey, Jacoby Ford or Louis Murphy, you probably want to think about where they now belong on your roster. Given Houshmandzadeh's experience and familiarity with his Jackson's offense from their Cincinnati Bengals days, he could see a lot of balls thrown his way.
Both Jackson and Palmer hope their relationships will Houshmandzadeh will carry over to the Raiders' offense and spark the team overall.
However, this signing will be a detriment for fantasy owners of other Raiders wideouts, particularly Heyward-Bey, who had seen an explosion in his performance over the previous three games (18 catches for 270 yards.)
Heyward-Bey has been enjoying a career season so far; but Houshmandzadeh's presence will no doubt take see some of his receptions go away.
Meanwhile, Murphy, the other Raiders starter, is likely to see fewer balls thrown his way, especially in the short game. The more likely opportunities for both Murphy and Heyward-Bey will be downfield long-balls to stretch out the field. This will open up the more comfortable quick-slant passes to Houshmandzadeh over the middle.
If you're in a fantasy league that favors pass receptions, look for Houshmandzadeh to steal some catches from both Heyward-Bey and Murphy, certainly lowering their value as a No. 3 or flex receiver.
Oh, and if you happen to have slot backup receivers Ford or Denarius Moore, you might as well drop them now. Houshmandzadeh could see five receptions a game just on dinks and dunks and dump-offs.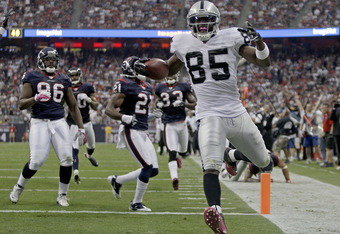 Thomas B. Shea/Getty Images
The other angle to watch is the impact on the Raiders' running game. With Darren McFadden out for the time being, Michael Bush will see the brunt of the rushing carries. This could be even more magnified depending on Palmer's inactivity and acclimation into Jackson's system.
It's possible that Bush could put up some big numbers in the next couple of games—he gained 99 yards on 17 carries last week against the Chiefs. With Houshmandzadeh additionally working his way into the fold, Bush will become the major focus of Oakland's offense. Look for his numbers to go up—start him if you got him.
In the end, Houshmandzadeh himself won't necessarily garner any starts on your fantasy team—yet. But if you the owner of another Oakland Raider, even Carson Palmer, you should consider how Houshmandzadeh's signing will affect your team.