Joe McKnight: Primed and Ready to Explode for Second Half of Jets' 2011 Season
November 4, 2011
Michael Heiman/Getty Images
Joe McKnight began his career with the New York Jets in May 2010 by throwing up on the field during minicamp.
But just yesterday, he was named AFC Special Teams Player of the Month for October. 
And for McKnight, the sky is the limit. His upside is huge and he is primed for a strong second half of the season. His speed and elusiveness in the open field make him a dangerous player.
In the month of October, McKnight set a New York Jets franchise record by returning a kickoff for a touchdown 107 yards against the Baltimore Ravens.  The following week, McKnight was able to break another long kick return; and although it did not go for a touchdown, McKnight's 88-yard return set the Jets up with great field position, which they capitalized on.  Not only has McKnight been vital on special teams thus far, he even played defense for a play when the Jets visited Baltimore, as he was left un-blocked and got his first career sack.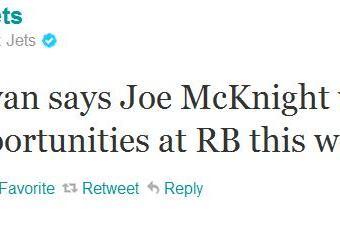 During the bye week, it seemed head coach Rex Ryan realized the weapon that he has at his disposal. This news came following the Jets practice on Wednesday:
At first glance, seeing McKnight getting reps at wide receiver might make someone question OC Brian Schottenheimer's plans for McKnight but it should be quite the opposite. 
With the speed and agility McKnight possesses in the open field, Schottenheimer will likely mold his gameplan around plays similar to those New Orleans runs with RB Darren Sproles. This will create mismatches for McKnight, as he may end up with a linebacker or safety covering him.  With other receivers like Santonio Holmes, Plaxico Burress, and Jeremy Kerley, having McKnight line up at receiver can only help them, as long as the offensive line holds up.
And McKnight is a great change-of-pace running back. The perfect complement to RB Shonn Greene.
His speed should help the Jets stretch the field a lot more with their ground and pound.   Earlier in the season when the running game was struggling, one of the few types of plays that worked for the Jets were tosses and counter plays to the outside, which went for 6-7 yard gains almost every time.
All eyes will be on McKnight this Sunday as the Jets take on the Bills in a must-win game with huge divisional implications
The last time the two teams met in January for the Week 17 matchup, McKnight carried the ball 32 times for 158 yards.  
McKnight plays a pivotal role in the special teams unit and is getting more reps with the offense.  It will be interesting to see how he fares in the second half of the 2011 season.
Could he be the Jets x-factor they've been looking for?
One thing's for sure: McKnight has some serious speed. Watch him torch the Ravens' defense, taking a 107-yard kick return to the house!