Philadelphia's New Answer: Ilya Bryzgalov Is the Key to a Flyers Stanley Cup
November 3, 2011
Jim McIsaac/Getty Images
"I have zero confidence in myself right now.  If you probably throw a ball instead of a puck I'm not going to stop it...I'm terrible, I will apologize in front of the fans and in front of my teammates.  I don't know what is going on.  I have no answer...I'm lost in the woods right now."
These Ilya Bryzgalov quotes came following a wild, 9-8 Flyers loss in Philadelphia to the Winnipeg Jets.  
Sergei Bobrovsky earned the start, but Bryzgalov took the loss after Bob was pulled and the Flyers charged back to take a third period lead only to see their $51 million goaltender give up four goals on 10 shots and, ultimately, the lead.  
Bryzgalov admitting he could not stop a beach ball was alarming, but in his two starts since making the comments the Flyers are 2-0 with a 1.50 GAA.  
Watching the games it was hard to blame Bryzgalov for any of the three pucks that found their way into his net.  
So Bryzgalov has bounced back from one of the worst stretches of his career, allowing 18 goals on 91 shots (.802 save-percentage) over a four game span.  
Certainly, two games does not prove Bryzgalov is back in the Vezina Trophy race, but it does suggest a statistical truth of Bryzgalov's recent career numbers.  Over the 31-year old Russian's past two seasons every time he has posted a monthly GAA above his eventual season high the following month's was substantially lower.
Yes, I realize that is why they call it goals against average, but the absence of prolonged slumps and All-Star caliber hot streaks suggests Bryzgalov is a stopper.  The hockey equivalent to an ace pitcher.  
Jim McIsaac/Getty Images
The guy counted on to get his team out of a poor stretch.  A goalie who gets the start the night after a bad game because he is still his team's most viable shot at a victory.  
In other words, exactly what the Philadelphia Flyers have been missing in the playoffs for about three decades.
Bryzgalov made his "I'm confident again" statement in Wednesday's 3-2 defeat of the Buffalo Sabres, making 29 saves on 31 shots, including seven of eight in the third period, and a flurry in the closing seconds with the Flyers short-handed by two men. 
And do not under-rate who was in net for Buffalo, Ryan Miller.  Bryzgalov stepped up on a night when his team faced-off against one of the best goalies in hockey, even if Miller did not live up to the billing last night.  
In fact, Bryzgalov's best performances have come against some of the best goalies in the game.  
Opening night against the Boston Bruins and Tim Thomas the Flyers backstop allowed only one goal, and followed that up with a shut out in his next game, blanking the New Jersey Devils and Martin Brodeur, widely considered the best of all-time at his position.  
While this may suggest Bryzgalov also plays down to his competition, playing his best in big games bodes well for the playoffs.  
Bryzgalov also makes it tough to eliminate the Flyers from a playoff series.  His ability to bounce back, go from 'lost' to 'found' within a game, means taking the Flyers out four times in a seven game series will be a much tougher task than it has been in years past.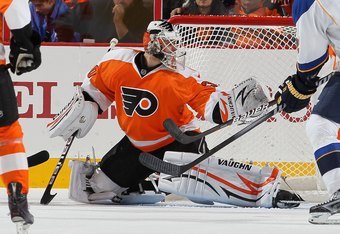 Jim McIsaac/Getty Images
But at the end of the season, statistics and trends and huge contracts will not matter.  The Stanley Cup will.  
The case has been made that this Flyers team, with all the roster turnover in the offseason and the current string of injuries, will take some time to reach any level of consistency.  
But come playoff time the fans and many in the media expect Philly to be a greater force than they are currently.  
The same can be said for Ilya Bryzgalov.  
Much has been made of Bryzgalov's adjustment to the expectations, media attention and fan 'support' that goes along with playing in the City of Brotherly Love.  
As this new team gels they will play better and more consistently in front of the goalie.  Bryzgalov has never had a first-rate team defense in front of him, either.  
The whole team, goalies, defenders and forwards, should hit their stride together, which is more important to winning the Stanley Cup than anything else.  
It is always the hot goalie going into the playoffs who makes the biggest impact.  If the Philadelphia Flyers are playing their best as a team, they will have the hottest goaltender.  
Ilya Bryzgalov has never posted a season GAA above 2.98, and boasts a .915 save-percentage for his career.  He is a stud netminder.  He proved to be such by closing the doors on the Sabres Wednesday night- a lesser goalie blows the lead in the six-on-four.  
"OTBeT" is Russian for "the answer," or so an online English-Russian translator told me.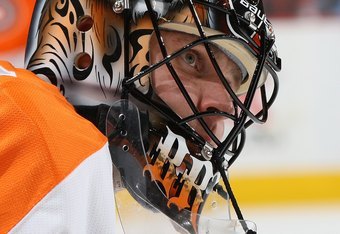 Jim McIsaac/Getty Images
Ilya Bryzgalov will be the new answer in Philadelphia.  
The man capable of bringing the Broad Street Bullies to a Stanley Cup Championship.
Not since Bernie Parent and young Ron Hextall have the Flyers gone into the playoffs with a legitimate number one goaltender.  Bryzgalov is that goalie.  It is always said to win the Cup the team's goalie must steal at least one game in every series.  
With the level of talent, leadership, coaching and energy this Flyers team has, the goalie is just another piece to a well put together puzzle.  But an unbelievably important piece.  One that could not be made up for by Eric Lindros or Jeremy Roenick or Petr Forsberg or Danny Briere or even Jaromir Jagr.  
This Flyers team will be very good.  For once, they have a very good goalie to compliment the skaters' effort.
I realize, as fans, now that the Flyers have the goalie of our dreams, we want a shutout every night.  But temper your expectations in the short-term and look towards March, April and May for Bryz's most outstanding performances. 
As this team reaches its full potential, so, too, will Bryzgalov.  What he has shown through his first nine starts has been mountainous, with plenty of peaks and valleys.  
But Bryzgalov will prove to be OTBeT.  
Some point to Ilya's performances over the past two playoffs (3.9 GAA, .905 save-percentage) as a Phoenix Coyote to prove he is not that goalie. 
But I argue no goaltender in the history of hockey could have advanced those Phoenix teams to the Semi-Finals.  
Furthermore, the expectations said to be waring on his mind and performance, that were nonexistent in Phoenix and Anaheim, should ultimately motivate Bryzgalov to finish a season the way it is speculated he could, despite never accomplishing the ultimate goal as a starter.  
Philly and Bryz need each other, they are the perfect fit.  Bryzgalov is eager to prove he can live up to his own expectations.  That is my feeling hearing and re-reading his self-incriminating comments following the Winnipeg loss.  
The Flyers have needed a top-of-the-line goalie to take the next step for years.  
Now, the two sides are one, with one common goal, the Stanley Cup.  
Only time will tell if the nine-year, $51 million contract was money well spent, but following Bryzgalov's scathing review of his own play and the way he followed it up with back-to-back ace performances, I'm willing to anoint Bryzgalov OTBeT to our Stanley Cup Dreams.