Arsenal Transfer Prospects: The Top 10 French Players Arsene Wenger Can Target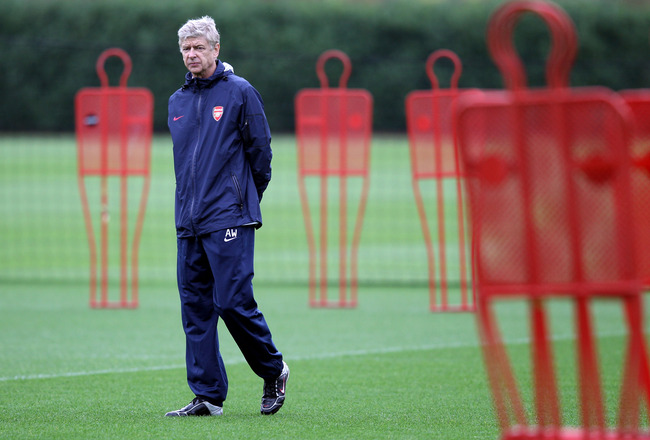 Clive Rose/Getty Images
There is no denying Arsenal are a little bit French. Since Arsene Wenger's tenure commenced in 1996, the Gunners' have frayed away from the traditional English aroma and atmosphere that engulfs most teams in the English Premier League.
The Frenchman has implemented his elegant, entertaining European style that has not only commanded respect but success. Rarely does Wenger indulge in purchasing English players, preferring to acquire talent for a cheaper yet more effective rate from around Europe and the world. Furthermore, it has seen the Arsenal manager develop and discover some outstanding talents who have become some of the best in World Football, Robin van Persie, Lauren, Cesc Fabregas, Gilberto Silva and Fredrik Ljungberg are just a few names.
However, it is the French players Arsene Wenger appears to arise the most success with. It may be because Wenger is French, but with players like Thierry Henry, Bacary Sagna, Patrick Vieira, Robert Pires and Samir Nasri on the list of notable Frenchman, it is hard to ignore his success for Les Bleus.
With six successive seasons without silverware currently overhanging the Emirates, it may be time for Wenger to target some more French talent for his squad, which is set to receive reinforcements in January.
To help the Arsenal manager out, BleacherReport established the ten best French players Arsene Wenger can target.
10. Karim Benzema-Real Madrid CF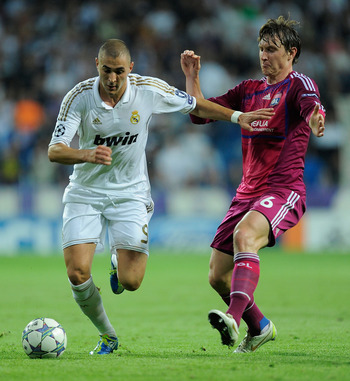 Denis Doyle/Getty Images
The 23-year-old has long been touted with a move to the Gunners' and it appeared a transfer had materialized during the recent Summer but in the end little arose. Benzema is a strong, efficient striker whose undeniable success with Olympique Lyon, sixty-six goals in 150 appearances, in the French Lique One, introduced the Frenchman to World Football enthusiasts.
Currently with Spanish giants Real Madrid, where last season Benzema amassed twenty-six goals in 48 appearances, the France international will surely be on Wenger's radar. Wenger currently has inform striker Robin van Persie under a contract cloud, whilst Moroccan international Marouane Chamakh has endured months out of form and looks destined for an exit.
This could see a deal arise in January as Real Madrid boast a compacted forward line, however it is unlikely Jose Mourinho will desire less than £15 million.
9. Mamadou Sakho-Paris Saint-Germain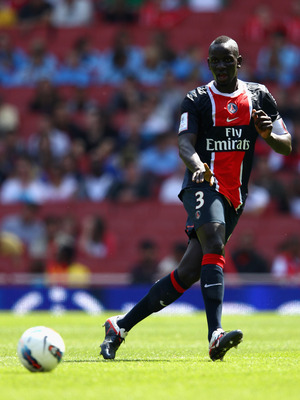 Richard Heathcote/Getty Images
Sakho is another player who has looked destined to wear the Arsenal red and white. The 21-year-old has long been regarded as one of the best defenders in the French Ligue 1, having made his debut as a 17-year-old in 2007.
A tough, composed and versatile defender, many believe Sakho could thrive in the tough environment of the English Premier League. With over 135 appearances for PSG and considered a natural leader, Sakho has experience and control as a defender, and with Wenger eager to introduce further quality to the Gunners' defensive line, particularly with frail fitness concerning Thomas Vermaelen and Bacary Sagna, Mamadou Sakho is certainly a target for Arsene Wenger.
8. Moussa Sissoko-Toulouse FC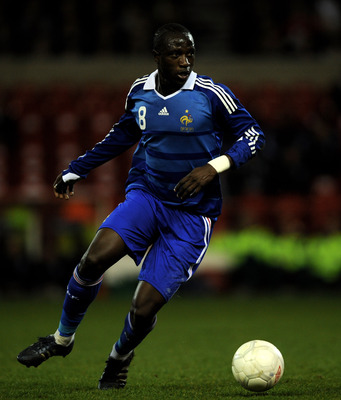 Shaun Botterill/Getty Images
The 22-year-old has thrived in the French Ligue 1 for a number of seasons now, amassing over 150 appearances in four seasons, and at such a tender age has become a composed, mature midfield force.
Sissoko is blessed with a devastating combination of speed and strength alongside an imposing figure. The Frenchman is equally powerful from a defensive and attacking midfield point of view and has all the traits to become a typical Arsene Wenger signing.
The Toulouse playmaker has drawn serious comparisons to former Arsenal captain and legend Patrick Vieira, a player Wenger has insufficiently failed to replace since 2005, coinciding with Arsenal's six-season trophy drought.
Sissoko is a combative figure in the midfield, but has routinely impressed with his playmaking abilities, thus enabling the French international to become increasingly versatile as a midfielder. While currently linked with Inter Milan, Liverpoool, Olympique Lyonnais and Manchester United, Arsene Wenger has a penchant for young Frenchmen and possesses great admiration for Moussa Sissoko.
Furthermore, it could cost as little as £11 million.
7. Michael Ciani-Girondins De Bordeaux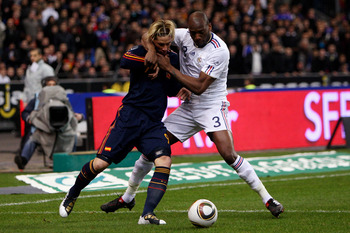 Michael Steele/Getty Images
The giant Frenchman is a tough, tenacious defender who has performed consistently for former French champions Bordeaux and is considered one of the strongest defenders in France. Arsene Wenger is still eyeing potential defensive reinforcements with veteran Sebastien Squillaci rumoured to be departing in January and question marks over Johan Djourou.
The 27-year-old has all the attributes to perform well in the English Premier League and Ciani would also provide added security aerially following his imposing figure. Furthermore, the French international could be acquired for as little as £7 million.
6. Mathieu Valbuena-Olympique De Marseille
Laurence Griffiths/Getty Images
The French dynamo was heavily linked with a move to the Emirates during the Summer, as an effective replacement for Samir Nasri and Cesc Fabregas. Valbuena is a small yet lethal play maker whose speed, balance, intelligence and skill has tormented defenders throughout France.
The 27-year-old has over 185 appearances for French giants Olympique de Marseille, a team encountering Arsenal in the UEFA Champions League Group F, and with Theo Walcott, Andrei Arshavin, Tomas Rosicky and Yossi Benayoun by no means considered long term currently, Valbuena emerges as a promising option for Wenger.
A player that evokes the ability to thrive at Arsenal, Marseille reportedly will take upward £13 million for their tiny terrier.
5. Marvin Martin-Sochaux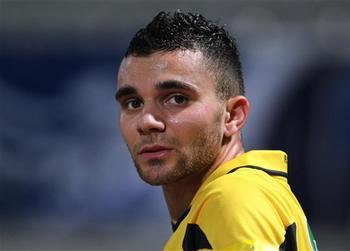 A small yet incisive and clinical playmaker, the Frenchman has thrived in the French Ligue One for a number of seasons now, amassing over 120 appearances for Sochaux and recently becoming a France international.
Last season, Martin boasted 41 appearances, four goals an a superb 17 assists during the European campaign and was considered one of the best midfielders in France, particularly impression with his composure, vision and technique.
The 23-year-old was considered one of the most effective replacements for former captain Cesc Fabregas and Wenger is eager to reinforce a £14 million move in January.
4. Andre Ayew-Olympique De Marseille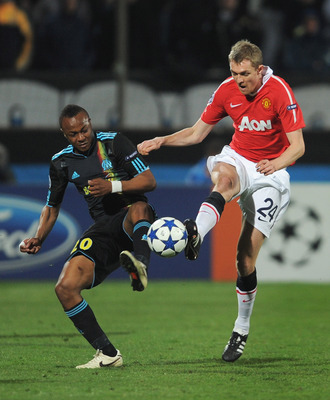 Michael Regan/Getty Images
A devastating winger, Andre Ayew has long been a target for Arsene Wenger, who has also long had scouts analysing the 22-year-old. It is believed Arsenal have offered in the past to French giants Marseille for the French born, Ghanian international.
Ayew is a quick, destructive winger who possesses an efficient eye for goal. Last season the Ghana international boasted thirteen goals in 51 appearances and has already commanded nine goals in 13 appearances this term.
Wenger is still eyeing potential wing and second striker options and with Ayew constantly linked with the Gunners', a January move may well be on the cards. However not for less than £11 million according to Marseille.
3. Yann M'Vila-Stade Rennais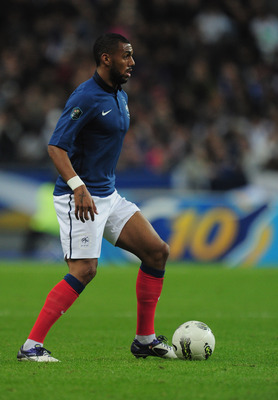 Jamie McDonald/Getty Images
Regarded as one of the best midfielders in France, Yann M'Vila has enjoyed a rapid rise in development following superb performances for Rennes in the last two seasons. The 21-year-old amassed 39 appearances in his debut season before securing 40 appearances and three goals last season.
A tough, efficient and balanced midfileder, the Frenchman is both strong and quick alongside possessing natural attacking creativity. Arsene Wenger highly rates M'Vila and was eager to secure the France international during the recent summer.
The Rennes enforcer can add strength and steel to the Arsenal midfield alongside the lacking energy and attacking spark.
Furthermore, at such a tender age, the Frenchman has much development to fulfil. Yann M'Vila is said to be worth £16 million.
2. Yoann Gourcuff-Lyon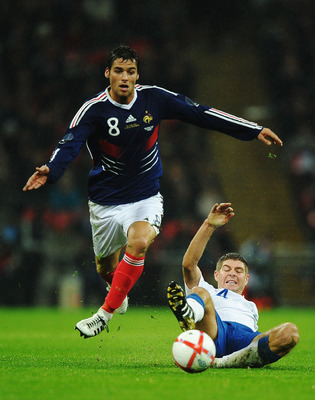 Laurence Griffiths/Getty Images
The Frenchman has long been touted with a move to the Emirates due to his incisive, quick style of play that predominantly thrives at the Gunners. Often viewed as one of the best replacements for Cesc Fabregas, Wenger reportedly was desperate to sign Gourcuff in the summer before an injury ruined the potential deal.
The 25-year-old is an emphatic, devastating midfielder with blistering pace and a sublime passing range, a regular in the national France team, Gourcuff is a class act, and many Arsenal fans would adore to see the midfielder at the Emirates.
1. Florent Malouda-Chelsea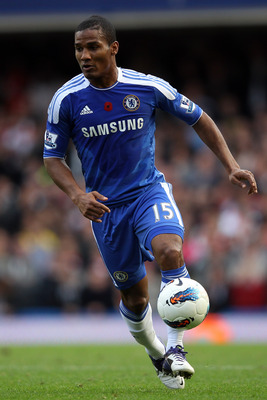 Clive Rose/Getty Images
Many believed a late Summer move was set to arise between Florent Malouda and Arsenal, however, the 31-year-old remained at Stamford Bridge. Considered one of the best attackers in the English Premier League, Florent Malouda has been devastating for Chelsea since arriving in 2007.
The Frenchman's last two seasons have commanded 100 appearances and twenty nine goals alongside achieving an FA Cup and English Premier League trophy. A quick, balanced, effecient and incisive attacker who can play all across the midfield, Malouda appears slightly behind in the pecking order with new manager Andres Villas-Boas and may considered a January move.
The former Lyon star would install much needed energy, flair and creativity to the Arsenal attack and better yet it is likely to cost under £10 million.
Keep Reading

Arsenal: Like this team?