Kansas City Chiefs: Arrowhead Is Where Electricity Will Be...Not on a Helmet
October 31, 2011
Brian Bahr/Getty Images
Halloween night, 2011, and the Chiefs are playing for a chance to tie up the AFC West with San Diego and Oakland for first place.  If I said the previous statement on September 26, 2011, I'd would have been laughed out of whatever place I was stupid enough to say it in.
I've been in Arrowhead Stadium enough to know how difficult it is for opposing teams.  Tonight, throw in Halloween, which makes everyone a little crazier than usual, a nationally televised game, and as mentioned above, a possibility of first place.
Not only will it be jammed with the usual red-clad fanatics, but tonight many of them will be dressed up looking like Raiders fans in red.  The difference, of course, is the Raider fans look like that all the time.
The Chargers better hope that Ryan Matthews can run against the Chiefs.  They also need better production out of Rivers.  The point being, if they can't quiet that crowd very quickly, they are going to be in for a very long, difficult night.
Ryan Matthews may be the key.  If the Chargers can get some long, sustained drives, that will keep the crowd out of it.
Turnovers, as always are the essential.  If the Chargers turn the ball over, the crowd goes out of its mind, they start pounding on the back of the seat in front of them and Rivers starts screaming at anyone who's in sight.  I love that part.
When the Chargers have the ball, the crowd will be so loud that the false starts will come.  Following that, Rivers' face will turn the same color as the crowd, then he'll explode.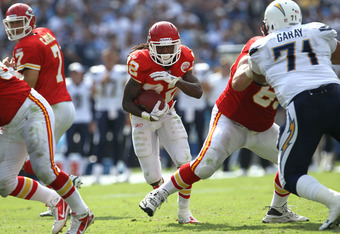 Stephen Dunn/Getty Images
I expect the Chiefs, on the other hand, to actually air the ball out a few times.  The Chargers, however, are going to see a lot of Battle and Jones as their run defense is not the best.  I think the Chiefs are finally coming around to being a little more creative with their offense.
A few big plays, and once again the stadium will explode.  Those of you who attend the game tonight, you can be a true "12th" man.  I also agree with Farzin's article on the front page that this is a must-win game for the Chiefs.
I am certainly realistic enough to be aware that the Chargers could come into Arrowhead and all of a sudden explode.  Vegas and every "expert" thinks they will.  In fact, I like that just fine.  Keep them under the radar for as long as possible.
I wish I could be in that stadium tonight, so let's go folks, get out there and make life miserable for the Chargers!