La Liga: Someone Please Tell Barça Defense Wins Titles
October 24, 2011
David Ramos/Getty Images
It seems there is no stopping FC Barcelona.
Real Madrid have already fallen to Barça this year, and it seems the only team that can stop the Blaugrana is themselves, right?
Wrong!
Culés need to stop dreaming about lifting the UEFA Champions League trophy in May (although it does run through my mind at times) and consider what will ruin those thoughts of glory—Barca's defense is weak and will be their downfall.
I'm sure most Barça fans will say there's no need to worry, because they dominate the midfield. The front three and especially the midfield are so great, they cover up the weakness that is our defense.
I don't understand why people think that Barça doesn't need to worry about those four (or three nowadays) defenders in the back.
Carles Puyol is still a top defender and the heart of Barcelona. But he's getting up there in age and injuries are beginning to keep him on the bench.
Éric Abial seems likely not to re-sign and a recent injury to Gerard Piqué has made the defense thin.
Andreu Fontàs is still not ready to be a regular starter and Javier Mascherano struggles at times playing an unfamiliar position to him (he's not a RB, he's a CDM. Big difference).
So what is the solution? It's simple—sign a top true defender soon.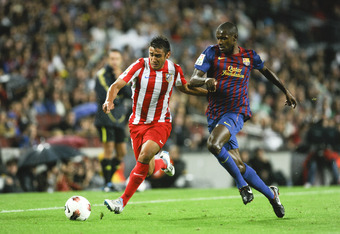 David Ramos/Getty Images
If we learned anything from the 2009-10 Champions League run, we learned Barcelona can struggle once in a hole score-wise.
Inter Milan's 3-1 lead after the first leg of the semifinals showed us the defense can't step up when the offense struggles. The offense, as great as it is, can and will struggle, so it's up to the defense to step up.
But as we've seen, they usually can't—they can't even hold the fort down let alone step up. Too many undeserved ties in Liga play these past years.
Some of the names that have been mentioned for a possible move to Camp Nou include Thiago Silva, David Luiz, Gareth Bale and recently Ashley Cole.
I don't know who would be the best fit, but any one of those would easily improve the back four. For those who may say money will determine who Barcelona should get, they are wrong. When has money truly been an issue for Barcelona to get who they want?
The Cesc Fàbregas saga, you say? No.
That was more Barcelona waiting to get their man at the right time—when Arsenal needed to get rid of him.
While the additions of Fàbregas and Alexis Sánchez have been great, the fact Pep Guardiola and Sandro Rosell did not sign a top defender this offseason is worrisome.
Has the Dmytro Chygrynskiy experience scarred Barça? I hope not.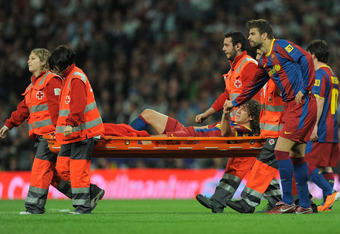 Denis Doyle/Getty Images
Barcelona needs to invest in a true defender. No more Maxwells or Adrianos. No more midfielder/forward defenders.
The January transfer window is coming. As a Culé and as one of those people who dreams of seeing Puyol or Xavi hoist that CL trophy, I like to think Barcelona will not buy into the smokescreen their great midfield creates and strengthen their back four.
Some may think this is being dramatic but it's only a matter of time when the defense will no longer bend but break. Stop thinking about now and think about the future. Wins may be happening now but the future is not bright for the defense. 
It's so simple, so why hasn't it been done already?