Minnesota Vikings Stadium Dilemma: A Packers Fan's Plea to the Powers That Be
October 24, 2011
Adam Bettcher/Getty Images
I send you greetings, fans of the Minnesota Vikings, from the Frozen Tundra of Wisconsin!
First off, before you get all salty, this is not a taunt to you all about the loss yesterday to the Packers.  The Vikings, as much as it hurts me to say this, played pretty well yesterday and I think you all may have found your quarterback in Christian Ponder. 
This article is a plea to the powers that be in Minnesota that seem to be deadlocked on a decision for a new stadium—from a Packers fan.
Yes, I am a Packers fan, and you should be aware of that.  However, I am a child of a mixed Packers-Vikings marriage (and subsequent divorce).  My Dad, who is one of the biggest, burliest Norwegians on the face of the planet, is one of your very own.  He watches—and this season, curses—the Vikings.  He talks of rebuilding years, going to Mankato for training camp, and the need for a new stadium.
Yes, the stadium.
I've been to the Metrodome once before for a Vikings-Seahawks game and, I have to say, I agree with many of the fans that this place has seen better days.  During the game I attended, one rather boisterous and intoxicated Vikings fan who was seated in front of me, turned to talk about the game.  Since this guy was screaming/cheering for the Vikings, and I was screaming/yelling for the Seahawks, you can imagine the gist of the conversation. 
However, what floored me was the fact that this guy's seat, which was directly behind one of the big concrete support beams, DID NOT HAVE A SEAT.  Basically, the guy paid money for a ticket, got to his seat, and found that he didn't have anything to sit on except a metal cross bar where the seat SHOULD have been and couldn't see the game unless he laid his head on his equally intoxicated buddy's shoulder, which was kind of funny in a disturbing way.  But, he was happy to be there, as he said that he bled purple and gold.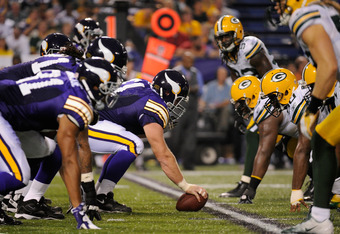 Hannah Foslien/Getty Images
He probably would've been happy to be in a meat grinder by the end of the game, but that is neither here nor there.
I have watched the debate about the new Vikings stadium with interest.  Who's going to pay for it?  Where is it going to be?  Will the Vikings move? 
What?!  You can't move the Vikings!  Please don't let the Vikings move to Los Angeles!
As a Packers fan, the Packers-Vikings games are two of the highlights of every football season!  We know you guys and hey, we might even be related to some of you since Wisconsin people have been known to move to Minnesota and vice versa.
We know how to taunt each other, and we know how to grudgingly accept defeat when one team beats the other.  As a Packers fan, I can say to my Vikings fan Dad, "Hey, that Jared Allen is vicious.  He'd make a good Packer" and have him reply, "Well, Clay Matthews looks like he is Norwegian and he is a beast.  He'd make a good Viking.  We'll have to cut his hair first, though."  Great hilarity ensued as the discussion over this continued for a span of ten minutes, a marathon for a conversation with my Dad.
It was determined that we get to keep Clay Matthews in Wisconsin, by the way, even though he resembles your team logo sans beard.
We, as both Packers and Vikings fans, survived the Great Defection of Brett Favre to the Vikings in 2009.  Packers fans took endless ribbing at the hands of Vikings fans for a WHOLE SEASON that you all had one of the greatest quarterbacks of all-time at the expense of the Packers organization.  Vikings fans, in addition, took endless ribbing in the 2010 season when Favre's career and private life seemed to fall apart at the seams. See? We can get along pretty well if we want to!
So, please.  Please keep the Vikings in Minnesota.  Build the stadium!  Create jobs!  Figure out how to pay for it! 
Keep the rivalry going, and keep the fans of both teams happy.