A Nascar Fan Remembers Dan Wheldon
October 17, 2011
Nick Laham/Getty Images
On Sunday, I went to coach my son's Little League baseball team.  By the time the game ended, Dan Wheldon had died.  Dan Wheldon, the two-time Indy 500 Winner.  Dan Wheldon the Indy Car Series Champion.  Dan Wheldon the husband.  The father.  Dead.  At 33 years of age.
As I tried to digest this heartbreaking news via tweets and a text from my dear friend and college roommate Keith, my son asked, "Dad, what happened?" 
"Dan Wheldon died," I say. "I can't believe it.  In a terrible crash in Las Vegas."
"How?" asked JJ. 
It was such a simple question and it must have been what so many were thinking today.  How does the man who earlier this year became the most improbable Indy 500 Winner of all-time die so suddenly and tragically?  How does a man with a wife and two kids?  How does a man who just signed to drive with Andretti Green Racing?  How? How? How?
My wife calls.  "How was the game?" she asks.
"The team played great. We won," I tell her flatly.  "JJ was two for two with a single, a double, and three stolen bases.  "What's wrong," she asks.  "Dan Wheldon died in a crash in the Indy car finale at Vegas, I say.  I just can't believe it."
Unlike many members of the media who have been reporting so eloquently on Dan and his tragic passing over the past several hours, I never met Dan Wheldon.  And I have always been more of a Nascar fan than an Indy Car fan.  But Wheldon was simply different from just about anyone who strapped themselves into an Indy Car.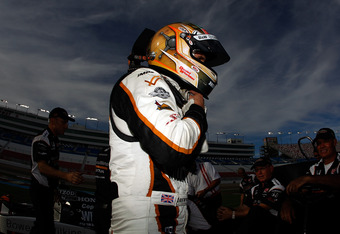 Tom Pennington/Getty Images
Although he was a proud Englishmen, he was a European driver who could bridge the gap, unite continents, and inspire motorsports enthusiasts on both sides of the pond.  He was, in many ways, an Indy car driver with a Nascar attitude—outgoing, brash, funny, charming, and incredibly appreciative of fans and the role they play in the sport. 
He was, by all accounts, both a kind and generous spirit and an incredibly fierce competitor. 
Dan was both superhuman and incredibly human—blessed with the ability to drive like an iceman inside the cockpit and display genuine emotion outside it.  From his milk-soaked tears at Indy to his feud with Danica Patrick, Dan was willing to show us his personality.  He always let his talent shine, but not beyond the size of his heart.
We never saw this more than over the past few months in the wake of his second Indy 500 triumph as he publicly represented the fight against Alzheimer's that had afflicted his mother.  It was emotional for him, and he blended the personal and professional with humility, grace, candor, and class.
But he wasn't all serious business. 
Dan had a tremendous sense of humor as well.  And few will forget the t-shirt he wore (the week after Danica Patrick's fourth place finish as a rookie at Indy overshadowed his first Indy 500 win) that read "I Actually Won the Indy 500." 
In 2011, that swagger was still there when Dan reminded his car owner Bryan Herta not to forget that he already won this race once—when Herta finished two spots behind him in third in 2005.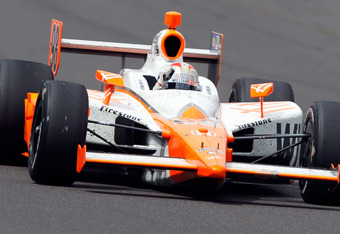 Todd Warshaw/Getty Images
It has been well-documented that Indy car racing has struggled to define its "personality" in recent years.  Through it all, Dan Wheldon was the one driver in the series whose personality may have overshadowed his immense talent.  From his infectious smile to his good looks to his engaging personality, it was easy to forget that Dan Wheldon had accomplished so much behind the wheel. 
In addition to his two Indy 500 Wins, Wheldon won the Rookie of the Year Award in 2003, Indy Car Series Championship in 2005, and the 24 Hours of Daytona in 2006.  Those are unbelievable accomplishments for any racer.
And yet those who knew him well contest that he was an even better person than he was a race car driver.  If that is indeed the case, he must have been a truly remarkable young man.  Although I never met Dan Wheldon, there is video someone posted on youtube, of Dan getting into a golf cart after winning this year's Indy 500 that shares a glimpse of the kind of guy Dan must have been. 
In the video, he walks out some glass doors.  He has just won the world's biggest race.  He has met members of the media.  He has to be exhausted beyond all comprehension. He probably has a thousand places he'd rather be than surrounded by a crowd of fans, but if that is the case, he doesn't show it.  Just a big "What's up boys!" followed by Dan signing autograph after autograph after autograph. 
He is totally at ease, chatting pleasantly with fans, but even more focused on signing as many things as people place in front of him.  As his handlers say "one more", Wheldon pays no attention.  He just keeps signing and signing. And after a few moments, it is clear that he isn't going to deny anyone an autograph. If this autograph session is ever going to stop, he isn't going to be the one to do it.  These are his fans.  He is their driver.  And he is the Indy 500 Champion. 
He always will be.