David Garrard Presents Perfect Fit for the Oakland Raiders
October 16, 2011
Sam Greenwood/Getty Images
David Garrard could definitely have signed for a franchise by now. Garrard instead has decided to bide his time in favor of landing in the perfect situation.
The opportunity to land in, at least a near, perfect situation has arisen.
Jason Campbell will likely miss the season, according to Jason LaCanfora of NFL Network, after he broke his collarbone. Campbell had been playing well this season and led the Raiders to a 3-2 start.
Without Campbell, Kyle Boller allowed the team to move to 4-2, but they relied on a Shane Lechler touchdown pass opposed to a starring performance from Boller. Boller is a former first- round pick but has never looked like a strong starter throughout his career.
With Boller best suited to being a capable backup, and rookie quarterback Terrelle Pryor an unrealistic option at this stage, the door is open for David Garrard to become an Oakland Raider.
At the most recent reckoning, two weeks ago to be precise, the Raiders have over $6 million in cap space. This gives the team flexibility to bring in Garrard, who is a much greater option than Boller.
David Garrard was surprisingly released by the Jacksonville Jaguars just before the start of the season. Garrard wasn't an elite player at any point during his career, however, he is very similar to Campbell, potentially even better, as a reliable starter.
Much like Campbell, and unlike Boller, Garrard has a lot of quality starting experience in the NFL. Garrard was the full-time starter in Jacksonville for the past five seasons.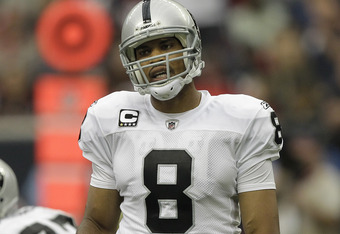 Bob Levey/Getty Images
Despite being 33 years of age, he has not lost much of his athleticism. He rushed for 279 yards last season in only 14 games. Garrard excelled on a run-first team, which is what the Raiders are with Darren McFadden leading the way.
He would play the exact role that he played in Jacksonville with the Raiders, with better pieces around him.
Garrard proved last season that he could still play to a high level. Even though he threw a career high 15 interceptions, he also threw a career high 23 touchdowns last year. His quarterback rating of 90.8 was higher than Jason Campbell's ever was throughout his career.
These numbers are made even more impressive when you consider the lack of talent that surrounded the veteran quarterback. His best receiver was tight end Mercedes Lewis, as Mike Sims-Walker barely received any attention as a free agent last year while Mike Thomas is a good but not great receiver.
Thomas alone is too small to be a No. 1 receiver, which limited the Jaguars offense as a whole when Sims-Walker had a down year.
With the Oakland Raiders, Garrard would have much better options. Tight end Kevin Boss is not as good as Lewis, but the depth at receiver is significantly greater. Darrius Heyward-Bey has emerged this year, as has Denarius Moore, while Jacoby Ford is a big play waiting to happen.
Louis Murphy is yet to get on the field this year but will be another talented player on the outside for Garrard. Those receivers, as a quartet, would be better than any group that Garrard has had throughout his career.
That is without even considering Darren McFadden coming out of the backfield.
Garrard will actually aid McFadden also with his athleticism. Maurice Jones-Drew benefited for years from weakside defenders having to respect Garrard on the bootleg. Forcing the weakside linebacker or defensive end to stay home will give McFadden more opportunities to cutback and break off big gains.
With Campbell gone for the year, there will be a minor group of people that will want the Raiders to "suck for Luck." However the Raiders have likely already won too many games to do that and would be foolish to even consider it.
The team has too much talent, and it is the perfect time to strike for the AFC West crown.
It is a clear two-horse race in the West, as the Broncos appear to have accepted a season of rebuilding and the Chiefs have suffered too many losses to key players. The San Diego Chargers shouldn't scare the Raiders at all as they hope to move towards the playoffs.
The Raiders have a young offense. Therefore they would benefit from having an experienced signal caller at the helm like Garrard. Boller may be a veteran, but he does not have the same level of experience as Garrard. Terrelle Pryor doesn't even have a season of experience in practice.
Al Davis was always an aggressive general manager. Even though he has gone, the spirit and commitment to winning that surrounds the Raiders organization should not depart with him.
Signing David Garrard is the best way to continue that commitment to winning for a team that appears to be playoff-bound.
Tweeting @Cianaf