BYU Dodges Big 12 Bullet, Remains Independent in Both Spirit and Conference
October 9, 2011
Erich Schlegel/Getty Images
After a month of waiting and wondering, it's over. BYU is not going to be offered membership in the Big 12 conference, at least not for now.
TCU, who according to several sources wasn't even being considered two weeks ago, got the nod, even though it is in the current Big 12 footprint and thus only minimally adds to the conference's television appeal.
And while TCU's football team has excelled over the past half-decade, the rest of the school's athletic teams are just average, perhaps a little below. In 12 years, BYU has won 102 conference championships, or 42% of all the Mountain West hardware distributed. TCU, in six seasons, has won just 18.
If you even out the time spent in the conference, BYU still holds a three-to-one advantage over the Horned Frogs.
And while TCU's football program has been good recently, they were really bad for a really long time. From 1975 through 1997, their program won 76 games. Over that same period, BYU won 208.
But, we must not live in the past. From 1998 through 2010, TCU won 120 games, an average of 10 per season.
That's great.
Over that same period when TCU ascended into greatness and BYU struggled, they won 105 games, or nine per season.  
That's really good.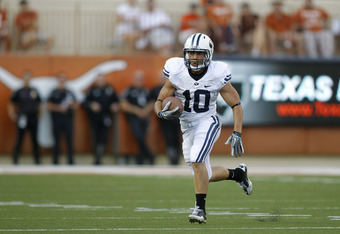 Erich Schlegel/Getty Images
There is no measurement available that projects TCU (an admittedly fine school) as a better fit for the struggling Big 12. So what happened?
Here is what I think. I have no proof and I'm not going to quote you what other people with no proof have said on the Internet. That said, I think I'm probably pretty close.
BYU was likely the first choice for several schools in the Big 12. No other school in the nation save Notre Dame can bring two or three thousand fans to pretty much every away game. Add to that BYU's relationship with ESPN, and no other school save Notre Dame could bring the national exposure that BYU can.
My guess, then, is that BYU was given some kind of conditional offer, one where the Cougars would become part of the Big 12 if BYU was willing to equivocate on certain issues and be more flexible on others.
BYU probably had to drop or shrink their BYUtv network. After a year of haggling and complaining about Texas' Longhorn Network, I doubt that the BIG-12 wanted another (what they perceived as a) prima donna with their own network that reached and enriched their fans worldwide while other schools had nothing if the top-tier television options didn't pick them up.
BYU, after being forced to play in the black hole that was the Mountain West Conference's TV channel, was probably unwilling to give up even a replay of a replay of one of their games.
And why would they? This year, every game is on national television with ESPN leading the way with 10 broadcasts and two on the little channel that could, BYUtv.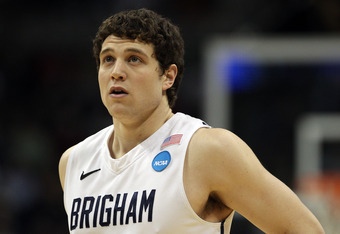 Justin Edmonds/Getty Images
The Big 12 couldn't provide BYU any more coverage, just more money. And really, while money is nice, BYU and the LDS Church has all that it needs. Remember that they have been used to a $1.2 million yearly payoff from the Mountain West Conference. Estimates suggest that the school will earn $15  million-$20 million in 2011.
That's not as much as what Utah is receiving, but far more than the BYU budget is used to.
Another sticking point was probably all the other sports where a pointy oblong ball wasn't involved. I assume that for the Big 12, moving all of the school's programs from the lowly West Coast Conference was a no-brainer.
For BYU, it was likely anything but.
According to Athletic Director Tom Holmoe, almost 70 percent of BYU alumni reside within the WCC footprint. And having lived throughout the United States, I can attest that it's much harder to find a ward building in Waco or Lawrence or Manhattan or Norman or Stillwater than it is in San Diego or Portland or San Francisco or Spokane or Los Angeles.
But more than that, there are two other, perhaps more important reasons to remain in the WCC. First, all of the other schools in the conference—all—share BYU's moral and cultural convictions. Each school places the well being of the student above athletics, as much as that is humanly possible.
Second, LDS faithful are big on keeping their word. If we say we're going to do something, or be somewhere, then that's what we're going to do. The WCC was not BYU's first choice and was headed to the Western Athletic Conference until a couple of renegade schools kept that from happening. The WCC took us in when we had no other place to go.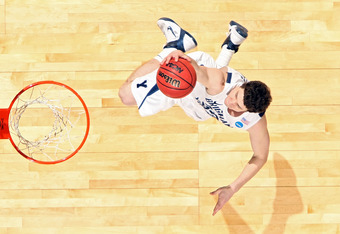 Doug Pensinger/Getty Images
And even though BYU bolting for another conference at this time would greatly harm the WCC, Commissioner Jamie Zaninovich said recently that he wouldn't stand in BYU's way if they could better themselves by leaving.
That's what a relationship is all about.
I'm sure there were other disagreements, but those were likely the big two.
Look, here's the deal. BYU is unlike any other major university in the United States. What is important to the school, students and church members is probably foreign to the likes of T. Boone Pickens and the other Big 12 billionaires who didn't want BYU in the first place.
We want our sports to be seen by as many members as possible, and we hope our athletic programs make our church less foreign to those who do not know us. Some scoff when we link church growth and missionary service to BYU's athletic programs, but it really happens.
I was an atheist growing up in Washington, D.C., in the mid-1970's and didn't know a thing about the LDS church and had only casually heard about BYU. But in a time when college offenses struggled to score 17 points, BYU was regularly lighting up the scoreboard with 40 points and more. That intrigued me.
When the missionaries found me a few years later, I was willing to listen, using my memories of BYU football as the bridge between my atheism and their Mormonism.
My son, currently serving in Nashville, eagerly awaits my Sunday emails about how BYU did that week and works the win or loss into his discussions with people he comes across.
That's what is important. If being in the Big-12 would somehow help strengthen BYU's national reputation as a church-sponsored school, then great. But it won't.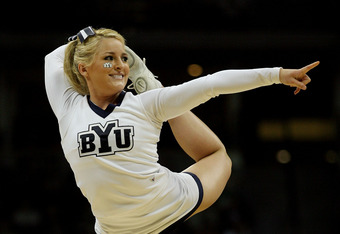 Justin Edmonds/Getty Images
And sure, being part of an automatic qualifying conference would help the Cougars get closer to another national championship, but not by much.
For BYU to have a realistic chance for the title, they would have to go undefeated, even in the Big 12. If BYU goes undefeated as an independent, they will go to a BCS bowl, and really, that's good enough.
Baylor has never won a national championship. Neither has Iowa State. Or Kansas or Kansas State. Or Missouri. Texas Tech and Oklahoma State have been shut out too.
Texas and Oklahoma are the only current Big 12 participants to win a national championship.
But, wait. I thought being in the Big 12 is supposed to increase the chances of winning a national title? All those teams have never won a national title but BYU has?
I had always hoped that BYU would have been offered a spot in the BIG-12 (mostly to quiet Utah fans) but would turn it down, which is what I think happened in the end.
BYU had strings attached to any potential agreement while TCU, desperate to join an AQ conference, bolted the Big East before ever playing a down for the perceived riches of the Big-12.
Stay the course, BYU. You are where you need to be. Let the other schools have the glitz and the glamour. We've never been about that, not in the days of the old Skyline Conference and not today.
It's all good.