Arsenal FC: The 5 Best Moments at the Emirates Stadium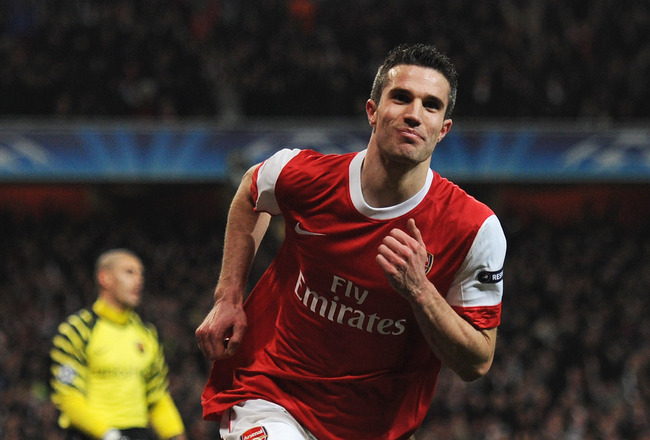 Robin Van Persie celebrates scoring the equalizer vs Barcelona
Jasper Juinen/Getty Images
Known to many Arsenal supporters as "the Home of Football," Arsenal's Highbury Stadium was the home of Arsenal FC for almost a century.
From it's opening in 1913 to its closing in 2006, Highbury Stadium was a place where many memories were made in the historic football ground. On May 7, 2006, Arsenal supporters said farewell to Highbury as Arsenal played their last game at the stadium against Wigan Athletic.
On July 22, 2006, Arsenal FC would make Emirates Stadium their new home. With a capacity of over 60,000, the Emirates was an ideal stadium for the successful club.
Arsenal have yet to win a trophy since the club moved to the Emirates, but there have been many great moments in this stadium.
With five years of calling Emirates Stadium "home," here are the five best moments to occur at the Emirates.
Van Persie and Fabregas Goals vs Tottenham (2009)
This great moment occurred when Arsenal took on arch-rivals Tottenham in 2009.
In this game, Arsenal were not able to threaten the Tottenham goal until the end of the half, with a great shot by Robin Van Persie that got past Gomes and went into the back of the net.
But wait, that wasn't it.
As they resumed play after the goal, Cesc Fabregas jumped all over a lazy Tottenham defence, and provided one of the best solo goals in Arsenal history.
Arsenal scored two goals as quick as lightning, which made the Arsenal supporters go wild, and silenced those spuds.
Two quality goals in the span of fifty seconds against your rivals made this one of the best moments for Arsenal at the Emirates Stadium.
Thierry Henry Header vs Manchester United
Thierry Henry is easily the greatest player to ever put on the Arsenal kit. During his eight years at Arsenal, and under the coaching of Arsene Wenger, Henry made his name as a world-class footballer and the best striker in the Premier League.
Thierry Henry only called Emirates Stadium home for one year before he departed to Barcelona, but he made sure not to leave without giving the Arsenal supporters a memory to never forget.
After a Robin Van Persie goal that equalized the match against Manchester United, Arsenal left it late to get the winning goal. In the dying seconds of the game, Henry headed home the game-winning goal that allowed the North Londoners to have bragging rights against their fierce rivals.
Cesc Fabregas Broken Leg Penalty vs Barcelona
After leaving Barcelona at the age of 15, Cesc Fabregas joined Arsenal FC and turned into a world-class player. He was one of the best midfielders to play for the club, and became the captain at the young age of 21.
He would then have to face his boyhood club, FC Barcelona, in Arsenal's Champions League tie in 2010.
In a game where Arsenal were down 2-0 and many didn't believe Arsenal had a fighting chance, Arsenal charged a comeback late in the second half.
After a Theo Walcott goal made it 2-1, Arsenal were awarded a penalty when Carles Puyol fouled Fabregas inside the penalty area.
Cesc Fabregas drilled home the equalizer and broke his leg in the process to give Arsenal a 2-2 draw.
Even though he left for Barcelona in the summer, no one can argue that Cesc Fabregas didn't give his all during his time at Arsenal. Through pain and sacrifice, Cesc showed he is a true Gooner at heart with this massive goal.
Arshavin Winner vs Barcelona
On a night where Arsenal supporters were at their loudest, Andrei Arshavin's goal vs Barcelona is easily one of the greatest moments to occur at the Emirates Stadium.
On a night where Arsenal faced FC Barcelona once again, Arsenal were able to produce magic in the second half, with goals from Robin Van Persie and Andrei Arshavin. Against one of the greatest teams in football history, Arsenal were able to pull out a 2-1 victory on a night where the Emirates became a fortress.
From the build-up to the finish, this goal was absolutely brilliant. The Zidane-like turn and pass from Fabregas to Samir Nasri, who cut back and found a charging Andrei Arshavin, who was able to easily finesse the ball into the back of the net.
This memory will always be in the heads of Arsenal supporters as it was the night where Arsenal took down the greatest team of all time.
The Return of Eduardo
Many people will never forget what happened to Eduardo on February 23, 2008 against Birmingham City. Eduardo suffered a broken left fibula and an open dislocation of his left ankle from a horrific tackle by Martin Taylor. The injury was so graphic that Sky Sports News decided not to show any replays of the incident.
It was that tackle that cost Arsenal's chances at silverware that season.
Many believed Eduardo's football career would come to an end at the hands of Taylor's tackle. Miraculously, he was able to recover from the horrific injury and make his return more than a year later against Cardiff City.
It was then that Eduardo produced the greatest moment in the history of the Emirates Stadium, as he scored in his long-awaited return.
Everything about that moment was emotional. The celebration was very emotional, as Eduardo was in tears, his teammates were emotional, and the supporters were emotional as well, as they were shouting Eduardo's name from the top of their lungs.
This moment defines a great moment, and it should be remembered not only as a great moment at the Emirates, but one of the greatest moments in the history of Arsenal Football Club.
Keep Reading

Arsenal: Like this team?