Francona on FOX During ALCS Brings Red Sox Nation Back into Playoffs
October 5, 2011
Rob Carr/Getty Images
FOX has just hit a grand slam with Red Sox fans still mourning Terry Francona's departure.
As reported by FOX Sports, lead analyst Tim McCarver will go on the DL for Games One and Two of the American League Division Series, creating a broadcasting vacancy.
Filling the open slot will be none other than former Sox skipper Tito Francona.
For Red Sox Nation, so distraught after their worst September in recent history, this announcement alone will entice all of Boston to tune in for Francona's guest appearances.
The way in which Boston concluded their 2011 season brought up so many questions: How could this have happened? Why did it happen? And in typical big-market fashion, Who was to blame?
When the front office at Fenway decided to play pin-the-blame-on-the-Francona, an already-reeling Red Sox Nation was shaken to its core, and then some.
When GM Theo Epstein unequivocally exonerated Francona of any fault in Boston's epic collapse at a press conference on September 29, all seemed well for the veteran manager.
After all, in 2004, Francona had broken Bambino's curse by bringing Boston its first World Series in 86 long years.
And in 2007, Francona and his team did it again with a decisive championship victory. The Olde Towne powerhouse was back.
When Francona brought Boston those two championships, he became a legend around Beantown. What Joe Torre was to the Yankees, Francona was to Boston. He was their leader with winning ways.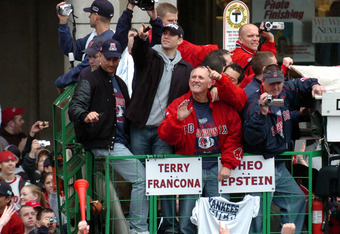 Gil Talbot/Getty Images
Unfortunately, even with a 90-win season in 2011, the Red Sox were not safe. So, after failing to make the playoffs for the second consecutive season, the front office pulled a Joe Girardi on a hapless Tito.
The same questions asked about the Red Sox failed 2011 campaign were now being asked about Francona's departure: How could this have happened? Why did it happen?  What was Tito's side of the story?
And now, by drawing Francona as guest analyst for its first two ALCS games, FOX has given the gift of closure to a grieving Boston fan base.
Drawing a national audience, Francona will finally be able to tell his side of the story for all to hear. It might take a little persuasion at first, but with veteran sportscaster Joe Buck at his side, Francona will finally spill the beans.
Whether he appeases the turmoil felt in Boston, however, is another story.
No matter the result, the Francona sign-on is a great move for FOX, a great move for television, and yes, a great move for Major League Baseball. By producing a carrot for one of television's largest markets, FOX has done something unthinkable.
It has brought reality television to America's pastime, infused drama with Dr. Phil, and brought a Boston legend into the broadcast booth.
But most importantly, FOX has found a way to get Boston—and its huge television fan base—back into the 2011 MLB Playoffs.