NFL Power Rankings: How Far Does ESPN Drop the Broncos After Loss to Titans?
September 27, 2011
Grant Halverson/Getty Images
The Denver Broncos have now let two chances to beat Top 15 teams in the NFL slip away in this young NFL season.
The Broncos slid two spots, down to 26th, after their loss in Nashville to the Titans. Tennessee is now in the top half of teams in the NFL at 15th.
The Broncos' ranking (like the week before) is most likely right in the range that it should be when evaluating the team as a whole. However, the most interesting question might be this:
What if the Broncos hadn't turned the ball over late in both losses, or scored one extra touchdown in the red zone?
Obviously, it makes the Broncos 3-0. Currently, the lowest-ranked undefeated team is the Buffalo Bills at sixth. In effect, it would have made the Broncos a Top 10 team (at least) according to ESPN.
Immediately, that should cause heads to be scratched. Even if the Broncos had pulled out those victories, as impressive as 3-0 might sound, it still wouldn't make the Denver Broncos better than 22 other teams in the league.
Regardless of personal feelings about the accuracy of these rankings early in the season, they are likely not that far off. Clearly the teams that are 3-0 deserve respect for what they have done, and the teams that are 0-3 are still at the drawing board.
A word of warning though for the undefeated Detroit Lions and the Buffalo Bills, not even a 6-0 start can guarantee you the playoffs (see Denver Broncos 2009 season).
Another interesting note is that the 3-0 Buffalo Bills have been behind by double digits in two of their three victories at halftime, whereas the 0-3 Minnesota Vikings have been ahead by double digits at halftime in all three of their losses.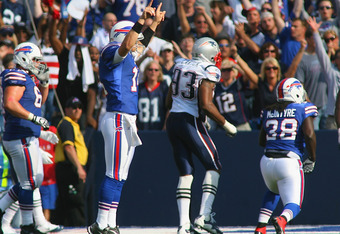 Rick Stewart/Getty Images
What does all of this mean?
Not a whole lot right now, but it creates an interesting jumping off point for discussion of where teams currently stand.
For the Broncos, there is only one other team below them that is not an 0-3 squad...you guessed it, the Cincinnati Bengals. Based purely on results, that seems to be right where the Broncos should be at the moment.
AFC WEST RANKINGS UPDATE:
San Diego Chargers 9th (2-1)
Oakland Raiders 13th (2-1)
Denver Broncos 26th (1-2)
Kansas City Chiefs 32nd (0-3)
OdiefromDenver on Twitter"/>