Houston Texans Report Card: Grading Every Week 3 Starter
September 26, 2011
Hannah Foslien/Getty Images
This is always a fun task; breaking down and handing out grades for individual starters in a particular game. Fortunately, it was a game of many pros and cons that should make the grades vary plenty.
QB
Matt Schaub—I'm not going to be as hard on No. 8 as the rest of the city seems to be, but his play in the fourth quarter was underwhelming. It's hard to discount the good game he had completely with 373 yards passing and a pair of touchdown throws against one interception. B-
RB
Ben Tate—The biggest criticism I'm hearing about Tate is that he isn't Arian Foster. Well, I never thought he was and that shouldn't be a red mark against him. A couple of dropped passes out of the backfield hurt an overall impressive performance. B
FB
James Casey—I can't say enough at how impressed I've been with Casey's blocking ability. But his threat as a receiver blew up in a career game this week and made an already dangerous offense even more potent. A+
WR
Andre Johnson—Without a doubt, Johnson is the best wide receiver in the game today. No one receiver can completely take over a game by himself quite like Dre. A+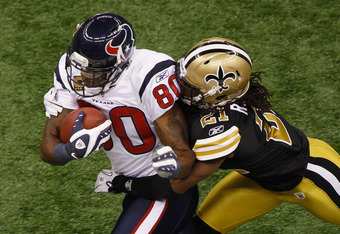 Chris Graythen/Getty Images
Jacoby Jones—He didn't necessarily do anything bad, he just didn't do anything at all. Jacoby was playing on a sore knee so I wasn't expecting much. C
TE
Owen Daniels—Another week with a fast start and a touchdown for OD before he was overshadowed by James Casey. I think he could have gotten more involved than he did, but five receptions for 76 yards was a solid day. B+ 
OL
Duane Brown, Eric Winston, Mike Brisiel, Chris Myers and Wade Smith—I choose to grade the offensive line as a unit since they did about as good of a job as possible against the blitzing Saints defense. Winston even held his own without committing numerous holding penalties. B+
DE
J.J. Watt—The punishing rookie continues to make his presence felt by getting into the backfield as well as batting down passes at the line. A sack and a couple of tackles for losses earn him a good grade. A-
Antonio Smith—I said it last week and I'll say it again; AntonioSmith might be one of the most underrated defensive linemen in the game. Another productive and disruptive day by Smith, who has three sacks in 2011. A-
DT
Shaun Cody—Believe it or not, the biggest whipping boy in the Texans fans' eyes had a pretty good game yesterday. He played probably one of his best ever as a Texan. B+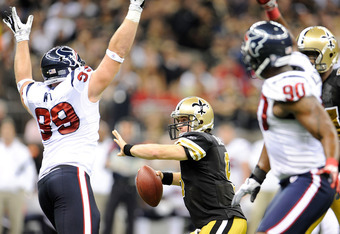 Stacy Revere/Getty Images
ILB's
Brian Cushing & DeMeco Ryans—I'm choosing to grade this combo together because they both looked back to their 2009 form yesterday. It seemed like they were in on every tackle and they stayed consistent the entire game. B
OLB's
Mario Williams—If all the people who are criticizing Mario really believed he was as bad as they like to pretend he is, they sure did a poor job of hiding it when he left the game injured. Truth is, he wasn't much of a factor before leaving the game and even less after returning. C
Connor Barwin—In all truth, I almost had to look up the game log to remember who started because Barwin was the invisible man yesterday. Other than when Sproles got out of his tackle do I remember even seeing him. C-
S
Glover Quin & Danieal Manning—I'm choosing to grade these two together because I felt they had equal performances. Both of them rarely ever miss a tackle and they were never out of place. It wasn't their fault that Drew Brees is just that damn good. B-
CB's
Johnathan Joseph—Looking at Drew Brees' day yesterday, you have to think that the secondary played poorly as a whole. But, it was Drew freakin' Brees. Joseph had an interception and played great man coverage all day, but when the pass rush disappeared in the second half and Brees had nine seconds to throw the ball, well even a corner as brilliant as Joseph is going to get got. A-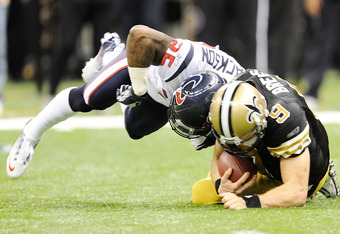 Stacy Revere/Getty Images
Kareem Jackson—The difference in the fourth quarter was that Drew Brees realized Kareem Jackson was No. 25 and not No. 24. He quickly exploited their match up. It's true that Jackson doesn't look as bad as he did last year, but in no way should he still be starting or taking the majority of the snaps. D
K
Neil Rackers—We saw Neil a few more times than most of us would have liked to yesterday, but he did his job in hitting on all four of his opportunities. A+
P
Brett Hartmann—While he was still terrific in booming kickoffs, Hartmann looked like a rookie yesterday when he shanked a punt in crunch time that gave the Saints terrific field position for the beginning of their comeback. C-
That just about covers it, I believe. There were lots of positives on both sides of the ball, which is hard to believe when the defense gave up 40 points. But I'm sticking by my assessment that I still feel better about this team today than I did at this time yesterday. 
Wade Phillips is too good of a defensive coordinator not to make the proper adjustments after watching the film over the course of this week. This was hardly a case of the "same old Texans." They went into probably the toughest stadium in the league to play in and pushed a legitimate Super Bowl contender to the limit. The real key for them to prove they've gotten over the hump is to see how they play against the Steelers this weekend.