2011 Indianapolis Colts: Is Curtis Painter the Future of the Franchise?
September 26, 2011
Joe Robbins/Getty Images
After the Colts game Sunday night vs. the Pittsburgh Steelers, former coach-turned-commentator Tony Dungy remarked that he thought Curtis Painter looked good enough to start over journeyman Kerry Collins. It was a statement that fueled the quarterback controversy in Indianapolis for sure. In addition, based on Painter's stats, it left some people shaking their head.
To compound matters, Colts owner Jim Irsay released a statement this morning stating that future Hall of Fame quarterback Peyton Manning is not expected to return this season due to a series of neck injuries. This statement comes much to the surprise of many fans who deem Manning as nothing short of a superhero with magical powers, it seems.
Nonetheless, Manning is indeed human and is in fact, contrary to popular belief, aging at a normal rate and edging ever so increasingly closer to retirement. To be honest, there is no guarantee that Manning will ever return under center.
So, where does that leave the Colts currently? Stay with an aging quarterback who came out of retirement "temporarily" until the superhero was able to once again leap tall buildings with a single bound?  
Collins is solid and smart, but his better days are behind him. He was a great choice for a temporary patch. He won't really hurt you, but he can't be expected to lead a blitzkrieg-type offensive the way the Colts offense was designed. Though he has shown signs of improvement the past few weeks (now that he's grasping the offense a little better), his delivery is still slow, and he can't possibly grasp the situation.
Or do you go with the kid? You know, the kid that 90 percent of Colts fans were ready to hang his first series when he was thrown unfairly to the wolves (Jets) after a 14-0 start in a coaching debacle that has come to epitomize the Colts' coaching staff of late?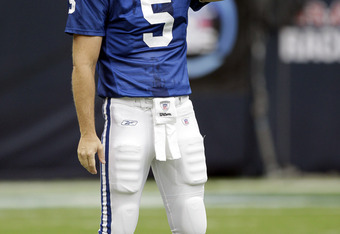 Bob Levey/Getty Images
The fact is that Curtis Painter has excelled at every level, and someone in the Colts' camp has seen enough to keep him around. Now that doesn't always translate. Many college stars have been touted as the second coming and have been absolute busts (enter JaMarcus Russell).  
But the reality is that, prior to this preseason, Painter had not taken a snap with the first team offense since 2009. Even then, he only played in three games, attempting a mere 28 passes, and all that came after he was just thrown into the no-win situation against the Jets I mentioned earlier. He needs time.
Sunday, he got a little more. After Collins was sidelined by a concussion, Painter calmly and collectively stepped in and commanded his troops downfield for an 80-yard drive against a brutal headhunting Pittsburgh defense that we all know was salivating when the kid came in. Painter was calm, patient and frankly, got it done when no one expected him to.
So, despite at first glance Dungy's comments may have seen a little...off balance, I'm going to have to say that I agree. Give this kid a chance. The season is shot. This season should be one of discovering weaknesses and fixing them.  Well, lack of depth and an heir apparent is one of them. Just maybe the kid is the answer.