NASCAR Sprint Cup Chase Power Rankings: Top 12 Drivers After New Hampshire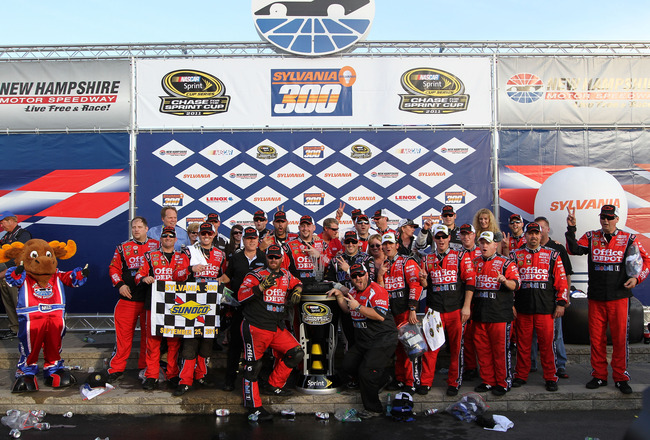 Jerry Markland/Getty Images
Tony Stewart won the Sylvania 300 at New Hampshire Motor Speedway for his second consecutive win in the Chase for the Championship. Smoke stretched his fuel to earn the victory while Clint Bowyer ran out in the closing laps at the Magic Mile.
It's a remarkable turnaround for a driver who didn't win a single race in the regular season. With the win, Stewart took over the points lead and is a legitimate threat to win his first title since 2005, the last year anyone not named Jimmie Johnson took home NASCAR's top honors.
Not surprisingly, Stewart moves to the top of the power rankings this week, while Jimmie Johnson continues to fall after another disappointing race.
Where does your favorite driver rank? Read on to find out.
1. Tony Stewart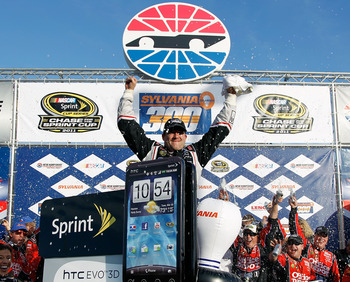 Todd Warshaw/Getty Images
Two wins in two races.
Points leader.
Need any more be said?
Tony Stewart has had one of the most remarkable turnarounds we've seen in recent years. After running like junk for most of the season, the No. 14 team has come out of nowhere to grab the early advantage in the Chase.
Can Stewart keep it up for the next eight races? I wouldn't bet against the two-time champ.
Loudon finish: Winner, two laps led
Points standings: Leader
2. Kevin Harvick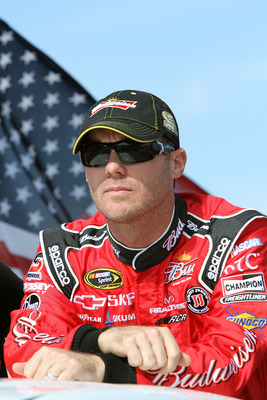 Jerry Markland/Getty Images
Do I have to pick someone here? I suppose so, but these next three to four drivers are really hard to separate in the rankings.
Kevin Harvick had a nondescript day at NHMS, running around the top 10 all day but never looking like a threat to win. Not a terrible day, but nothing great either.
Harvick will have to do better than that if he wants to win his first carer Cup championship.
Then again, if Jimmie Johnson keeps making uncharacteristic mistakes, just finishing ahead of the No. 48 might be enough for Happy.
Loudon: 12th, one lap led
Standings: Second, -7 points
3. Brad Keselowski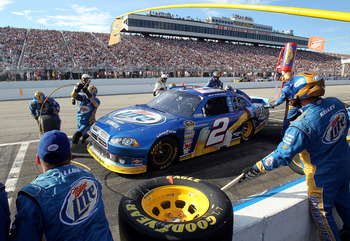 Tom Whitmore/Getty Images
Pictured is what earned Brad Keselowski his runner-up finish at the Magic Mile: pit and fuel strategy.
That said, it was an impressive effort by Keselowski and the No. 2 Miller Lite team. They're somehow finding ways to get excellent finishes even when their cars aren't great.
That's something Keselowski's teammate (Kurt Busch) can't say right now.
Can Special K keep it up for another eight races, just one season after scoring a total of three top-10 finishes?
I doubt it...but I've been surprised by Brad K more than once in recent weeks as he proves himself to be a legitimate title contender, one race at a time.
Loudon: Runner-up, one lap led
Standings: Third, -11 points
4. Jeff Gordon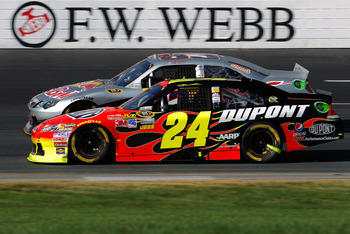 Justin Edmonds/Getty Images
Jeff Gordon spent a lot of time at the front of the field on Sunday, leading more laps than any other driver.
Even though he wasn't out front when the checkered flag flew, it was a much-needed top-5 run after the No. 24 car ran out of fuel in the opening Chase race. Gordon jumped six positions in the points, though he's still 23 points behind points leader Stewart.
Gordon is in decent shape to contend for a fifth championship and his first in a decade. It doesn't hurt that he's five positions ahead of Jimmie Johnson in the standings, though it should be noted he's only six points ahead of the five-time defending champ.
Loudon: Fourth, 78 laps led
Standings: Fifth, -23 points
5. Carl Edwards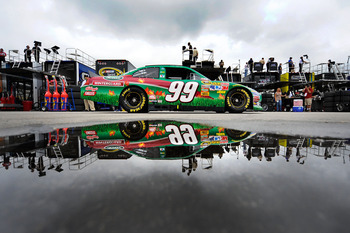 Jason Smith/Getty Images
Carl Edwards hasn't done anything flashy in the first two races of the Chase, but he's avoided bad finishes and here he is, fourth in the points.
This is beginning to look like a year where slow and steady might win the Chase.
Well, not too slow, but a steady diet of top-10s might do it. I don't see any driver poised to take the entire Chase field by the throat by rattling off a few wins, which bodes well for Edward's chances to win a first career Sprint Cup title.
Loudon: Eighth
Standings: Fourth, -14 points
6. Jimmie Johnson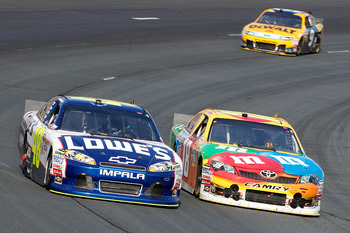 Geoff Burke/Getty Images
I know, Jimmie Johnson is a lowly 10th in the points.
But he's only two points away from sixth place, and he's still the five-time defending champion.
Still, his run-ins with the Busch brothers are becoming pandemic. Rubbing fenders with Kyle Busch late in Sunday's race erased the possibility of a top-10 finish, and Johnson struggled to finish on the lead lap.
Such shenanigans, whether Johnson's fault or not, will need to stop immediately if the No. 48 team is going to mount a comeback and go after a sixth consecutive championship.
Loudon: 18th, one lap led
Standings: 10th, -29 points
7. Matt Kenseth
Jason Smith/Getty Images
Matt Kenseth quietly had himself a nice points day at Loudon.
He needed it after a rough opening race in the Chase.
Kenseth is better than perhaps any other driver at quietly racking up top 10s and sneaking into the title picture just when you've forgotten about him.
He may not be on my short list of drivers to be in the running come Homestead, but it would be unwise to totally discount the ability of Mr. Consistency to show up when you least expect him, be it the closing laps of a race or the final races of a championship battle.
Loudon: Sixth
Standings: Tied for sixth, -26 points
8. Kyle Busch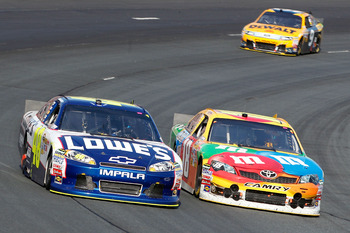 Geoff Burke/Getty Images
Does this photo look familiar?
Oh yeah, that's Kyle Busch messing around with old Five Time.
So far, Rowdy has shown us nothing to suggest he's ready to do what it takes to win his first Sprint Cup title. Sure, he's won four times this year, tied with Harvick for tops in the series. But so far in the 2011 Chase, Busch's results do little to inspire confidence that he'll best his previous high finish of fifth in the final season standings.
Loudon: 11th
Standings: Tied for sixth, -26 points
9. Dale Earnhardt Jr.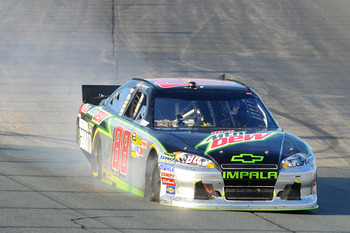 Jason Smith/Getty Images
After an inspiring opening Chase run at Chicagoland last week, Dale Earnhardt Jr. had a sporty race car at Loudon.
Dale Jr. was in line for a top-10 finish until he experienced tire problems near the end of the Sylvania 300.
The key from here on out will be for Junior, crew chief Steve Letarte and the entire No. 88 team to not get down on themselves.
Twenty-six points is a daunting but not insurmountable deficit, and luckily for Earnhardt, pre-Chase top contenders such as Jeff Gordon, Kyle Busch and Jimmie Johnson are also struggling in the early going of the Chase.
Loudon: 17th
Standings: Tied for sixth, -26 points
10. Kurt Busch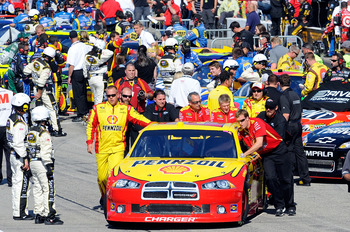 Jason Smith/Getty Images
Kurt Busch almost wasn't able to start the race on time. His No. 22 Dodge failed pre-race technical inspections and was pushed out to pit road with just minutes to spare.
Whoops.
Looks like someone needs to pay more attention to NASCAR's specs for the cars.
The unwanted adjustments to his car certainly didn't help Busch's cause in the race, and the hot-headed Penske driver struggled from the drop of the green flag until the checkered flag mercifully heralded a disheartening 22nd-place finish.
Loudon: 22nd, four laps led, one lap down
Standings: Ninth, -28 points
11. Ryan Newman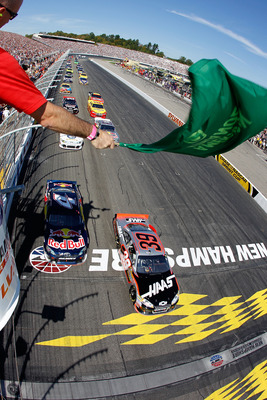 Pool/Getty Images
At least pole-winner Ryan Newman had a faster car than his teammate and car owner, Sylvania 300 winner Tony Stewart.
Not that it mattered in the end, of course.
Loudon saw the continuation of an unfortunate 2011 trend for Newman, as he was unable to take a fast car to a top finish, or even a lead-lap finish for that matter.
Come to think of it, that's been a pattern for most of Newman's career: Rocketman owns 49 career poles but just 16 race wins.
Loudon: 25th, 62 laps led, one lap down
Standings: 11th, -34 points
12. Denny Hamlin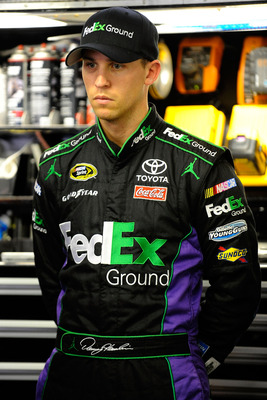 Jason Smith/Getty Images
Any bets on what will go wrong next for Denny Hamlin and his woebegone No. 11 team?
Seriously, eight days ago he was tied with Tony Stewart in the standings. Now, Hamlin finds himself an insurmountable 66 points behind Stewart.
Time to start testing for 2012. The 2011 season can't finish up soon enough for Hamlin.
Loudon: 29th, two laps down
Standings: 12th, -66 points
Keep Reading