Frank Gore Injury: Update on 49ers Star's Ankle
September 25, 2011
Jamie Sabau/Getty Images
If the 49ers are going to have any sustained success in 2011, it will likely be because Frank Gore has been a huge star on the offensive side of the ball. With Alex Smith running the offense, the team is leaning heavily on Gore.
It's not good news, then, that Gore was nicked up during the 49ers' 13-8 win over the Bengals on Sunday. Word is that Gore tweaked his ankle in a pile-up during the second quarter of the game.
Fantasy Impact
Gore being out, or even limited, due to an injury will be a huge loss for any fantasy owners who have him on their team.
Gore was a high first-round draft pick in most, if not all, leagues and his production will be tough to replace.
Who's the Backup?
Gore is backed up by the duo of Kendall Hunter and Anthony Dixon. Neither had seen any time to speak of in the first two weeks of the season, but in Week 3, Hunter emerged as the one you will want to own if Gore misses time.
Hunter carried the ball nine times for 26 yards and scored a touchdown in the game Sunday. In hindsight, Hunter's increased carries in the second half was probably an indication that something was bothering Gore.
Devastation Scale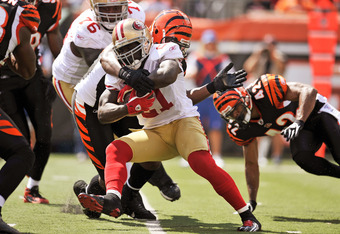 Jamie Sabau/Getty Images
From one to 10, this is a 10 on the devastation scale. Gore is the 49ers' offense. Sure, Alex Smith has been better than expected so far this season, but much of that success has to do with the threat of Gore in the running game.
Maybe Kendall Hunter will fill in ably for Gore, but it's unlikely. Defenses will be able to game plan to stop Smith and the passing game. Given his struggles throughout his career, it doesn't seem like that will be that difficult to do.
Timeline for Return
Given that news of Gore's tweaked ankle didn't come out until after the game, I'm confident that the injury isn't serious. He was able to finish the game, although Kendall Hunter saw more and more carries as the game wore on.
There is no word, official or unofficial, on whether or not Gore will be ready to go next week.
What They're Saying
Matt Maiocco of Comcast SportsNet tweeted about the uncertainty of the situation:
RB Frank Gore (right ankle) played hurt in second half. Doesn't know yet if he'll be ready for next game.
Matt Barrows of the Sacramento Bee tweeted about what is next for Gore as far as this injury goes:
Frank Gore (right ankle) said he was injured in a pile in the second quarter; he'll get checked out Monday at Youngstown State ...