UFC 135 Results: 3 Fights Tony Ferguson Should Take Next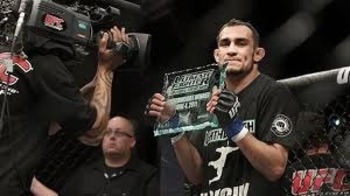 Credit: espn.go.com
Tony Ferguson looked quite impressive in his bout with Aaron Riley at UFC 135.
During the first round, Ferguson broke Riley's jaw with a solid upper cut and when Riley went to his corner at the end of the round, he called the fight.
A wise move because there was no telling how much more damage Ferguson could have done.
We have become witness to Ferguson's power and it's clear that he will be a force at lightweight for a long time. He will fly up the ladder if he duplicates the performance he put on in Denver and there are plenty of fighters that would match up well against The Ultimate Fighter season 13 winner.
Here are three fighters that could face Ferguson next.
Gleison Tibau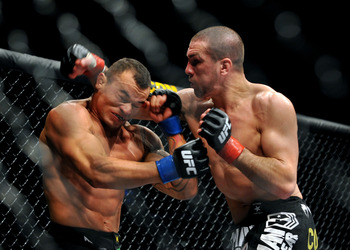 Jon Kopaloff/Getty Images
Gleison Tibau would be a huge test for Ferguson. Tibau is one of the biggest fighters in the division when he hits the Octagon. He also has considerable momentum, earning "Submission of the Night" honors at UFC 130 for his second round rear naked choke win over Rafaello Oliveira.
Tibau is a UFC veteran, with 14 UFC fights to his credit. If you want to test Ferguson, Tibau is a good choice.
Plus, with the heavy hands of Ferguson, it could test Tibau's chin.
Tibau has not been knocked out in four years, going back to his UFC debut at UFC 65 against Nick Diaz.
Spencer Fisher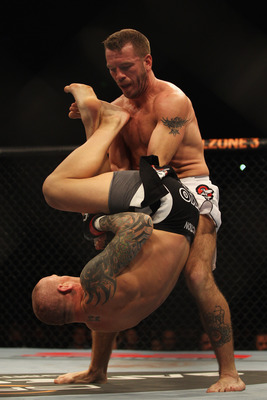 Mark Kolbe/Getty Images
Another UFC veteran, Spencer Fisher is in need of a rebound.
The win may do more for Ferguson in terms of getting more experience before attempting to take on the top-tier opponents that the lightweight division has to offer.
For Fisher, he has lost four out of his last five bouts and is coming off a TKO loss to Thiago Tavares at UFC 134.
Fisher isn't a guy who gets knocked out often and a win over Ferguson could help him get back his confidence.
Fisher is a great boxer and could stand with Ferguson, but may be more inclined to take the fight to the ground, where he can let his Brazilian jiu-jitsu do the work and perhaps score a submission.
Ross Pearson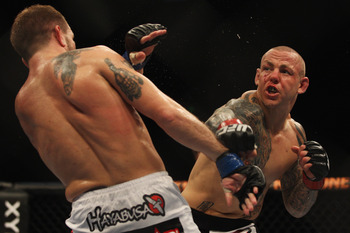 Mark Kolbe/Getty Images
Ross Pearson is 3-2 since winning the ninth season of The Ultimate Fighter, two fights earning "Fight of the Night" honors so we know Pearson can put on a show.
A fight between two former T.U.F. winners could be great to market.
Both are good on their feet and Pearson hasn't been knocked out in his MMA career. He has one TKO loss on record, but it was a doctor's stoppage and it happened in September 2007 against recent UFC casualty Curt Warburton.
Pearson needs a fight to come back from after a close loss to Edson Barboza at UFC 134.
The fight will likely take place on a Spike TV broadcast, but what do you think?
Mark Pare is a Featured Columnist. You can follow him on Twitter and don't forget to check out his sportswriter page.
Be sure to check out Bleacher Report for all things UFC 135. B/R is your home for MMA, from pre-fight predictions to in-fight coverage, and post-fight analysis...which you can check out at our event hub.
Keep Reading