Tony Romo Injury: Jerry Jones Says "Pain" to Determine QB's Week 3 Status
September 20, 2011
Jed Jacobsohn/Getty Images
Tony Romo has proven time and time again that he's tough enough to play through pain.
This latest instance is just another example of how tough he can be.
The Dallas Cowboys' star quarterback suffered a cracked rib and punctured lung in his team's overtime victory in San Francisco this weekend.
He was in and out of the lineup, but returned in time to lead his team on the winning drive. The pass should have been a touchdown, but receiver Jesse Holley—making his third career catch— was hawked down from behind at the one-yard line.
This week, like a number of Dallas stars, Romo is listed as questionable in the Cowboys' first home game of the season.
According to Jerry Jones, who was on KRLD-FM radio in Dallas, Romo's availability will be based on his "ability to handle pain."
CBS Sports quoted the owner as saying:
I don't know. I really don't. I understand the nature of the injury as much as you can without being in medicine. We'll just have to see how it goes. It has everything to do with just his ability to handle the pain, and we know he has a bunch of it. We'll see how that goes. He'll be monitored obviously extremely closely regarding the pneumothorax, and we'll see how it goes.
The Cowboys do need Romo on the field against the Redskins, but they also need the offensive line to pick things up.
Dallas has rushed for an anemic 54.5 rush yards per game so far this season, and none of their running backs are over three yards per carry.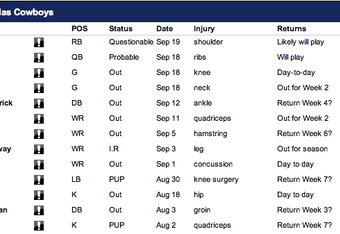 Romo's been sacked five times in the first two games, and that cannot happen if they want him to last the season.
Jerry Jones' team has a ton of talent when healthy, but right now, they need to get wins or they'll fall behind quickly in the NFC East.
Expect Romo on the field. Expect Felix Jones on the field. Don't expect Miles Austin on the field. And expect the Cowboys to be in a dog fight with the Washington Redskins all night long.
---
LIFE HURTS. THIS INJURY UPDATE BROUGHT TO YOU BY DICKIES.