Jed Jacobsohn/Getty Images
October 14, 2016
Dallas Cowboys quarterback Tony Romo left Sunday's game against the San Francisco 49ers with cracked ribs and what was later found to be a punctured lung. With the Cowboys trailing and replacement Jon Kitna struggling, however, Romo forced himself back into the game and led the Cowboys to an inspiring 27-24 win.
It's uncertain whether Romo will be able to play when the Cowboys host the 2-0 Washington Redskins on Monday night.
Check back here for the latest on Romo's status throughout the week.
Monday, Sept. 26 at 7:45 p.m. EDT
In an announcement that should come as no real surprise, the word from NFL.com's Michael Fabiano is that Romo is going to play tonight against the Washington Redskins.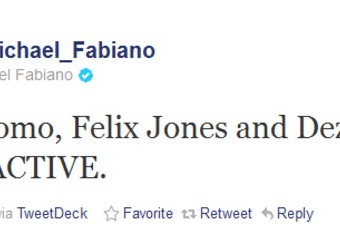 As we've already learned, Romo had a painkilling shot a few hours ago, and will also be wearing a special protective vest. He's still not 100 percent, but the Cowboys have gone to great lengths to make sure his pain doesn't get any worse.
If you have Romo on your fantasy team, all you can do now is sit back and keep your fingers crossed.
Monday, Sept. 26 at 6:15 p.m. EDT
There's been a lot of talk (and a lot of joking) about Tony Romo wearing a special Kevlar vest to protect his battered rib cage on Monday night, but he'll be going into battle with a little bit of help on the inside too.
According to CBS Sports' Nick Eatman, Romo will take a painkilling injection before tonight's game against the Washington Redskins:
QB Tony Romo is expected to take a pain injection at Cowboys Stadium about three hours before kickoff to help ease the discomfort from his broken rib and punctured lung injury. Romo will wear a protective vest to support his rib cage area during the game.
Basically, the injection will numb the pain, and the vest will make sure it doesn't come back.
This should not come as a surprise. The Cowboys were lucky to get a win with Romo playing through the pain the first time around, so it makes sense that they would go to whatever lengths possible to make sure Romo doesn't have to play through pain again.
If you have Romo in your fantasy lineup, keep him in there. It's not like you have a choice at this point anyway.
Saturday, Sept. 24 at 2:45 p.m. EDT
Accordinng to Rainer Sabin of Dallas News is reporting that Romo was at practice on Saturday throwing the ball around, which is good news for Dallas fans.
Cowboys quarterback Tony Romo was spotted wearing a helmet and throwing passes during the portion of Saturday's practice that was open to the media.

Romo, who suffered a fractured rib and punctured lung last Sunday in the Cowboys' victory over San Francisco, said Friday he was preparing to play Monday against Washington despite the injuries.

"I don't think we can say anything 100 percent right now," he said. "It's just a matter of the day and keep getting better. I'm obviously planning mentally going out there, so we'll see."
Friday, Sept. 23 at 1:05 p.m. EDT
According to ESPN's Adam Schefter, Romo will not participate in practice today.
This should come as no surprise, as the Cowboys want him to rest up as much as possible before Monday's game with the first-place Washington Redskins.
Friday, Sept. 23 at 10:05 a.m. EDT
All the Dallas fans that were hoping Tony Romo would play this week got good news this morning.
According to ESPN, Romo's lung has been healed, which means his chances of playing on Monday night have increased,
The results of a CT scan of a small puncture in Dallas Cowboys quarterback Tony Romo's lung shows the injury has healed, which could lead to him playing in the Monday night home opener against the Washington Redskins, a source said Friday morning.

But there are no guarantees Romo will play.

He still has a fractured rib, suffered along with the lung injury in a Week 2 victory over the San Francisco 49ers.
Friday, Sept. 23 at 8:30 a.m. EDT
Tony Romo underwent another CT scan yesterday to have his lung checked, and things appear to be healing correctly to this point.
According to ESPN, the only they are waiting for is for his lung to heal. It doesn't appear that the fractured rib will keep him off the field.
"He threw around a few balls today but that was it, he really didn't practice," Jones said. "So we'll ease up on him here this week. He'll have the game plan and a feel for what we want to do out there and we'll see how it is when we get to game day."

It appears that if the puncture in his lung heals prior to Monday's game, Romo would start versus the Redskins.

"He did play over 2½ quarters with this thing the other day," Garrett said of Romo's lung. "I think there are probably degrees in there of healing that I think the doctors want to make sure he has before we'll put him back out there."
Thursday, Sept. 22 at 4:01 p.m. EDT
Backup QB Jon Kitna fully expects Romo to play Monday, according to Dallas Morning News' Jon Machota.
"I fully expect him to play," Kitna said. "He's moving better than I thought he would be." 
Thursday, Sept. 22 at 1:02 p.m. EDT
Romo is not participating in practice today, but he is still receiving extensive treatment, according to ESPN's Tim MacMahon.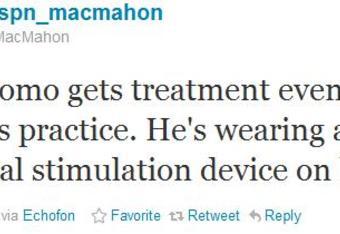 Thursday, Sept. 22 at 12:03 p.m. EDT
Romo won't practice today and is scheduled for another CT Scan, but is expected to be available Monday with a padded vest, according to ESPN's Ed Werder.
"Tony Romo will undergo another CT scan Thursday, according to sources, to check how his punctured lung is healing in trying to determine if he will be able to play Monday in theDallas Cowboys game against Washington.

The puncture has been described as 'small' and multiple sources have indicated it could clear up in a couple of days. Coach Jason Garrett gave the players Tuesday and Wednesday off in an attempt to help with the recoveries of several injured players.

Romo is not expected to practice Thursday, according to ESPN's Ed Werder...

The team's expectation is that Romo will be available Monday, and he was fitted for a protective vest on Wednesday, according to a source.

If he plays, Romo likely will need a painkilling injection. He did not take an injection last week at San Francisco but did take an oral painkiller."
Thursday, Sept. 22 at 9:47 a.m. EDT
Romo seems to be officially day-to-day heading into Week 3. It's all about pain management for the star QB, according to Romo per ESPNDallas' Calvin Watkins.
"'We're going to take it day by day,' said Romo, who put his hand to his chest while laughing at a joke... 'I know that doctors are looking at it each day and we're trying to figure out the stuff with the lung that hopefully we're done here in the next day or two. If it's just about dealing with pain, that's part of playing football and I know I'll be able to do that'

'I would assume as long as (that) stuff goes on the right track, I have a pretty good chance to make a decision to play here shortly.'

'... if it's an in-between thing, you usually end up playing. It's football season and usually football players play football during football season.'"

Thursday, Sept. 22 at 9:35 a.m. EDT
Rookie RB DeMarco Murray shed more light on Romo's status after he suffered the cracked rib against San Francisco, according to Dallas Morning News' Staff.
"'He could barely breathe. We were just seeing him grunting, and when he was trying to talk, he was just kind of holding on. You could see it in his facial expressions that he was hurt,'" Murray said. 
It's sounding more and more like Romo will be a game-time decision. It will depend on high his pain threshold is and if the Cowboys are willing to risk further injury against a very good Washington front seven.
Thursday Sept. 22 at 9:00 a.m. EDT
While it sounds like Romo will be able to play on Monday night if he so chooses, he'll certainly be in a lot of pain if he does, particularly when he gets hit. According to Calvin Watkins of ESPNDallas.com, Romo is struggling with everyday activities at this point.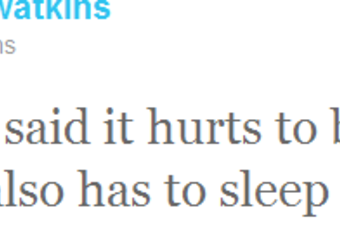 Wednesday Sept. 21 at 2:35 p.m. EDT
It looks as though the Washington Redskins are already trying to play mind games with Romo and the Cowboys as a whole. According to Tim MacMahon of ESPNDallas.com, Redskins head coach Mike Shanahan intends to pressure Romo intensely if he starts.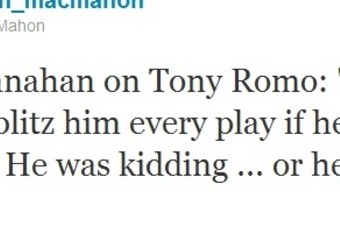 Redskins cornerback DeAngelo Hall got into the act as well, saying that he wanted to drive his helmet into Romo's injured ribs.
Wednesday Sept. 21 at 2:25 p.m. EDT
A decision has yet to be made, but Dallas Cowboys head coach Jason Garrett said that Romo has been receiving treatment for his rib and lung injuries and that he is hopeful that he will be ready to go on Monday, according to a National Post report. 
Dallas Cowboys coach Jason Garrett says he's hopeful Tony Romo will play in Monday night's game against the Washington Redskins.

Garrett said Wednesday that Romo has been getting treatment for a fractured rib and punctured lung and "hopefully he'll be ready" for the game against the Cowboys' NFC East rival.
Wednesday Sept. 21 at 9:50 a.m. EDT
There has been no update on Romo's condition to this point, and every indication is that it will ultimately be Romo's call in the end. According to a tweet by ESPN NFL reporter Adam Schefter, a person close to Romo fully expects him to play Monday night.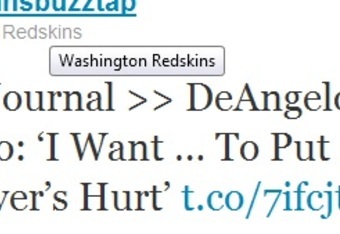 Tuesday Sept. 20 at 2:45 p.m. EDT
It now sounds as if Tony Romo's condition is one which can be played through, but it has everything to do with his pain threshold, according to Tim MacMahon of ESPNDallas.com. Dallas Cowboys owner Jerry Jones is unsure if Romo will play, but seems to think it will be up to Romo in the end.
"I don't know. I really don't," Jones said when asked Tuesday on KRLD-FM whether Romo would play against the Redskins. "I understand the nature of the injury as much as you can without being in medicine. We'll just have to see how it goes. It has everything to do with just his ability to handle the pain, and we know he has a bunch of it."
Tuesday Sept. 20 at 1:45 p.m. EDT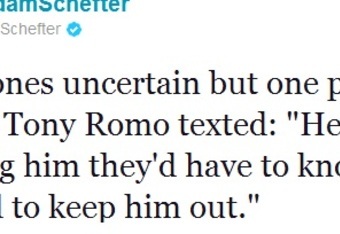 It has been confirmed by Todd Archer of ESPNDallas.com that Tony Romo suffered a punctured lung in addition to cracked ribs on Sunday. It isn't yet known if Romo will be ready to go on Monday, but Archer doesn't think the lung injury will affect his status any further.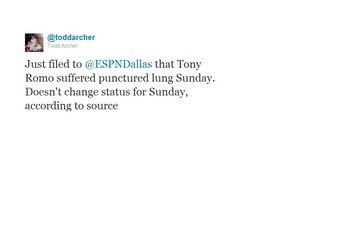 Like the new article format? Send us feedback!