Nick Collins Injury Update: Is Pro Bowler's Future in Doubt After Neck Injury?
September 20, 2011
Andy Lyons/Getty Images
The Green Bay Packers suffered a major loss this weekend...again.
Last year they overcame all obstacles to win their first Super Bowl in well over a decade, but Nick Collins' value will be impossible to replace.
The veteran safety has been to the Pro Bowl each of the last three years and is a vital part of the Packers' defensive scheme. Defensive coordinator Dom Capers is allowed to do so much because he has players like Collins and Charles Woodson in the secondary.
Losing Collins hurts this team deeply.
But while his absence to the Packers is a big deal, his health is even more important.
Neck injuries are some of the most dangerous in all of football. For a defensive player, someone like Collins especially, it could alter their career.
This was the latest update from Rotoworld:
A tough break after an initial CT scan of Collins' neck came back negative. Any time a neck injury is serious enough to end a player's season; it has to also be considered career threatening.
Collins was expected to see a specialist early this week to find out the extent of his injury.
A neck injury for a player like Collins is especially dangerous. He plays deep in the secondary, is often involved in high-impact collisions and leaves his feet just as much as a wide receiver.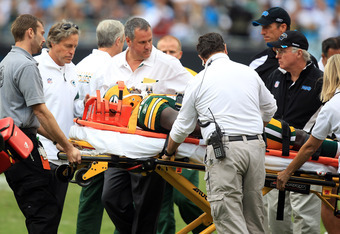 Streeter Lecka/Getty Images
If Collins is not perfect in his tackling form, there will always be the risk of him injuring his neck again.
We have already seen the impact neck injuries can have early this season, with Peyton Manning still on the sideline looking for any type of edge to get back on the field. Reports indicate that Manning even tried a stem-cell procedure not allowed in the States.
This is Collins' seventh year in the NFL. He's been a starter since his rookie year and has missed only three games during that span.
It would be an absolute shame if anything more than this season is jeopardized by this injury, but it is an actual possibility.
More on Collins' status will be updated when more is known. 
---
LIFE HURTS. THIS INJURY UPDATE BROUGHT TO YOU BY DICKIES.