Mike Vick's Concussion: Don't Panic, Philadelphia Eagles Should Be Prepared
September 19, 2011
Kevin C. Cox/Getty Images
Michael Vick and the Philadelphia Eagles stomped into "dirty bird" territory to face Vick's former allies, the Atlanta Falcons.
Matt Ryan, or Matty Ice, whichever makes you feel less like a douche for saying it, stepped onto the field as the underdog. Not just because of Atlanta's humiliating loss to the Chicago Bears in Week 1. The pressure was on because no matter how many boos circulated the stadium, there were No. 7 jerseys sprawled across the stands, seemingly in honor of the man that was once all for one and one for Atlanta.
Now that Vick has crossed enemy lines, the boos are necessary, although the underlying support makes it hard to differentiate the cheers of sanctity from the disparaging drop of confidence from Atlanta fans, as he stepped into the bad side and came out alive and a MVP runner-up. But, tonight, Atlanta's defense had other things in mind for Philly's leading man.
A legal tackle that brought down Vick and caused a helmet-to-helmet collision between the quarterback and one of his own teammates resulted in his exit from the game. Although the Eagles went on to lose the game, there is still one imperative inquisition that should be made about Vick's concussion.
What will the Philadelphia Eagles do without him?
Look at it from Philly's point of view. When making Vick the franchise quarterback of the organization and watching his talent level and arm improve ever since his jail release, head coach Andy Reid and the Eagles' front office knew that this day may come. Bringing in Vince Young and having backup quarterback Mike Kafka was no mistake. These two men are sitting on the bench and getting more than a few reps in practice as a just-in-case precaution.
Now that it seems that precautionary methods must be put into play, Philly fans are pulling the hair from their roots trying to figure out how the team can survive without their savior, the Michael Vick.
The pressure for an answer may come down like 3 tons of sharp bricks, because Vince Young sits on the sidelines inactive. Mike Kafka should be given a fair shot, however.
Even though he only played several snaps in Sunday night's game against the Atlanta Falcons, Kafka showed readiness at the drop of a dime with only a few questionable handoffs and a monster throw down the field, as he attempted a scoring drive to ultimately win the Eagles the ball game.
Although Philly could not manage to keep a hand on some of the passes he threw, it was still impressive to see him sprint from the sideline to the line of scrimmage with the composure and demeanor of a champion that would not be denied—although he was.
Scrambling for a backup is unnecessary. This is not something that has come as a shock. Vick gets hit on numerous attempts in a single ball game, and until the O-Line is restructured, he will continue doing so (even though the offensive line in Sunday's game performed to a higher level than my expectations.)
It would have been a bit more frightening if the blood Vick was spitting up had not come from him biting his own tongue after the hit had taken place. But, suspecting that he would be out longer than a week, if that, is premature and inaccurate speculation. This is not his first time in the rodeo. After being booted out of the postseason last year, Vick does not seem like the type that would let such an opportunity of redemption slip through his fingers. He is a tough quarterback.
If Tony Romo can be inserted back into a game with bruised ribs and lead the Dallas Cowboys to a victory, it is most certain that Vick can step back in as the only man who can comfortably fit his shoes in the Philly football franchise. Trading away Kevin Kolb is a decision that the Eagles cannot look back upon and review whether the pros of the trade truly outweighed the cons.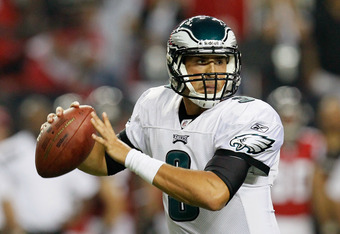 Kevin C. Cox/Getty Images
Philly has two backup quarterbacks, one active and the other inactive with injury. This is what backups are for. If Philadelphia was to run out and tackle a deal with most recently released Jacksonville Jaguars quarterback David Garrard or pull a retiree out of their NFL and Co. nursing home as Indianapolis was forced to do in Peyton Manning's sudden absence, it would show the world, including its fans and its own players, that it was not considering every aspect of Vick's game before taking on Young or Kafka as his backups.
Don't worry; the worst is over. The threatening nature of Vick's absence may loom over our heads until his possible start in Week 3 against the New York Giants.
But, if he does not return in time to play the game, he will be just fine with the art of standing by the young quarterback Kafka and giving him words to win by.
Follow Klaibourne on Twitter: @nyhlaablack