Matthew Stafford and Calvin Johnson Are Just Too Good to Stop
September 12, 2011
Leon Halip/Getty Images
Every once in a while, something breaks the NFL. Some player, some coach, some combination, some dynamic is just so good, nobody can stop it. It's a rare occurrence, and it rarely lasts for more than a season. Often, it's a connection between a physically dominant wide receiver and a quarterback at the peak of his powers.
The connection between Matthew Stafford and Calvin Johnson is that good.
In 2007, the New England Patriots sent a fourth-round draft pick to the Oakland Raiders for Randy Moss. The instant chemistry was incredible; Brady threw for 4,806 yards and 50 touchdowns that season.
Not only were those career highs, they topped his previous highs by 24 TDs and nearly 700 yards! Moss, too, set a career high with 23 TDs, and his second-highest yardage tally: 1,493.
The Patriots, of course, completed a perfect regular season, and made it to the Super Bowl before the New York Giants pass rush finally overcame the magic. Brady blew out his knee in the first game of the next season, and the spell was broken. But for one season, Brady-to-Moss couldn't be stopped.
In 2004, the Philadelphia Eagles traded for Terrell Owens, and his impact was immediate. McNabb threw for 3,875 yards and 31 touchdowns; both were career highs at the time, and McNabb has only eclipsed the yardage mark once in the six seasons since.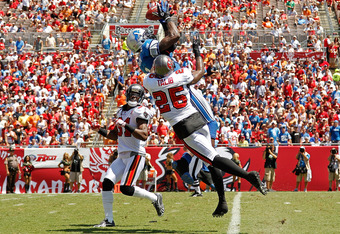 Mike Ehrmann/Getty Images
Owens' season was among his best efforts, despite missing the last two games of the season due to injury: 1,200 yards and 14 TDs. Owens famously rehabbed his sprained ankle and fractured fibula in time to catch nine passes for 122 yards in Super Bowl XXXIX.
Partly due to McNabb's less-than-Super performance in the Eagles' loss, the chemistry between the two went sour. But for one season, McNabb-to-Owens was unstoppable.
I see the same elements in the connection between Matthew Stafford and Calvin Johnson. Johnson's 6'5" frame, leaping ability and sprinter's speed make him almost impossible to cover. Stafford's got the arm strength and accuracy to get it to Johnson almost anywhere on the field.
Yesterday, Bucs cornerback Aqib Talib did a great job of covering Johnson. He used his considerable talent, as well as every trick in the book, to try to shut Johnson down. Still, Calvin pulled in six catches for 88 yards and two touchdowns.
At 6'1", 205 pounds, Talib is as big and as talented of a corner as Johnson will face this year, and it wasn't enough to stop him. Stafford's seeing the field and spinning the ball very, very well. Every other Lions opponent will be determined to keep Stafford and Johnson out of the end zone, but very few will succeed.
The Stafford-to-Johnson connection is just too good to stop.