Cam-Azing! Cam Newton Lights Up Cardinals Secondary in Panthers' Road Loss
September 12, 2011
Christian Petersen/Getty Images
I Was Wrong
I'm man enough to admit when I'm wrong, and boy was I wrong about Cam Newton.
Throw for two touchdowns and run for another on the road against the Arizona Cardinals? No way.
I was wrong, Cam.  You were right, Cam.  I love you and you win.  Wait, that's what I say to my girlfriend when I know I don't have a leg to stand on.
Pass for 422 yards to lead all NFL quarterbacks and set an all-time league record by becoming the first rookie quarterback to throw for over 400 yards in the first game of the season? Yeah right, get real!
You see, I watched Cam Newton play in college last year and I know he has the talent to be a great pro one day, but I was wrong about his readiness to play like one of the best quarterbacks in the league today. There was no way he could play like this on the road as a rookie quarterback in his first professional regular season game, or in any game this season for that matter, especially after missing an entire offseason of OTAs and mini-camps with his team due to the NFL lockout.
Get me slapping fives throughout the game with my Panther loving girlfriend and her family and have me sitting on the edge of my seat with a chance to tie the game at the of regulation?  Not a snowball's chance in Glendale.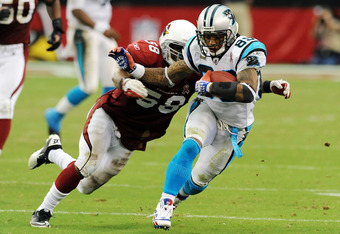 Norm Hall/Getty Images
When asked to predict how Newton would play today in his first NFL start, I was not overly optimistic.
In fact, my girlfriend's father and I discussed the merits of starting Derek Anderson against his old Arizona mates and letting Cam soak it all in from the sidelines, at least for the first few games.
But Newton did, in fact, give the Panthers their best opportunity to win today and he may have been successful if it were not for two blown pass coverages and a botched punt coverage by the Panthers' special teams which resulted in long distance Cardinal touchdowns by tight end Jeff King, receiver Early Doucet and cornerback/returner Patrick Peterson.
Still, the Panthers lost 28-21 following a pass play from Newton to running back Mike Goodson which came up two yards short of the end zone and was eerily reminiscent of the Tennessee Titans' final play in Super Bowl XXXIV in which the Rams stopped Kevin Dyson one yard short of the goal line.
Rookie Quarterbacks Rarely Succeed
So, I was wrong, and it's not just because I didn't think Cam was ready to play well in the NFL so soon, it's because I am against rookie quarterbacks starting NFL games as a general rule because it typically doesn't work out well for either the player or the team. 
Ben Roethlisberger, Matt Ryan, Joe Flacco and Mark Sanchez are all recent exceptions to that rule, but they also had the luxury of playing on a contending team in their first season.
One thing is for certain, though, and that is Cam Newton is no JaMarcus Russell or Alex Smith. 
And while I am a long-time proponent for handing rookie quarterbacks clipboards, not starting jobs, Mr. Newton may have turned my theory on its head.
Unlike Terry Bradshaw, who bashed the rookie signal caller on FOX's NFL Pregame show Sunday, I entered Sunday's game watching festivities already a fan of Cam's. 
From what I have read about Newton in the Charlotte Observer since he was drafted, including all the praise he has received from his teammates and coaches regarding his competitiveness, his work ethic and his desire to win, I respect Cam as a player and I have long been confident that he will be a successful quarterback for the Carolina Panthers.  I just didn't think the day would come so soon.
Coming Up Big Under the Microscope
Even before Cam Newton was drafted by the Carolina Panthers with the first pick of the 2011 draft, the Heisman winning rookie quarterback from Auburn has been one of the most scrutinized, criticized, analyzed and talked about players in all of football, and rightfully so.
Those who followed Newton's play closely last year during his Heisman winning campaign at Auburn know he's a dazzling athlete with Michael Vick skills in a Blake Griffin body. 
Most readers and college football fans also know the shady Cam Newton stories, from the stolen laptop incident that led to his expulsion from the University of Florida team to his father's impropriety during Cam's college recruiting process after he lead Blinn (TX) Junior College to the national championship. 
Today, however, there was nothing controversial about the way Cam Newton played. 
He threw deep balls with precision, he threw sideline routes with accuracy and strength and he through short crossing routes and screens with great touch. 
He moved nimbly around the pocket and was a step away from making a big play with his feet on more than one occasion. 
He involved Steve Smith in the passing game—something Jimmy Clausen could not do last season — by connecting with the enigmatic superstar on eight completions for 178 yards and two touchdowns. 
He even hooked up with Panther tight ends Jeremy Shockey and Greg Olsen seven times for another 128 yards. 
Today, Cam Newton was simply the best player on the field, and perhaps the best player in the league, even if just for a day.
Did I say that I was wrong?