Seahawks vs. 49ers: TV Schedule, Live Streaming, Radio, Game Time and More
September 7, 2011
Ezra Shaw/Getty Images
The Seattle Seahawks and San Francisco 49ers both believe they can with the NFC West. As ugly as this game looks on paper, it is crucial for the race for the one team that will come out of the lowest division in football.
The Seahawks put their faith in quarterback Tarvaris Jackson. Foolish it may be, they are stuck with him or Charlie Whitehurst's hair. As to who is the better option is still up for debate, but right now the hair is holding a clipboard and Jackson is running for his life behind an offensive line that may kill both of them before the season is over.
San Francisco has the better all around team, but may be even more unstable at quarterback if that is even possible. Former No. 1 pick Alex Smith has proven nothing to this point in his career, but now has a former NFL quarterback coaching him. 
While it probably won't be enough, this Bay team is going to try like heck to help him out.
This is a huge opening game for both teams. 
Where: Candlestick Park; San Francisco, 49ers.
When: Sunday, 4:15 P.M. EST. 
Watch: Locally on FOX affiliates. Direct TV 714.
Listen: Sirius XM: 91 (Seahawks), 85 (49ers). Local: ESPN 710 (Seahawks), KNBR (49ers)
Betting Line: 49ers -5.5
This line favors San Francisco mostly on home field advantage, but also because Seattle's offensive line is ready to collapse like a house of cards. 
What's At Stake
Playoff Implications. Playoffs? Playoffs? We're talking about playoffs? Yes, in fact, we are talking about playoffs. Every game between NFC West teams is important because there is no telling how many games they will win outside of the division. Last year the 7-9 Seahawks won the division on the last week of the season. A single loss to an NFC West opponent could cost a team a postseason berth.
Seahawks' Injury Report
Sidney Rice, WR - The newly acquired receiver is the new No. 1 target in Seattle alongside Mike Williams. Together the pair pose a rather impress receiving duo if the offensive line can give Jackson any time to throw. But Rice missed practice so far this week with a shoulder injury and is listed as questionable for the opener. 
49ers' Injury Report
Shawntae Spencer, CB - The starting corner hasn't been in a full padded practice since July 31st. His status is still unknown for the game is he listed as "out" on a day-to-day basis. 
Fantasy Start 'Em
Frank Gore, RB - There is hardly ever a week where Gore is not a must start. This week, in fact, he goes up against a defense that gave up the eighth most points in the league to opposing running backs a year ago. San Francisco's best chance at winning will be the use of Gore. 
Fantasy Sit 'Em
Sidney Rice, WR - Even if healthy, the Seahawks are going to have a hard time protecting Jackson against the 49ers defense. Should Rice play he'd still be coming off an injury and not in top form. 
Fantasy Sleeper
Braylon Edwards, WR - The new San Francisco 49er may only catch two or three ball in his debut, but they could two or three 50-yard touchdowns. Despite his inconsistencies, Edwards can be a big play machine. 
What They're Saying
The Seattle Times is saying: 
The Seahawks' most intriguing story line this season is at quarterback, whether focusing on starter Tarvaris Jackson specifically or the position in general. But so much time has been spent scrutinizing the man who will throw the ball that the addition of the two Pro Bowlers who will catch it has been overlooked...Now the question is how to spread the ball on a team whose starting receivers and tight end have never played together before.
The San Francisco Chronicle is saying:
Most notably, there is the quarterback depth chart, which features starter Alex Smith, who has a 51-53 career touchdown-to-interception ratio, and two rookies in reserve in Colin Kaepernick and Scott Tolzien. There is the unresolved matter of San Francisco's offensive line, which appeared inept in two of the four preseason games.

 
Seahawks' Player to Watch
 Tarvaris Jackson, QB - Nobody is more important in Seattle than Jackson. The offensive line is an issue, but he does have weapons on the outside. He'll have to find a way to make things happen from inside and outside the pocket and be accurate at the same time. 
49ers' Player to Watch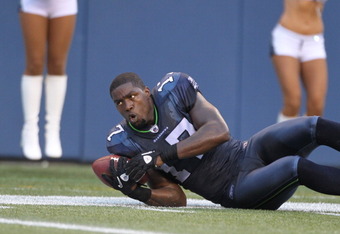 Otto Greule Jr/Getty Images
Patrick Willis, MLB - No defensive player is more dominant than Willis. The 49ers' middle linebacker can solely destroy the Seattle offensive line. No, but seriously, he'll be everywhere and the Seahawks have to account for him on every play. 
Key Matchup
Seahawks offensive line vs. 49ers front seven. This battle will dictate the entire game. If Seattle can protect Tarvaris Jackson and give him the opportunity to throw there is actually a chance he makes something happen. But if they falter, the 49ers will force turnovers and their offense is equipped to hurt the Seahawks with Frank Gore and rookie Kendall Hunter in the backfield. 
Prediction
49ers 24, Seahawks 13