Ryan Bader and Brendan Schaub: They Thought Their Route to the Top Would be Easy
February 8, 2017
First it was Ryan Bader, then along came Brendan Schaub—call out the old guard and then continue the ascendancy. I'll rephrase that: Tito Ortiz and Antonio Nogueira were the stepping stones to fame and glory for the aforementioned duo.
A revised excerpt from Robert Burns' poem, "To a Mouse," encapsulates both Bader's and Schaub's sudden fall from grace: "The best-laid plans of mice and men often go awry."
It came to pass that Ryan "Darth" Bader was the first to find out the hard way—that the path to glory is a somewhat rocky one. After losing a potential title shot to Jon "Bones" Jones via modified guillotine choke at UFC 126, Bader elected to call out the legendary Tito "The Huntingdon Beach Bad Boy" Ortiz.
There was one problem with this—Tito hadn't won a fight in almost five years; four losses and one draw was all Ortiz could accomplish during that period. Even worse, to some of the MMA purists, Tito was washed up and more or less irrelevant; he had failed to evolve as a fighter, and in doing so, had stood by as the MMA fight game passed him by.
So for someone like Bader, a top five light heavyweight to call out a supposed has-been like Ortiz, well that smacked of Bader craving for an easy pay day and an even easier route back to the top, where he'd once again be in title contention.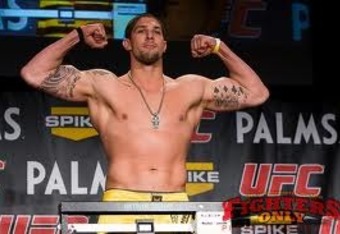 Bader found, to his cost, that the underdog should never be underestimated, especially when it comes to a former UFC light heavyweight champion like Ortiz.
Ortiz holds the record for most title defenses at light heavyweight, with five.
He also found out that most legends attained legendary status for a reason—they overcome adversity when the odds were overly stacked against them.
At UFC 132, Ortiz proved that there was still life in the old dog and whole lot of bark to boot. After Ortiz knocked down Bader with what looked like an innocuous right, he then latched on to a guillotine choke, tapping Bader. That was Bader's second loss in a row, and his second loss via submission.
UFC 134 saw Brendan "The Hybrid" Schaub, another rising prospect, discover to his detriment that the road to UFC gold is long and hazardous.
Like Bader did before him, Schaub called out another legend in the sport in Antonio Rodrigo Nogueira. Antonio "Minotauro" Nogueira was a former UFC interim heavyweight champion and a former Pride heavyweight champion, but just like Ortiz, there were questions being asked; and to some degree those questions were justified.
Nogueira's last two losses were against Frank Mir (TKO) and Cain Velasquez (KO). This prompted analysts and fans to express their doubts as to whether Nogueira could compete with the elite of the heavyweight division.
The concerns for the health and well-being of Nogueira were well-documented—Dana White had said that he would've proposed retirement if Nogueira had lost to Schaub.
I guess White will have to shelve those retirement plans, as Nogueira's first-round knockout of Schaub proved once again that age, sometimes, is nothing other than a number. That win at least gives the old lion a stay of grace, and another chance to roar once again.
For Schaub, well, for only the second time is his career, he's now sampled the bitter taste of defeat in its most unforgiving form—being knocked out. The only other fighter with the distinguished honour in that department is Roy "Big Country" Nelson.
This must suggest that Schaub has a not-so-sturdy chin, and if that is the case, rest assured that there will be a host of heavyweights forming an orderly queue to take a swing at that china chin.
Bader is now on the periphery of being labelled a "never was." His next fight is set for UFC 139 against Jason Brilz. This fight will show whether Bader is on the progressive road to recovery or whether he's on that slippery slope of regression. Either way Bader needs an emphatic win, though a win nonetheless will suffice.
Schaub and Bader are both young rising stars in the mixed martial arts world with a lot of potential. Both have the possibility to take their careers to the apogee of both the MMA and the UFC summit, but as the literary critic and writer Cyril Connolly once said, "Those whom the Gods would destroy, they first call promising."
There are three categories of people: those who watch things happen, those who wondered what happened, and those who make things happen. At this moment in time, "those who wondered what happened" could easily apply to both Brendan "The Hybrid" Schaub and Ryan "Darth" Bader.
Just for the record, I picked both Tito Ortiz and Antonio Nogueira to win their respective fights against the aforementioned prospects.