Anderson Silva: 5 Heavyweights Who'll Give Him a Run for His Money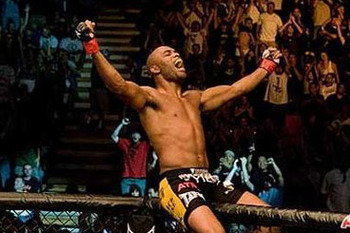 Last week, I took you through a slide show of five fighters within the UFC's light heavyweight division who would match up well with current middleweight king, Anderson "The Spider" Silva.
The list contained such names as Dan Henderson, Lyoto Machida and light heavyweight champion Jon Jones. Surely, any of those stars could put up one hell of a fight against the man they're now calling "the greatest fighter of all time." Right?
It didn't seem as if the fans are so sure.
The talents of Anderson Silva, they say, would be too much for anyone in the light heavyweight division to handle. Dan Henderson would be choked out again. Lyoto Machida would find himself on the receiving end of the dreaded crane kick. Jon Jones would be blasted out cold while attempting a spinning back elbow. Anderson Silva can't be beat, won't be beat.
Ok. Well, let's take it a step further. What if he moved into the heavyweight division?
In all fairness, this isn't something that is likely to ever happen. However, Silva would only have to put on an extra 35 lbs to go from middleweight to heavyweight. Randy Couture made the move from light heavyweight to heavyweight, and coming into a fight at merely 220-230lbs, he was still crowned the UFC heavyweight champion of the world for a period of time. Sure, he never fought at middleweight, but he was 43 freakin' years old! That has to count for something.
So, just for the sake of argument, let's say Anderson Silva did make the move up to the heavyweight division. Who would he face? How would he fare? Let's have a look-see, shall we?
5. Frank Mir
The first heavyweight test for Silva would likely be the UFC's resident gatekeeper, Frank Mir.
While it is doubtful that Mir will ever again wear heavyweight gold within the organization, he does a fantastic job of letting the brass know who is or is not ready to step into the upper-echelon of the division.
His victory over Roy Nelson showed major flaws in the game of "Big Country," whereas his devastating loss to Shane Carwin elevated the big man directly into UFC title contention.
If Silva were to move up to heavyweight, it is doubtful that UFC matchmakers would waste time throwing him into the cage with someone like Pat Barry or Cheik Kongo. Instead, he would probably get one tune-up bout, in this case, Mir, then move right into the top names of the division.
Mir poses an interesting threat to Silva. He's not the lightest fighter on his feet, but if the bout were to hit the ground, Mir's submission skills are dangerous to any opponent. As proven in his legendary bout against Tim Sylvia, if Mir gets half a chance, he will put you into a position where it's either tap out or have one of your limbs broken in two.
I doubt, however, that Mir would ever get that chance against "The Spider."
In my opinion, Silva would be a puzzle too difficult for Mir to solve within the cage. Mir has never faced a striker with the technical skills the likes of Silva. His only hope would be a submission victory on the ground, however, if the fight were to make it to the mat, I believe it would be due to Silva demolishing Mir on their feet.
Mir would hit the ground, and Silva would place pinpoint accurate strikes to put his lights out in a fashion similar to what we saw in his match against Yushin Okami at UFC 134.
Silva wins, and the heavyweight gate has officially been unlocked.
4. Shane Carwin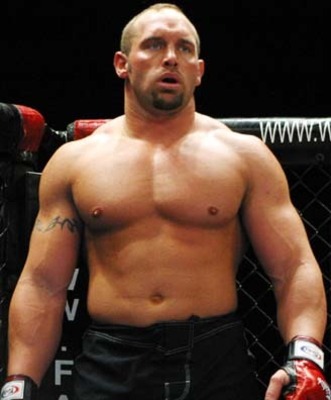 Now that is a heavyweight fighter.
In this picture, Shane Carwin looks as if he was literally inflated like a basketball, to the point where his muscles are about to explode out of his skin. At 6'2" and constantly skirting the weight limit 265 pounds, Carwin would be quite the test for Silva.
Of course, that was Carwin prior to having steroid allegations thrown his way. The Carwin we saw in his last fight against Junior dos Santos was nowhere near as imposing a figure as he was when this picture was taken.
Whether it be due to the fact that he honestly wanted to shed some pounds in favor of his questionable cardiovascular conditioning, or if it's simply because he didn't want the steroid microscope pointed in his direction any longer, Carwin doesn't look like the Incredible Hulk any longer.
Unfortunately for Silva, that doesn't mean he doesn't pose a significant threat.
Ridiculously huge, or just regular huge, Carwin is a heavyweight fighter with heavyweight hands. If he were able to touch Silva with one of his humongous fists, it would undoubtedly be lights out for the Brazilian. There is no doubt about that.
I do doubt, however, that Silva would be foolish enough to simply stand in front of Carwin to provide a human punching bag. On the contrary, being the genius fight planner he is, Silva would surely be smart enough to simply lure the huge American into wearing himself out before the end of the first round.
Once Carwin has been gassed, he would be easy pickings for Silva, who would really only need one well-placed punch (or kick) to put the big man on his backside. Once the fight is on the ground, assuming Silva doesn't get the TKO victory, he could easily submit Carwin, who isn't well known for his ability to fight off of his back.
Whatever the case, in the end, Silva moves up one more rung on the heavyweight ladder.
3. Junior dos Santos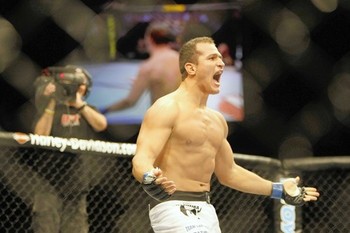 This is where things get really interesting for Silva.
Junior dos Santos, while not as huge as Carwin, nor as long-tenured as Mir, poses a much more serious threat than either of the first two names on Silva's route to the top of the heavyweight mountain.
"Cigano" is not a one-dimensional fighter who needs the fight to take place in one specific area to attain victory against Silva. His striking game is extraordinary, and unlike Carwin, he will not gas out after a single round. Though his fights rarely make it to the ground, Dos Santos also has some pretty impressive jiu-jitsu for a heavyweight fighter.
A fight against Dos Santos would not be an easy one for Silva, but in order to make it to the top of the division, it's a fight he would need to take.
Realistically, I could see this fight going either way. Both men possess excellent technical striking skills. Both men possess vastly underrated ground work, and both men have the heart to go the distance in a match against any opponent.
If there is a heavyweight version of Silva, it is Dos Santos. While not as flashy as Silva, Dos Santos does present a varied enough skill set to warrant the comparison.
Unfortunately for Dos Santos, if I were to be forced into making a pick, it would be Silva. Don't get me wrong here, Dos Santos is an excellent fighter, and his stock in the division is definitely on the upswing. However, I simply don't think he'd be ready for the various unorthodox attacks that would surely come his way in a bout against Silva.
A great fight it would be, but in the end, Dos Santos would go down at the hands of Silva, just like the rest.
2. Cain Velasquez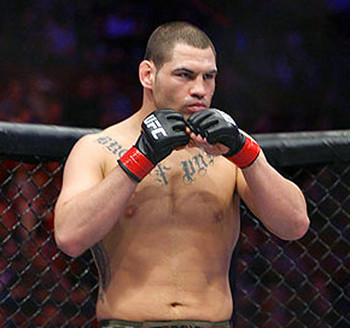 "... and here... we... go!"
I can hear Mike Goldberg already, as Silva stands on one side of the cage, preparing to go to war for the UFC heavyweight championship. Having gone through every other name on this heavyweight list, Silva has one final test before becoming the division's undisputed king.
That test, standing at the other side of the Octagon, is heavyweight champion, Cain Velasquez.
Of all the potential bouts we've gone through for Silva's trek through the division, Cain presents the biggest challenge. Not only does he have the heavy hands of Carwin, and the boxing prowess of Dos Santos, but he also has a criminally overlooked amateur wrestling background.
If there's one thing Silva doesn't particularly care for in an opponent, it's wrestling skills, and a penchant for pushing them.
Velasquez, thus far, has gone undefeated in the UFC. Though he hasn't been around for quite as long, he has looked just as dominant against his opponents as Silva has against his. When these two giants of MMA meet in the cage, something has to give, and someone is going to walk away with their first loss within the Ultimate Fighting Championship.
That somebody would be Velasquez. You heard it here first.
In my opinion, if these two were to ever meet, Velasquez would probably "pull a Sonnen" against the champion. If he weren't taken out by some sort of flashy strike, and were able to secure multiple takedowns, I think Silva would certainly still be able to pull off a submission victory within the 25-minute time limit. He's smart enough to avoid Cain's hands, and he's experienced enough to see the opening for any type of submission off of his back.
No matter how hard Cain charges, Silva will have an answer, and the UFC will have a new heavyweight champion of the world.
That only leaves one question: Who will Silva face in his first defense?
1. Brock Lesnar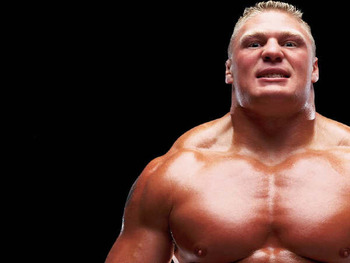 Here comes the pain!
I am certain that a lot of fans will have a problem with my thoughts on this fight, but hear me out before you jump all over me.
Remember when I said that Carwin is a real heavyweight? Brock Lesnar is even more an imposing figure than Carwin. While their physical stats are fairly similar, Lesnar is a far superior athlete.
At 6'3" and never an ounce less than the ceiling of 265 pounds (usually quite a bit more by fight-time), Brock Lesnar is the most intimidating presence in the UFC's most intimidating division.
Not only is Lesnar a huge, huge physical specimen. He is also one of the quickest, most explosive heavyweights in the history of mixed martial arts. Some heavyweights are quick, but Lesnar is fast.
Watch his fights against Mir and Heath Herring, and you'll see what I'm talking about. Never in my life have I ever seen a 265-pound man move with such speed and agility. Lesnar is far from your ordinary big man.
The question remains, however, could Lesnar defeat Silva, the man whom no one else could figure out?
My answer is yes. Not a resounding yes, mind you, but I would put my money on Lesnar if the two were to ever meet.
Silva would have the edge in both the striking and submission departments, but I simply do not feel that either advantage would be enough to contain the monster that is Lesnar. This is, of course, assuming that Lesnar is still himself, and not severely hindered by the effects of his bouts with diverticulitis.
I feel that Lesnar could, and would, utilize Sonnen's bull rush technique against Silva. His wrestling skills are superior to that of any fighter in any division. Those grappling skills, coupled with his speed and aggression, would likely spell disaster for Silva.
Once Lesnar has secured a takedown, his ground and pound is the stuff of legend, and his stifling ability to stay in the top position would be too much for Silva to answer.
I don't see Silva locking in a last-second submission against Lesnar, as he did with Sonnen, because frankly, I don't see Silva making it to the last second. I see Lesnar taking his opportunity to bring the fight down to the ground, and I see him utilizing his outrageous size advantage to stuff any offense Silva tries to mount from there.
Simply put, in the heavyweight division, Lesnar is the answer to the riddle of Silva.
What Do You Think?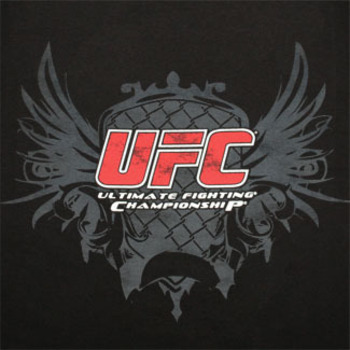 As always, I thank you for taking the time out of your day to read this article, and I look forward to hearing what you think about the subject at hand.
Take to the comments section, and let me know your opinion. I'm aware that this potential move to heavyweight will probably never come to fruition for Silva, but aside from that, let's have some fun with the subject.
If he were to make the move, what kind of success do you think Silva would find in the UFC's own land of giants? Would he even get as far as I predicted, unseating Velasquez as the champion? Or would he get even farther, defeating Lesnar, and retiring as an undefeated heavyweight champion in the process?
I'm dying to hear your thoughts, so let me know!
Again, until next time, thanks for reading/commenting!
Keep Reading