Arsenal FC Transfers: Why Arsene Wenger Has to Take Blame for Transfer Strategy
September 4, 2011
Alex Livesey/Getty Images
Arsenal manager Arsene Wenger had to watch his side be humiliated by rivals Manchester United and just before the close of the transfer window, he made as many as five signings with some, like Andre Santos and Park Chu-Young, not even linked before in the transfer window. At the end of the deadline, the signings of Mikel Arteta, Santos and Per Mertesacker appeased the supporters to some extent as Arsenal have depth in their squad and would no longer have to field two to three teenagers in their games against Liverpool and Manchester United.
Wenger is a manager who has brought great success to the club, but he has come under immense criticism for the six-year trophy drought. The French tactician has made some excellent bargain transfers in the past but with a bargain transfer, there is always a risk. The player could turn out to be a Patrick Vieira or someone like Armand Traore or Sebastien Squillaci, which is not good enough for Arsenal. 
Arsenal had a very difficult summer, with as many as three of their first choice regulars desiring to leave the club; it was Wenger's responsibility to replace the trio effectively. Gael Clichy had stagnated at the Emirates and it was time for the Frenchman to move on. Cesc Fabregas' transfer saga, which had been dragging for days, had to be ended at some point, while Samir Nasri's demands could obviously not be met by the club.
However, if Arsenal were to sell these three players, then they had to bring in quality players before they left the club. Let us take the case of Gael Clichy's departure. It was rather expected that Clichy would leave the club in the summer, but Wenger trusted Kieran Gibbs to be the first choice left back knowing quite well that he is one of the most injury-prone players in the squad.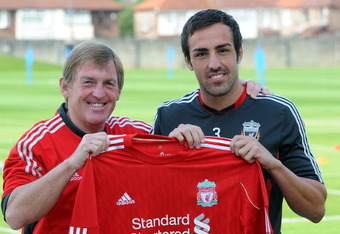 Liverpool FC/Getty Images
Gibbs could not play in the opening games of the season and was replaced by Armand Traore, who now hopes to be a regular at Queens Park Rangers. Jose Enrique was available in the summer for a bargain fee considering he had only one year left on his contract but Arsenal did not make a firm move for the Spaniard in the summer. Liverpool firmed up their interest and managed to sign the left back.
Enrique is experienced in the Premiership and Arsenal could have offered him Champions League football which would go a long way in attracting him to the Emirates. However, Wenger waited for Gibbs to have another injury before making a move for Fenerbahce's Andre Santos, a Brazil international. Santos could yet turn out to be an excellent signing, but if Wenger had him as a target, why wasn't he signed early in the summer? Here was a player who could be signed early and had a full preseason with the Gunners, but now Santos will have to adjust to the rigors of the Premiership immediately.
It was quite clear that Arsenal needed to sign an experienced dominant centre back in the summer and it was acknowledged by Wenger as well as he brought in Germany international Per Mertesacker on deadline day. However, Arsenal had been linked with various centre backs—the likes of Gary Cahill and Phil Jagielka—throughout the summer and it would have been better to sign a defender with Premiership experience.
If Wenger had not managed to sign Cahill and Jagielka by the start of August, he must have immediately moved for Mertesacker, who was open to a move to the Emirates. Arsenal eventually signed Mertesacker, but at the cost of six crucial points they may have had if the giant German international was on the team.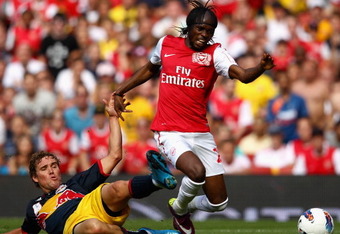 Richard Heathcote/Getty Images
Also, Arsenal had to win the crucial Champions league qualifier against Udinese, which they managed to win over both legs. But the win would not have been possible without Gervinho, who was signed from Lille early in the transfer window. It was one of the best deals for Arsenal in the summer transfer window and the Ivorian had time to adjust with his new teammates and had a full preseason with the Gunners. Gervinho is a quality signing for the Gunners and Wenger was able to sign him much before August.
Fabregas wanted to move to his hometown club and there was no point dragging this saga by one more season as the Gunners finally agreed to a deal for the Spanish international. However, they did not have any replacement lined up for him, hence they were woefully short in midfield in the opening month in the season. Though Fabregas could have gone for a higher value if he had not been interested in moving only to Barcelona, it was still a lot of money to spend for the Gunners.
Arsenal were linked with many quality central midfielders in the summer like Yann M'Villa, for whom Gunners bid around £22 million (Goal.com), and Mario Goetze—the subject of a £35 million bid from Arsenal (Talksport). However, they did not manage to sign any quality midfielders until deadline day, on which they signed Yossi Benayoun on loan and Mikel Arteta on a permanent deal from Everton.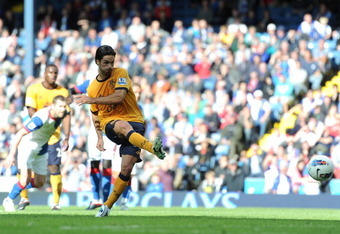 Chris Brunskill/Getty Images
Arteta is a quality player who deserves to play in the Champions League and Arsenal will provide him a good stage to exhibit his talents. The former Everton midfielder is a player who can adjust well to Arsenal's style of play and Wenger prefers players who like to keep the ball on the ground. However, he is 29 years old and has sustained many long-term injuries—a concern for the Gunners. Benayoun is a player who has not been a regular in the last two years and is just returning from a long-term injury.
If Arsenal are to win the Premiership, they need to sign players of the highest quality. Though Arteta is a fine player, they need players who are of the highest quality and they should have also signed another midfielder with Nasri leaving to Manchester City. Eden Hazard is a player who has been linked with the Gunners, but they were unable to persuade Lille to sell after the French club lost Gervinho to Arsenal and were also beaten to Park Chu-Young by the Gunners.
Chu-Young is an interesting signing as well and with Nicklas Bendtner leaving the club, it is likely that Chu-Young will be the second choice striker behind Robin van Persie. The South Korean captain can play anywhere in the front three like Gervinho, which will provide depth for the Gunners. However, should van Persie be injured, they do not have a quality striker to replace the Dutchman. Considering that all top teams generally have two high quality strikers in their team, this is an area which should have been strengthened by Wenger.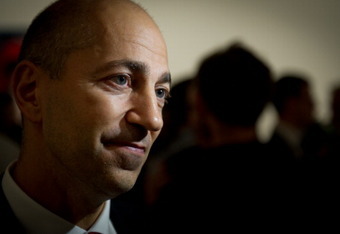 Ian Gavan/Getty Images
Arsenal are a club which has made profits in the last few years and the sales of Fabregas and Nasri have brought in plenty of cash to the club. However, Arsenal were unable to attract quality players like Juan Mata.  One of the major problems faced by the club is their wage structure—top earners at the club earn less than Manchester City manager Roberto Mancini's rejects or fringe players. 
Arsenal also signed youngsters Alex Oxlade-Chamberlain, Joel Campbell and Carl Jenkinson and all the three are talented players. However, if Arsenal do not have the cash, would Wenger have spent more than £10 million on a rookie winger whose only experience is in League One? It is probable that Arsenal do have the cash, but they need to bring in world-class players to replace the quality players who left the club.
Fabregas and Nasri were two of the best players at the club and provided most of the creativity for the Gunners last season. After allowing those two to depart, the manager needs to bring in quality players. Arteta and Gervinho are the signings who are supposed to replace Fabregas and Nasri and though both players are excellent players, Wenger has the money to bring in even more quality players like Eden Hazard and Mario Goetze, who will certainly improve the quality of the team.
Wenger has always been of the opinion that players should not be judged by the value of their transfer. Though his argument does make sense with respect to some players, a 31-year-old defender would not have been sold under £4 million if he was not good enough. It is also a fact that none of the clubs would like to lose their best players below the market value and with clubs like Chelsea, Real Madrid and Manchester City in the market, it is time that Wenger comes to terms with the market price.
Alex Livesey/Getty Images
The long-serving French tactician is the one who is taking the flak from most supporters. However, the board is also equally culpable considering that the manager's job is to identify transfer targets and Ivan Gazidis has not been able to close out deals for most of the summer, barring the last two days of the transfer window. The Board will have to alter their wage structure if they hope to attract quality players in the future and also, they have to ensure the long-term futures of their best players.
The situation with Nasri's contract situation should have been avoided by agreeing to terms with him in the last summer and the Frenchman's performances in the last season only hiked his wage demands. Wenger is the last person who is going to blame owner Stan Kroenke, Gazidis or the Board for the team's poor performances on the pitch but if the Gunners are to do well, there has to be major changes behind the scenes.
Arsene Wenger has been able to add more depth at a nominal price and despite missing out on some transfer targets, they have managed to assemble a squad which should compete for fourth place at the minimum. Despite most quality players being Cup-tied by January, it is imperative Wenger makes at least one quality signing in winter. Mikel Arteta, Gervinho and Per Mertesacker are players who will improve the quality of the squad and should the team have less injuries, there is every chance they could turn this season around from the game against Swansea.