Red Bull and Vettel Are out of Reach, Is F1 Still Worth Watching in 2011?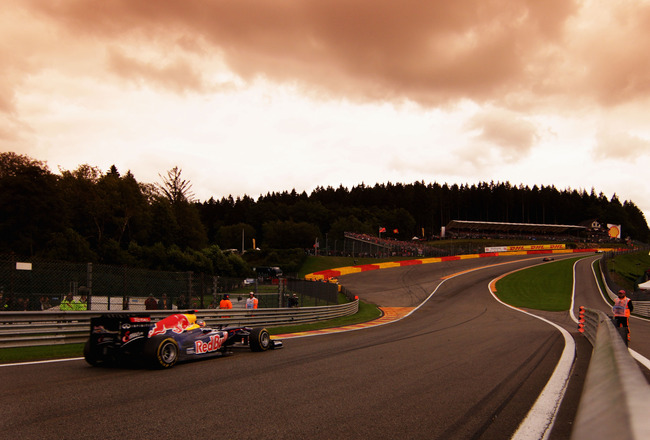 Championship leader Sebastian Vettel on his way down to Eau Rouge.
Vladimir Rys/Getty Images
Granted, it would take an intervention from the Almighty to prevent Sebastian Vettel from defending his title.
From the word "Go", the reigning world champion has been running away with the championship as his rivals failed to curb his steady progress.
Team mate Mark Webber has had a rather discreet season but this has been enough to help Red Bull cruise to a second Constructor's Crown.
With still seven races to go, there is very little suspense left in both title fights.
However, it would be a foolish decision to stop watching Formula 1 in 2011.
The Racing Has Never Been so Good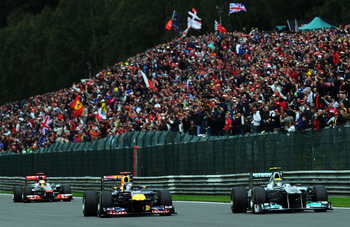 Mercedes' Nico Rosberg took a flying start in Spa and led for a couple of laps.
Lars Baron/Getty Images
The DRS and KERS systems raised many eyebrows during winter testing as they were deemed useless, if not dangerous.
With the F1 steering wheel already covered with many buttons, was it really necessary to add more? Absolutely yes!
The deadly combination has offered plenty of action and even managed to liven up the usually dull Spanish Grand Prix.
Some do not agree and underline that overtaking has been made too easy with the DRS.
There is no denying that drivers sometimes look like sitting ducks as their rivals shoot past them on a straight line.
1997 World Champion Jacques Villeneuve even argues that overtaking is no longer a braking contest.
Race organisers probably need to make a few adjustments to find a satisfactory balance. But at least the system works.
Nico Rosberg's DRS was not active when he muscled his way past Vettel to storm to the lead of the Belgian Grand Prix last weekend.
All he had was a very heavy right foot and a big heart.
This May Be the Most Competitive Grid Ever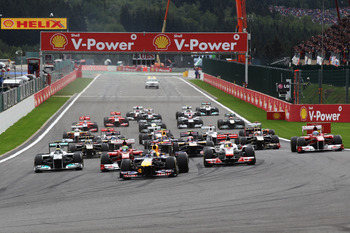 Drivers rush to La Source hairpin on the opening lap of the Belgian Grand Prix.
Mark Thompson/Getty Images
Assessing the value of an F1 grid is no easy feat.
How can you compare drivers and cars from different eras?
Still, with five world champions, several other GP winners and exciting young guns, the 2011 F1 grid does feature a fantastic crop of drivers.
Last time Formula 1 could boast such a competitive field was in the 1980s when the likes of Rosberg, Lauda, Mansell, Piquet, Prost and Senna were fiercely battling it out at the wheels of turbo-charged cars.
If you were too young to enjoy these monumental scraps, you have been given another opportunity to watch intense wheel-to-wheel action.
There Are Great Venues Ahead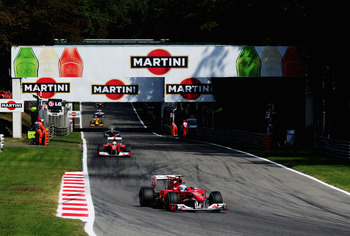 Clive Mason/Getty Images
The end of summer is always an exciting prospect in Formula 1 as drivers leave Spa-Francorchamps to travel to another monument of the sport: Il Autodromo di Monza in Italy.
Home of the passionate and boisterous tifosi, Monza is the fastest track on the calendar and an almost anachronistic challenge in the modern, "safe" era of motorsports.
With top speeds exceeding 210 MPH, it rewards the bravest hot-shoes. Expect delirium if Alonso were to repeat his victory from last year.
Coming up next is Singapore's night race which has quickly become a favourite among the drivers.
Narrow, twisting and bumpy, the track's layout is a real challenge for the drivers as it offers them little to no rest.
Add a stunning backdrop of sky-scrapers shimmering in the night and you have an exciting classic-to-be.
There Are Great Venues Ahead (continued)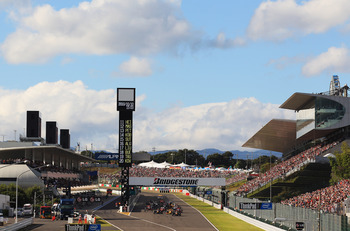 Mark Thompson/Getty Images
The F1 circus will then head for yet another superb track: the eight-shaped circuit of Suzuka.
The Japanese layout features scary curves like the winding Esses or the super-fast left-hand 130R.
Like Spa, it certainly separates the boys from the men.
The first South Korean Grand Prix looked like a farce last year but the race was one of the most dramatic and entertaining of the season.
Abu Dhabi's F1 track has failed to match its incredible facilities. But cheer up, it does not host the season finale this year.
The bumpy and colourful Interlagos circuit does. And it always should.
A Touch of Mystery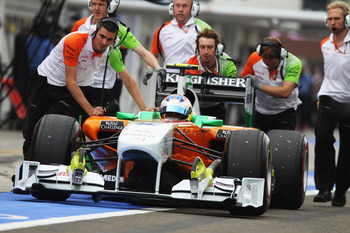 Mark Thompson/Getty Images
Recent tracks have alternated the good (Turkey, Singapore) and the ugly (Bahrain, Valencia).
It is still early to assert which label would suit best the Indian venue.
The organisers certainly hope to make a splash with their newly-built 3.14-mile circuit.
They will try to capitalize on Force India's growing popularity and current form to stir up the interest of the second most populated country on Earth.
Local heroes Narain Karthikeyan and Karun Chandhok should be back in action as well in order to attract more people in the grandstands.
With every team starting from a clean slate, the cards could be reshuffled on the grid for the weekend.
There Is Nothing Like a F1 Win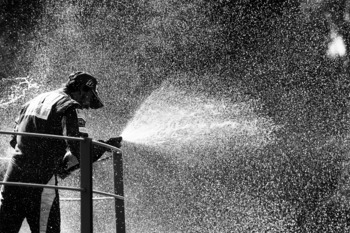 Ferrari's Fernando Alonso sprays champagne on the podium after winning the Italian Grand Prix in Monza.
Clive Mason/Getty Images
Vettel might be out of reach for the championship but there are still seven trophies to bring home in 2011. And a lot of revanchist men.
Webber and Felipe Massa are desperate to show that they have not become mere No. 2 drivers.
Lewis Hamilton is willing to make up for a topsy-turvy season of lost opportunities and on-track bloopers.
Fernando Alonso is always lurking near the front and will relish another win at Monza.
Nico Rosberg can not wait to clinch his first F1 win. And Michael Schumacher would like to prove that he is still good for the job.
And let's not forget the championship leader, who can add to his already impressive collection of Grand Prix wins.
Now, would it not be a shame to miss these seven Grand Prix? Stay tuned in to F1, it still has a lot to offer this year.
Keep Reading