Arsenal FC: Gooners vs. Goobers, Hypocrisy Knows No Bounds!
September 1, 2011
Stanley Chou/Getty Images
Newcastle 0 - 0 Arsenal.
Tough game to win at St James Park.  They need to get their legs under them, they'll settle down.
Arsenal 0 - 2 Liverpool
We have no depth and no discipline!  Wenger MUST BUY!  Our defense is weak!
Manchester United 8-2 Arsenal
Wenger must go!  We need defensive signings!  We need a playmaker in midfield!  Wenger won't buy!  Arsenal is going to be relegated!
That's a quick look at how the masses are responding to Arsenal's one point on the table out of a possible nine.  While it may not represent the true majority of Arsenal fans, what it does represent is a vocal group of dissenters and naysayers that have declared this season a loss with only three games played and before the drama of Thursday's Deadline Day signings.  
How quickly the fair-weather friends have come out of hiding and are allowing their negative slant on all things Arsenal to permeate the message boards and forums.  How quickly they forget the near-successes and how quick they are to dismiss the victories that have been won.  How readily they forget that to be a Gooner is to support the team through thick and thin, not just when Arsenal sit atop the table or claim silverware.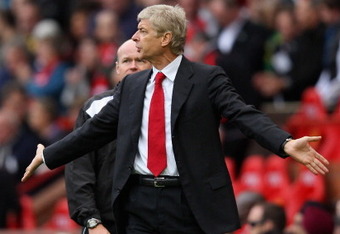 Alex Livesey/Getty Images
If there was ever a time that Arsenal needed support that time is now.  With the venerable Arsene Wenger under constant scrutiny for a practice of developing talent in lieu of signing established players, it was easy for the naysayers to claim that he had "lost the plot" or was becoming "senile."  His purchases of Carl Jenkinson, Joel Campbell and Alex Oxlade-Chamberlain all seemed extravagant and superfluous when the need was for someone to truly shore the defense and another to cover the inevitable loss of Fabregas and Nasri.  
It was hard to argue with them when Frimpong was sent off and the young Gunners imploded under the pressure of experienced players against Liverpool.  It was easy to see that Francis Coquelin was no match for ANYONE on Manchester United.  The facts were laid upon the table as Jenkinson and Traore were exposed again and again and United had unchallenged wing play.  So the naysayers said, "BUY EXPERIENCE!!!"
Come Thursday night.  The summer transfer window is now closed with straggling paperwork being processed, but teams largely locked up until January when the craziness begins again.  Arsenal FC and Arsene Wenger managed a heck of a feat with their signings.  Park Chu-Young was the surprise signing and the jury is still out, but he was impressive during the World Cup last year.
Next came the flurry of speculation surrounding a back and Andre Santos was picked up.  Is he the cream of the crop?  No.  Is he better than what we had?  Yes.  Does he improve depth and allow development of Gibbs and Jenkinson?  Absolutely.  And then, the big signing that everyone was waiting for: Arsenal signed a center back.  No Cahill or Samba, but Per Mertesacker.  That's right, Arsenal signed a huge player (in ability, experience and just plain physical size) with a huge bonus for being not only Werder Bremen's captain, but also the captain of the German national team.  And then, at the death and with no little help from the player himself, Arsenal execute the coup de grace and pilfer Mikel Arteta from the clutches of the Toffees.  "Buy Experience!!!"
Park Chu-Young (F) - 91 Appearances (25 goals) for AS Monaco, 53 Appearances (17 goals) for Korea (captain)
Andre Santos (LWB) - 39 Appearances for Corinthians, 52 Appearances for Fenerbache, 22 Appearances for Brazil
Per Mertesacker (CB) - 74 Appearances for Hannover 96, 147 Appearances for Werder Bremen (captain), 75 Appearances for Germany (captain)
Mikel Arteta (M) - 31 Appearances for PSG, 50 Appearances for Rangers, 15 Appearances for Real Sociedad, 173 Appearances for Everton - 2005-2006 Premiership Midfielder of the Year.
Not only did Arsenal add experience at all four positions, they upgraded as well as increased depth.  Leadership was brought in as well as set piece defense and offense (Mertesacker and Arteta, respectively).  But now those VERY SAME FANS (read Goobers) who wanted experience are pissing and moaning that Arsenal failed in the transfer window, are continuing with their negative rants and are still calling for Wenger's head.  
To use an acronym that has permeated the net, FFS people!  Give it a rest and see how the team does with these new additions and a healthy roster.  Support your team like the "Faithful Few Thousand" who cheered, sang and carried on like true Gooners throughout a beating behind the woodshed last week.  We all want wins, so stop being hypocrites; not everyone wants to put up with it and frankly, as a fellow supporter, it's disheartening to see.
Gooner for Life!