Temple Football 2011: Is the Season Lost Before It Even Starts?
August 29, 2011
In five years, Al Golden transformed the Temple Owls from laughingstock to one of the best teams in the Mid-American Conference. For all he did for the program, Golden was never able to establish a consistent passing game. Temple's one-dimensional offense was the main reason why Golden never won a MAC title at Temple.
Even more important than the naming of Steve Addazio as the new head coach was the January commitment of junior college transfer Clinton "Juice" Granger.
At 6'3" and 230 pounds, Philadelphia native Granger looked to be the perfect candidate to run the spread offense Addazio is installing at Temple. At Pierce College in Los Angeles, Granger threw for 1,176 yards and 10 touchdowns while rushing for 200 yards and five touchdowns in just seven games.
With the arrival of Granger, 2011 is thought to be the year Temple wins the MAC and the year the Owls beat Penn State for the first time since 1941. Temple students thought they would no longer need 5-hour ENERGY drinks to make it through a football game.  
However, as the season opener against Villanova approaches, the apparent savior may have to ask his teammates to save him a seat on the bench.
Addazio has yet to name a starter at quarterback, but it becoming quite obvious that it will not be Granger. Last Wednesday, Addazio talked about using Juice in a Wildcat package. The competition appears to be between two holdovers from last season, junior Mike Geraldi and senior Chester Stewart.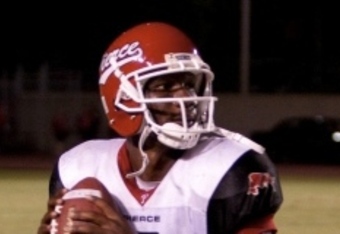 Hearing that news does not induce confidence there will be much improvement to a passing game that ranked 90th in yards per game and 65th in passing efficiency.  Geraldi and Stewart combined to throw for 2,132 yards with 14 touchdowns and 13 interceptions.
Addazio has praised Granger for his high level of maturity, but the question remains why Juice could not beat out two competitors that struggled last year. Granger is inexperienced, but it's hard to get experience by holding a clipboard or running just a particular set of plays. 
Some critics have questioned Addazio's ability to fix the Owls' passing game when the Florida Gators struggled to throw the football last year while he served as the team's offensive coordinator. To be fair, it is hard to blame him for all their offensive woes when the players struggled for several games just with the center-quarterback exchange. In 2009, the Gators were the only team in the FBS to pass for 3,000 yards and also run for 3,000 yards.
The fact that Temple may have its best receiving corps in recent memory only adds to the frustration of Granger not being the opening-game starter. Senior Rod Streater caught 30 passes for 481 yards and four touchdowns in 2010. Sophomore Deon Miller is tall and athletic and should be a reliable target across the middle.
JUCO All-American Malcolm Eugene and junior Darryl Shine are two more intriguing options at wideout for the Owls while they also return one the best tight ends in the MAC in Evan Rodriguez.
If the passing game does not improve from last season, the Owls will again rely on junior tailback Bernard Pierce.  Pierce has had difficulty staying healthy the last two years but backups Matt Brown and Myron Myles are more than capable of filling in. Pierce's injury woes emphasizes the need for Temple's offense to become more balanced.
Temple is fortunate to be in the MAC East, the weaker division of the conference. However, Miami (OH) is led at quarterback by rising star Zac Dysert. In the MAC West, Northern Illinois' Chandler Harnish is the best quarterback in the conference. It is hard to believe that Toledo's Eric Page caught 99 passes in 2010 while Temple's top three receivers only had 91 receptions combined.
It is premature to give up on Granger eventually becoming the starting quarterback for the Owls. He has three years of eligibility remaining and still possesses the physical attributes that made him a prized recruit in the first place.
However, if Granger does advance from third string to starter this year, the promotion would be prompted by ineffective play at the position and numbers in the loss column. A disappointing passing game will probably translate into another year of waiting for Temple to win a MAC Championship.
It may not be time for Temple fans to abandon ship, but it would not be a bad idea for them to put on life preservers.