The State of the Philadelphia Phillies with 43 Games to Go
August 15, 2011
Thearon W. Henderson/Getty Images
After Sunday's rain-out, the Phillies have 43 games to go in the regular season—including the make-up game on September 20 at 1:05 p.m. as part of a split-doubleheader.  As of today, the Phillies still lead all of baseball with 78 wins and are nine game in front of the Braves in the NL East.
With all of the injuries suffered by the Phillies this year so far, it is even more impressive that they have been this dominant.  Four starting position players, two starting pitchers and three relievers have all spent time on the DL—and some of them made multiple trips.
They have also used four different closers because of the injuries and two spot/replacement starters.
And while Placido Polanco, the starting third baseman, is not technically on the DL right now, he has not played since August 6th due to a sports hernia.  After receiving an injection, Polanco is expected to decide by Tuesday whether or not to have surgery, which could put him out nearly the rest of the regular season.
Still, the Phillies keep finding ways to win.  Roy Halladay, Cliff Lee, Roy Oswalt and Cole Hamels have been terrific on the mound.  But while the pitching seems to have carried the team through the first half of the year, the recent addition of Hunter Pence has jump-started the offense.  And once again, late in the season, Ryan Howard is heating up.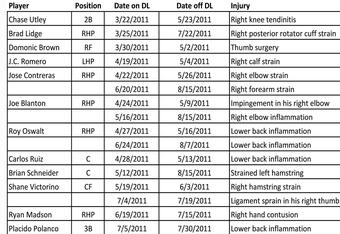 Jimmy Rollins is having his best year since the 2008 season.  Although hitting .265 is not spectacular, he is taking more pitches, drawing more walks and has been healthy all year.
Since coming off the DL with major knee issues, Chase Utley appears to be almost be back to his old self.  Shane Victorino is also having a great year despite two trips to the DL, batting .313.
The younger role-players have also been key to the Phillies success so far.  Michael Martinez, Wilson Valdez and John Mayberry Jr. have all made big contributions, filling in for injured players.  Young pitchers Antonio Bastardo, Michael Stutes and Vance Worley have been slightly overused for guys at their level of experience, but they have all responded very, very well.
The point is, this team is winning and shows no signs of slowing down.  This is a very special time to be a Phillies fan.  We could very well be witnessing something historic right now.  The season is far from over, but I like their chances.
While the team is off today, think about it.  Sit still for a moment and soak it all in.  Then, take a deep breath.  Can you smell it? 
...43 games to go.