NFL Oakland Raiders: Team Prepares for Life Without Nnamdi Asomugha
July 29, 2011
Ezra Shaw/Getty Images
When the Oakland Raiders take to battle this season, they will embark through territory that they have not sailed since 2002. Yes, they will continue to pillage and plunder, with a blood thirst and a marauding manner, imprisoning their foes in the nastiness of the Black Hole.
But in 2011, the Raiders will do so without the direction of their venerable and revered captain: Nnamdi Asomugha. His piracy of opposing wideouts will no longer be a part of Oakland's crew, as he has boarded another ship.
Today, Asomugha, the shutdown Pro Bowl cornerback, left port in the Bay Area and surprised many by signing with the Philadelphia Eagles. The four-time All-Pro will reportedly earn $60 million over five years.
Widely considered the top cover corner in the NFL, Asomugha tested the free-agent market after an unresisting Oakland initiated the voiding of his contract when he failed to meet certain on-field statistical performance criteria in 2010. So, despite his all-world status, the Raiders decided to let him go, knowing that they'd likely be unable to afford his lofty price range.
As it stands, there are a number of reasons why Oakland let Asomugha set sail. The print of his contract at the time was so fine, that the Raiders could have found a way to keep him in Silver and Black.
However, management must have been resigned to his departure in the eventual future, and were comfortable in letting him go sooner rather than later. Even though many fans feel that the front office did wrong by not attempting to re-sign him, Oakland knew that they had to move on without him.
Whatever the ultimate reason for the Raiders' non-retention of Asomugha, they are now faced with life without him. How will the Raiders react to this transition? How will they be affected by his departure?
Ordinarily, the loss of a cornerback wouldn't be a huge difference-maker. But Asomugha is no ordinary corner. His ability to blanket a receiver allowed Oakland's to cheat defensively. The safeties wouldn't have to pay as much attention to Asomugha's side of the field.
Blitzes were implemented with less apprehension and more abandon. The linebackers could stuff the box knowing that the opponents' passing game was at least half as potent.
With Asomugha vacating half of the defensive field, how do the Raiders fair? Prior to the lockout, Oakland signed cornerback Stanford Routt to a three-year, $31.5 million deal, offsetting the presumed vacancy of Asomugha.
Routt, has performed admirably, though it's safe to assume that he won't reach Asomugha's elite class. Still, Routt will be able to hold his own. And his play won't be what replaces Asomugha. The stellar quality of the defense won't hinge so much on Routt.
Instead, the defense will be allowed to scheme better. Having one of the best covers doesn't quite open up the playbook. Asomugha's coverage almost always guaranteed that the teams were playing 10 men against 10. Asomugha never blitzed or came up to stop the run. He was on his own island, and his skill level never allowed for defensive creativity.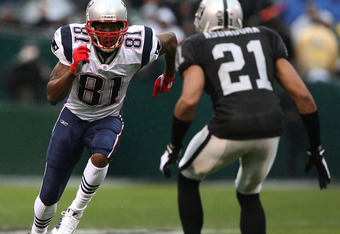 Jed Jacobsohn/Getty Images
The one area where Oakland will miss Asomugha is his leadership. Though not a vocal presence, his example was his play on the field. Quite the contrast to the Raiders' penchant for bringing in mercurial malcontents (see JaMarcus Russell, Randy Moss, Phillip Buchannon, Bill Romanowski, Andre Rison…). Asomugha was Mr. Raider, part II, the Tim Brown of defense. He was a stalwart off the field, which made his performance on it all the more respected.
A graduate of Cal, and a respected member of the community, his philanthropic work will be missed throughout the East Bay and those he touched off the field.
Meanwhile, his Pro Bowl-level coverage will not be missed as much. The defense will not miss a beat. With third-year back Walter McFadden and 10-year pro Chris Johnson, the leadership will still be intact. Furthermore, the infusion of rookies Sterling Moore and DeMarcus Van Dyke will add some youth to an overall veteran defensive corps.
True, there will be some growing pains for Oakland, knowing that the isolated Asomugha will not be there to guide them. However, his decision to leave allows the Raiders will be able to play with a full 11-man defense 
Eleven players will certainly help in the long run.