Prince Fielder: Will Sabathia Convince Yankees to Chase Him in Free Agency?
July 28, 2011
Abelimages/Getty Images
When CC Sabathia steps onto the pitchers mound, there is a feeling of confidence among fans, as Sabathia has time and time again brought the New York Yankees to wins and even a World Series victory. 
Despite entering the 2011 season with an unreliable and insufficient starting rotation with pitchers Freddy Garcia, Bartolo Colon and AJ Burnett, the Yankees have managed to turn things around in their favor. 
With Garcia (3.23) and Colon (3.29) pitching like aces and Ivan Nova (4.12) and Burnett (4.21) pitching up to par, the Yankees have a chance to easily advance in front of the Boston Red Sox in the AL East standings. 
Although each pitcher apart of the starting rotation has exceeded expectations, Sabathia still remains the most dominant and dependable pitcher on the Yankees, as he has always been since he signed with the Bombers. 
Signing a $152 million contract for seven years, which has been worth every penny, Sabathia has proved that he is the key to the Yankees' victories. Unfortunately, their days of having this impeccable pitcher apart of their rotation may come to an end, as Sabathia may choose to opt out of his contract at the end of the season. 
So what will the Yankees do without their star pitcher? It is going to be hard for the Yankees to let him go, especially since Sabathia has maintained a stunning 3.37 ERA in 2009, a 3.18 in 2010 and a 2.56 ERA so far this season. Sabathia has also set season records with his time on the Yankees. In his three years on the team he has had the most wins and has started in the most games in the past two years.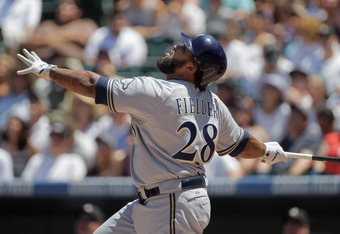 Doug Pensinger/Getty Images
Thankfully, Sabathia has never directly stated that he plans to leave New York at the end of the season. Many interviews have left reporters and fans awaiting his decision to opt out of his contract. Despite what his decision may be, the Yankees must ensure that Sabathia returns next season.
How can the Yankees ensure this?
It has been rumored that Sabathia has been trying to sell Milwaukee Brewers first baseman and good friend Prince Fielder to the Yankees as a DH. Why would Sabathia try to sell Fielder to the Yankees if he plans on leaving next season? Can attaining Fielder be the only way the Yankees can keep their prized pitcher? If so, then Sabathia can easily convince the Yankees to chase Fielder in free agency. 
Let's look at this more closely. In Fielder's seven season career with the Brewers he has maintained a .280 batting average and has led the MLB in 2007 with 50 home runs and 141 RBI in 2009. Along with these achievements, Fielder has received many honors and awards including playing in the 2007, 2009 and 2011 All Star Games where he recently won MVP. He was awarded with the Silver Slugger Award in 2007, the NL Hank Aaron Award in that same year and more prestigious awards and honors.
Of course attaining Fielder would be beneficial to the Yankees, but do they really need a DH at the moment?
Yes, Fielder is a great player and any team would be lucky to have him, but he does come with an expensive price tag and the Yankees should focus on spending their money on a player they actually need. 
If the only way Sabathia will remain on the Yankees is having them sign Fielder then yes, Sabathia can easily convince the Yankees to sign him. If not, then the Yankees should spend their money else where, attempting to attain a player more beneficial to the team.