Bring on the Youth Movement: Who Should Be Starting for the LA Dodgers Now?
July 23, 2011
Jeff Gross/Getty Images
It's time to build for the future. It's time for the young guys to get a real chance to prove what they can do because they can't do any worse than the veterans the Dodgers trot out night after night. 
When disheartening statistics turn to down right pathetic statistics, it's time to make a change. Ned Colletti needs to try to sell off any veterans that he can, but even if he can't, within the next couple weeks it is time for the youth movement to begin. 
After last night's depressing 7-2 loss to the Washington Nationals, shortstop Rafael Furcal, owner of a $10 million dollar contract this year, lowered his batting average to .165. Furcal has 19 hits all season, in 124 plate appearances. Free agent signing Juan Uribe lowered his average to .202, and he is only in the first year of his $21 million, three year deal. 
This is a Dodger fans worst nightmare. A hapless team that is vastly overpaid, with no end in sight to the emotional pain and tribulations. 
It is time to recall Dee Gordon and have him replace Furcal in the starting lineup. Gordon is the future shortstop for the Dodgers and he needs the experience of hitting major league pitching. Furcal's time is over, and he will have to learn to sit on the bench and watch this season end. 
It is time to put Jerry Sands in left field and at first base, giving the message to both Tony Gwynn Jr. and James Loney that a subpar performance will not be rewarded with playing time. Better yet, bring up Trayvon Robinson and let him mix in with Sands in the outfield, giving him the opportunity to showcase his talents before Spring Training 2012.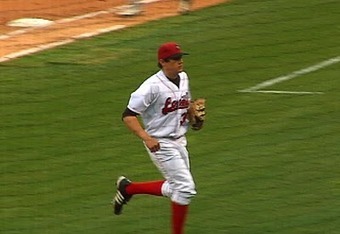 Let Sands play some third base instead of Uribe. Even if he struggles, which he will, it's better to watch him learn than to watch Uribe continue to whiff at the plate. If Jamey Carroll is not traded, let him play third and bring up Ivan De Jesus Jr., at least giving him one more chance to prove he can hit.
It is time to bring up more young arms and give them a chance. Ted Lilly must go, and give Nathan Eovaldi, Tim Sexton or Allen Webster their opening to impress management. These guys have been dependable and occasionally spectacular in the minors, so what do the Dodgers have to lose? Another loss? 
Guys like Cole St. Clair and Shawn Tolleson have been dynamite this season in Double-A, and could be just as good if not better than current Dodger relievers like Javy Guerra and Kenley Jansen. 
In fact, the Dodgers could make the unique move to a six-man rotation, giving another young pitcher like Eovaldi or Sexton a chance while protecting the arms of Rubby De La Rosa and Cy Young candidate Clayton Kershaw. This is a heavily debated concept in Major League Baseball right now as some managers debate its effects on pitchers. Some critics say a five day rest is too much for an athlete in such great shape and takes the athlete out mentally, but the Dodgers should lead the way and try it at least for the rest of the season. 
It's not like the playoffs are in reach this season. Make the next two months about building for the future and separating the organization from the cloud that has tormented Chavez Ravine and detracted so many from attending games. 
Find something to look back on and smile, even if it is the tough start of a new beginning. It's better than dragging your feet through the mud on the way to the execution, just get it over with and let the healing begin.